2 killed when run over by vehicle in Des Plaines identified
DES PLAINES, Illinois - A suburban father and a daughter were run over and killed by a car in Des Plaines on Sunday.
Des Plaines police said they were walking to their vehicle along Northwest Highway when a 2007 Honda Utility swerved off the road, hit them, and hit a building.
SUBSCRIBE TO FOX 32 CHICAGO ON YOUTUBE FOR MORE CONTENT
Neal Greenfield, 80, of Skokie, and Kimberly Karsen, 41, of Arlington Heights were both killed in the crash, officials said.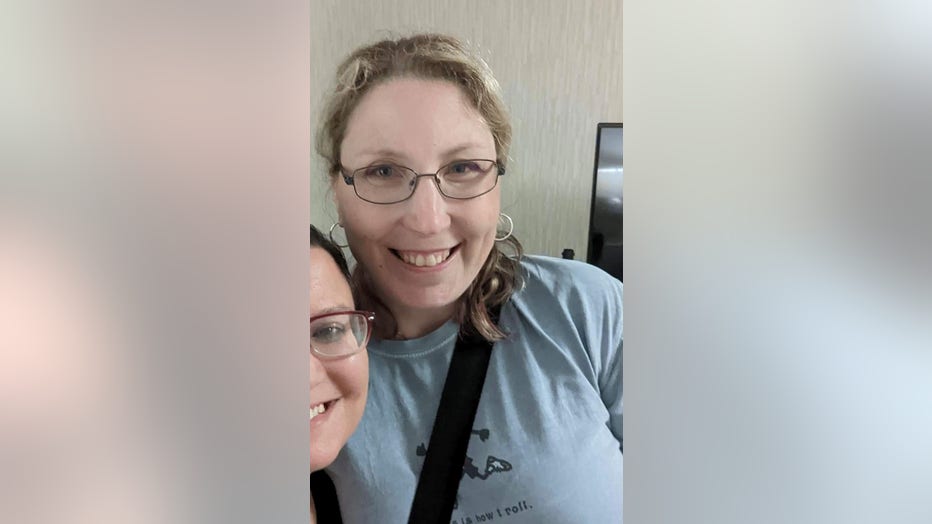 Kimberly Karsen | Provided
The Honda driver, a 71-year-old man, said he suffered a medical emergency which caused him to lose control of the car during the crash, police said. He was hospitalized with non-life-threatening injuries. Two children who were also in the Honda were not seriously hurt.
"The driver claimed to our investigators that he had a medical emergency. That is still under investigation. We will not know the truth behind that until our investigation is complete and once complete we will determine whether charges are appropriate," said Commander Matt Bowler of the Des Plaines Police Department.
After the crash, Nicor was called to deal with a gas leak in the building.
James Lowry rents office space in the building where the crash occurred. 
"It's really a shame this happened," Lowry said. "It's the least likely place for this to happen in Des Plaines where it's normally quiet around here."
The victims had just left L and L Snack Shop, a popular neighborhood breakfast and lunch diner.
"We are fully committed to finding out what happened in this case. This is a terrible tragedy, whether it's the holiday season or not. This was a father and daughter going out for breakfast and these unfortunate events unfold," Bowler said.
Detectives were seen removing the victim's shoes from the crash site as bricks and other debris remain scattered.
Congregants at nearby Romanian Baptist Church were evacuated as authorities investigated the gas leak which followed.
No charges have been filed in the crash as the investigation is ongoing, police said.