Wedding drama erupts as bride's anger at guest who wore white turns 'blue'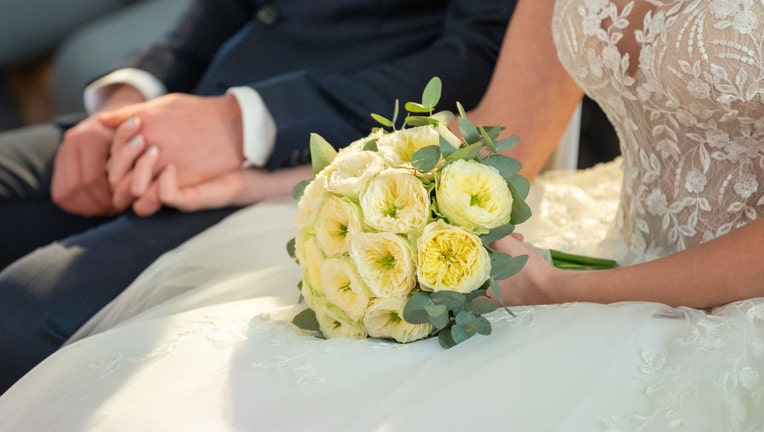 article
A newly married woman who said she enjoyed her "dream wedding" – except for "one small thing" – has taken matters into her own hands to address the "small" and annoying situation that bugged her.
Now, as a result, there's reportedly a family blowup in the works. 
Wrote the woman, 30, who did not share her location, "Honestly, it was my dream wedding. Everything went off without a hitch," she said. 
WEDDINGS CAN BE EXTRA SPECIAL IF COUPLES DO THIS WITH THEIR VOWS, EXPERT ADVISES 
"Except for one small thing," added "DesignedBasic" on Reddit. "My niece's dress."
She said her 16-year-old niece's dress "was a white, lacy, knee-length dress. She even wore elbow-length gloves."
Said the aggrieved new bride, "Honestly, it looked just like a wedding dress."
She went on in her post, "I didn't say anything to her or her parents (my brother and sister-in-law) in the moment – and I tried my best to ignore it."
AS WEDDING SEASON BEGINS, MAKE SURE YOU ARE A TERRIFIC GUEST BY FOLLOWING THESE IMPORTANT ETIQUETTE GUIDELINES
However, said the annoyed bride, "when I got the first drafts back from our photographer, I couldn't stand when I saw her in her white dress standing next to me."
She went on, "My husband saw how upset I was, and suggested that we pay extra to get my niece's dress photoshopped to a light blue. We thought it through, and since we had some budget left, we went for it."
The bride continued, "Last week, we got the final photos back and they looked great! I could hardly even tell that my niece was originally wearing white, and she still looked really nice."
Yet when the bride said she "posted some of the photos on social media… my SIL messaged me and was angry that I photoshopped [her daughter] without checking with her first," she added, meaning the sister-in-law.
The new bride went on, "She accused me of thinking my niece was ugly and of body-shaming her."
WEDDING DAY UPROAR AS BRIDE IS SLAMMED FOR SERVING ONLY WATER: 'DIDN'T THINK THIS WOULD BE A PROBLEM'
Wrote the bride, "To be clear, I did not have her body photoshopped – only the color of her dress and gloves."
Said the bride, "I don't think I'm in the wrong" – it was her wedding, after all – but this situation has been stressing me out."
She asked others on the subreddit known as AITA ("Am I the a--hole") whether she was in the wrong for what she did.
For context, she noted that "the picture I posted was a large group shot that my niece is in. I wasn't trying to showcase the photoshop at all."
Fox News Digital reached out a psychologist and an etiquette expert for insights.
Said Dr. Jayme Albin, a clinical psychologist in New York City, "Getting married is a very sensitive and stressful time in a person's life, so people commonly look for perfection in the details of the wedding itself. This especially applies to photos — and anything that takes away from the bride as a center of attention is a really big no-no."
She added, "The young girl messed up — she should not have worn a white lace dress with gloves to a wedding, especially if she was a close family member and thought she would be in the family photos."
Added Dr. Albin, "The mother of the daughter should apologize and be happy that the bride was able to alter the photos to her liking so that it's not an ongoing issue."
She noted that "at the same time, it can be understood that the mother of the daughter was hypersensitive originally, when she saw the [social media] post, and was concerned and protective of her daughter — which was cleared up right away."    
REDDIT USERS SIDE WITH FATHER OF THE BRIDE WHO WAS SNUBBED BY 'BRIDEZILLA' DAUGHTER WHEN HE DIDN'T EAT CAKE
Plenty of commenters on Reddit took the bride's side of things, saying the niece's actions were highly inappropriate. Overall, some 14,000 people reacted to the woman's post, with nearly 2,500 writing comments about it.
Wrote one person to the bride, "My spidey sense says the white dress was a deliberate affront, and when you finessed around it they got more combative and made up a grievance."
Said another commenter, "They were wrong to have her wearing white to a wedding to begin with. Instead of getting mad and making a scene, you and your husband used logic (and technology) to fix the problem in the photos. Great thinking!"
That comment alone earned more than 5,000 "upvotes."
Wrote another individual to the bride, "Proper response to SIL [should be]: 'Why would you think it was acceptable to allow your daughter to wear something resembling a wedding dress to my wedding?'"
Said still another person in regard to the photoshopping, "As long as your niece's body wasn't changed, just the dress color, I don't see the issue."
Another commenter took the time to share wedding etiquette tips.
FLORIDA-BASED ETIQUETTE EXPERT REVEALS 40 GREAT TIPS FOR A BETTER LIFE
"First and foremost, don't wear a white dress (unless the couple requests all-white attire as a stylistic choice)," wrote this person. 
"Further, avoid matching the colors worn by the bridal party, wearing anything that is too revealing, sexy or flashy, or opting for clothes that are overly casual, like jeans and sneakers, even at a casual-attire wedding."
Added this same commenter, "This is basic standard wedding etiquette… People today are taught that pretty much anything goes, with everything. But etiquette rules exist to prevent hurt feelings such as yours. They may be seen as old-fashioned by young people today, but they have a reason and a place." 
CLICK HERE TO SIGN UP FOR OUR LIFESTYLE NEWSLETTER
The "wearing white" controversy as it relates to weddings attire is not new.
In a separate wedding drama shared on social media recently about people who have worn white clothing to a wedding, nearly all commenters agreed that wearing white or a color close to white is a big no-no for wedding guests.
CLICK HERE TO GET THE FOX NEWS APP
"Like, who does this," said one commenter – which earned over 9,000 likes.
"Disrespectful as hell," another user wrote bluntly.
Cortney Moore of Fox News Digital contributed reporting.