With Lightfoot a lame duck, City Council looks to declare independence
CHICAGO - Mayor Lori Lightfoot punished her enemies and rewarded her friends in a City Council reorganization that was the first test of her political clout.
Despite a municipal code that empowers the City Council to reorganize itself, alderpersons ceded that power to the newly-elected mayor, who was given carte blanche to dictate the number of committees and hand-pick committee chairs.
Brandon Johnson and Paul Vallas may not get that same opportunity.
Finance Committee Chairman Scott Waguespack (32nd), Contracting Oversight and Equity Chairman Jason Ervin (28th) and Rules Committee Chairwoman Michelle Harris (8th) are working behind the scenes to reorganize and empower the Council before a new mayor and Council are seated.
Waguespack denied the motive is self-preservation for committee chairs who stuck with Lightfoot and now fear being stripped of those positions by Johnson or Vallas.
It's about making the changes in structure and rules that are needed to turn a Council that has long been a rubber stamp for Chicago mayors into the independent watchdog Chicago voters want and deserve, Waguespack said.
"I wouldn't mind having Finance again after what we've done to try to clean it up. People want to see it continue to move in that direction. But it's not really about that. It's more about empowering the Council to be stronger," Waguespack said.
"Both of these candidates have said that they want to see the Council pick their own committees. On Vallas' website, it says, 'Empower the City Council to select its own chairs.'"
SUBSCRIBE TO FOX 32 ON YOUTUBE
Waguespack said "pretty open dialogue" is going on behind the scenes with alderpersons who supported the top four finishers in Round One of the mayoral sweepstakes: Vallas, Johnson, Lightfoot and U.S. Rep. Jesus "Chuy" Garcia (D-Ill.)
"People have called and asked if they could have certain committees, and we haven't started slotting in committees yet. People were kind of just asking around about who's gonna be where and what people would like," Waguespack said.
"We're just soliciting input from aldermen, first on possible rules changes for the next term. And then the other thing was just looking at the possibility of organizing the Council as a group to look at how we're gonna try to just be a stronger Council, like a lot of people have been saying."
Waguespack acknowledged the lineup of committees and chairs could not be voted on until after the inauguration in mid-May.
But he hopes before then, a consensus is reached on the number of committees, a potential lineup of leaders, reining in direct introductions and other possible rules changes.
Why wait until after Lightfoot was defeated to claim the Council's rightful power?
"We were actually working on it before she became mayor. But nobody could get together and decide how we were gonna do it. … There was a lot of argument back and forth," Waguespack said.
"Nobody ever stood up and said, 'Can we all get together and try to figure this out?' Nobody."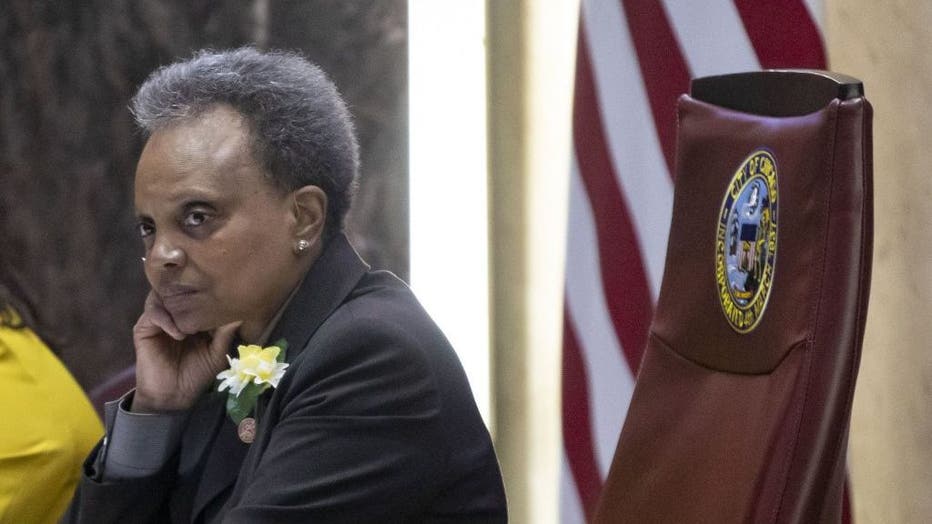 Chicago Mayor Lori Lightfoot presides over a City Council meeting on March 23, 2022, at City Hall. (Brian Cassella/Chicago Tribune/Tribune News Service via Getty Images)
Ervin, who also chairs the Council's Black Caucus, was one of Lightfoot's most outspoken supporters. He'd even tried to narrow the field by warning that, with seven African American candidates and a diminished and divided Black vote, the African American community risks "losing it all."
Ervin made no apologies for waiting until now to stand up to whomever wins the April 4 mayoral runoff.
"Why not now? I can't speak to before. I can talk about the present and in the future. It's about the Council empowering itself. We don't need to seek permission to have a conversation," Ervin said.
"This poses a unique opportunity. We're sitting down and having a conversation. Who knows what's gonna happen?
Harris could not be reached for comment.
Vallas and Johnson both favor a more independent Council, one that chooses its own leaders with input from the new mayor.
Vallas's wants to create a "truly independent" Council budget office that has the power to scrutinize spending at all agencies of local government, including Chicago Public Schools.
Vallas is not the first to call for structural change to re-awaken the Council.
Former Inspector General Joe Ferguson, who was openly criticized then forced out by Lightfoot, has launched a nonprofit, "Re-Imagine Chicago," to do the same thing.
"I go back to the phrase, 'learned helplessness.' The mayor runs the City Council. There is no good outcome anywhere in which a single person basically decides everything," Ferguson has said.
"You need that critical tension. We need a City Council that actually has the expertise and works together collectively through a structure that actually puts the mayor to the test and doesn't let things just get rammed through."