Woman dead, 6 others injured in limo crash on Jane Addams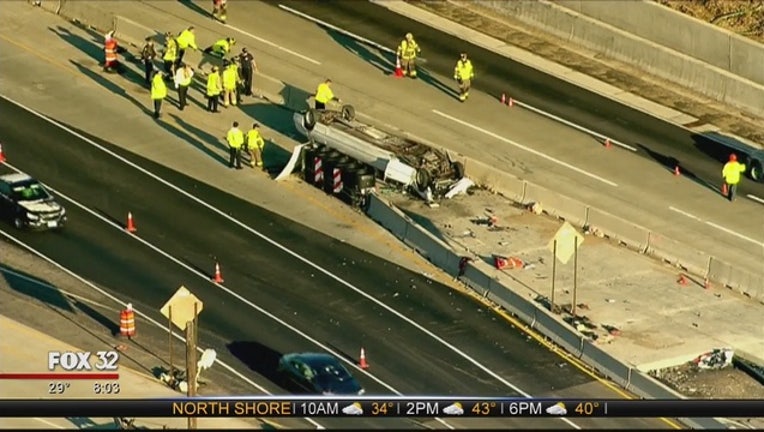 article
HOFFMAN ESTATES (Sun-Times Media Wire) - A woman was killed and six other people injured when a limousine hit a concrete barrier and rolled onto its roof Friday morning on the Jane Addams Memorial Tollway near northwest suburban Hoffman Estates.
The single-vehicle crash occurred about 7:10 a.m. on eastbound I-90 near milepost 55, just east of the Fox River near Hoffman Estates, according to Illinois State Police.
The white 1998 Lincoln Town Car limousine was in the far left lane when the driver was apparently blinded by the sun, according to ISP.
"The driver was unable to see the traffic lane pattern and struck the end of the jay wall, which caused the limousine to roll over," a statement from police said.
Firefighters and paramedics arrived to find the limo on its roof with two people inside and five who had already gotten out and were walking around, according to a statement from the Elgin Fire Department. An off-duty Streamwood paramedic who had been driving in the area was providing medical care to the injured.
Four of the patients were initially listed in critical condition and three were serious. Six of them were taken to Sherman Hospital in Elgin and one to St. Alexius Hospital in Hoffman Estates by Elgin, Hoffman Estates and East Dundee ambulances.
Terri Schmidt, 53, of Monona, Wisconsin, was taken to Sherman Hospital where she was later pronounced dead, according to the fire department and the Kane County coroner's office.
An autopsy was performed on Monday at the Kane County Morgue found that Schmidt's preliminary cause of death was multiple injuries due to a limousine mishap, according to a statement from the coroner's office.
All of those injured were Wisconsin residents: the 20-year-old male driver from Janesville; a 59-year-old woman from Monona; a 61-year-old woman from Verona and a 64-year-old man from Verona; and two men, ages 53 and 45, from Fitchburg, according to ISP.
No citations or charges have been filed against the limousine driver, ISP said. The crash remains under investigation.
Toxicology reports have been sent to a forensic lab, the statement said. An ongoing investigation of this incident is being investigated by the Kane County Coroner's office and ISP.