Woman handcuffed, man pistol-whipped in separate home invasions on North Side
CHICAGO - Police released images Wednesday of a woman and two men sought in the home invasion of a Lincoln Park apartment, where a woman was handcuffed at gunpoint.
On Tuesday, the woman, 32, was home alone about 9:10 p.m. in the 400 block of West Fullerton Parkway when she answered a knock at the door and the trio rushed in, Chicago police said.
They are alleged to have pointed a gun at her, hit her multiple times in the head and asked her about money, police said. When she said she didn't have any, they allegedly placed her facedown on her bed and handcuffed her, police said.
The trio allegedly took cash and electronics before running off, police said. The woman managed to escape and call a neighbor.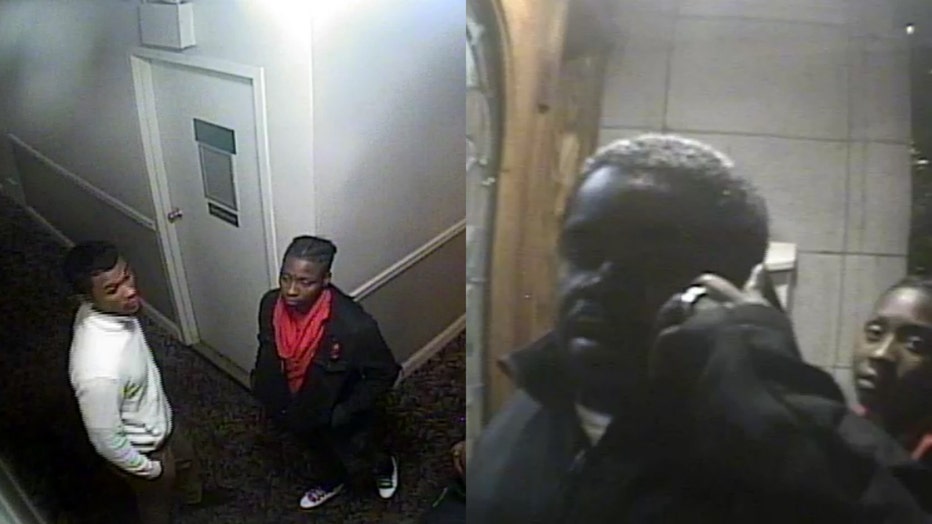 Police say these are the suspects in the home invasion where a woman was beaten, robbed and handcuffed.
One suspect is described as a man between 35 and 45 years old, standing between 5-foot-4 and 5-foot-9 and wearing all black clothing, police said. The second suspect is a 21- to 28-year-old man with a thin build and wearing a white long sleeve shirt.
A third suspect is described as a woman between 26 and 28 years old, standing 5-foot-6 with hair shaved on the sides and braided hair on top, police said. She was wearing a red scarf or hoodie with a black coat over it.
They are considered armed and dangerous, police said.
Another home invasion happened an hour later, farther north in Rogers Park.
A 22-year-old man was in his apartment in the 1300 block of West Greenleaf Avenue with a 20-year-old friend when they heard a knock on a window about 10:09 p.m., police said. He saw a male he knew and opened the front door and then saw other males he didn't know.
One showed a gun, forced his way into the apartment and pistol-whipped the 20-year-old, police said. The two others took the 22-year-old's backpack and belongings before fleeing.
The pistol-whipped man was taken to St. Francis Hospital in Evanston for a head injury, police said. The 22-year-old said he had hung out with the one of the suspects before, but didn't know his name or anything about him.
Anyone with information should call Area North detectives at 312-744-8263 or submit a tip anonymously at cpdtip.com.