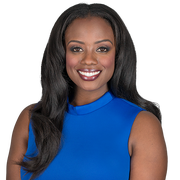 My interest in broadcast journalism started right in the city where I was born and raised, "Chicago." I am so honored and thrilled to be back home in the Windy City. I have a lot of family who were born and raised in Chicago too and still call the city home.
I remember riding in the car with my mother in the west loop on Chicago's near west side when we passed a "huge" sign that read HARPO. There was a line blocks long and I wanted to know what HARPO was? After researching, I found out HARPO was a multimedia production company founded by Oprah Winfrey. I was inspired by Oprah and I knew then I wanted to be a journalist.
I attended The Ohio State University and received a B.A. in English and a M.A. in Mass Communications and Journalism from Point Park University.
I began my career in Flint Michigan, where I worked as an anchor and reporter at WNEM. I covered investigative stories surrounding an unethical city home building project, the vicious killing and murder case of 4-year-old Dominick Calhoun, and even former Vice President Joe Biden.
After Flint, I moved to KTXL in Sacramento, California where I started as a reporter. After a few months, I was promoted to anchor and reporter. I spent nearly my last year at KTXL Fox 40 as an evening anchor. During my time in Sacramento, I also became known in 2012 as the dancing anchor. I went viral for dancing during a commercial break. Look it up for a good laugh!
In 2015, I joined WOIO in Cleveland, Ohio for two years where I worked as a morning anchor. While in Cleveland, I was nominated for a NATAS Lower Great Lakes Chapter Emmy for Team Coverage for the Republican National Convention in 2015. I covered the Cleveland Cavaliers' Championship Parade and Cleveland Indians' playoffs. One of the highlights of my career was taking the floor of Quicken Loans Arena during the Cleveland Cavaliers' half-time show to present a speech honoring the life of Dr. Martin Luther King, Jr.
I am dedicated to mentoring and serving the community.
I never hesitate to give back to non-profit groups through speaking to children and community service.
I am a member of the National Association of Black Journalists. It is awesome to join FOX 32 News where great journalists like Robin Robinson, Darlene Hill, and Tamron Hall served the Chicago area. It is great to be in my hometown, telling the stories that matter, and being a voice for the people.
Feel free to email me with story ideas or to just say hello.
The latest from Tia Ewing