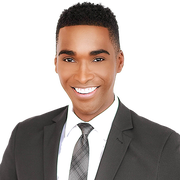 Terrence Lee co-anchors Good Day Chicago on weekdays from 4 a.m. to 6 a.m.
Previously, Terrence anchored the morning and noon shows for News 5 Cleveland. During his seven years in Northeast Ohio, he covered some of the biggest stories of the past decade including the rescue of the three women held captive for a decade, the Republican National Convention and the Cavaliers ending Cleveland's sports championship drought. Yes, he also covered 2016 World Series where...you know...the Cubs beat the Indians.
Terrence began his career at WMDT 47 in Salisbury, Maryland where he anchored and reported for six years.
Along the way, he has been awarded with several Emmy and Associated Press Awards for breaking news coverage, reporting and anchoring.
Terrence was born and raised in Owings, Maryland. Most of his family still lives there, but he's excited to have Sunday dinners with his many relatives who now call Chicago home.
Terrence graduated summa cum laude from Temple University in Philadelphia.
When he's not at work, he loves exploring Chicago's neighborhood, going to concerts, checking out new restaurants, working out and long naps (thanks to the 2 a.m. wake-ups).