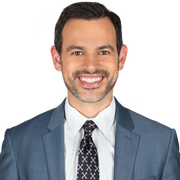 Anthony Ponce
Anchor and Reporter
Anthony Ponce is a veteran Chicago journalist who grew up in the northern suburbs.
In July 2016, he gained national attention when he left his job in TV news to become a full-time Lyft driver, launching the podcast Backseat Rider. As a Lyft-driving storyteller, Anthony brings audiences the wide-ranging, hilarious, touching, sometimes bizarre, and always real conversations he has with his passengers.
"Listening is a lost art form," he told CNN. "What I think is missing right now in our national dialogue is aggressive listening."
Anthony joined FOX 32 in 2018 to co-anchor Good Day Chicago and launch Backseat Rider as a news segment.
In returning to television, Anthony's goal is to remind Chicagoans that while specific issues can be divisive, we have a lot more in common than is often depicted on the news.
Before joining FOX 32, Anthony spent nearly a decade as a reporter/anchor at NBC Chicago, and spent years as a reporter in Indiana.
He has a Master's degree in journalism from Northwestern University and did his undergrad at Indiana University.
Anthony — a Sox fan — lives on the North Side with his wife, Maggie, and son, Theo.
The latest from Anthony Ponce