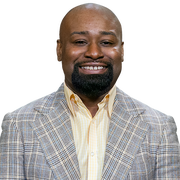 Reporting in his home town was a childhood dream for Nate Rodgers. He calls it "a blessing." 
Nate joined FOX 32 in October of 2020. The proud lifelong East Garfield Park native got his start in news working at CBS Chicago, Channel 2. There, Nate rose through the ranks as a college intern followed by nearly 10 years working behind the scenes as a desk (production) assistant, assignment editor and field producer.
Nate previously reported for TV stations, covering current events and breaking news in Champaign, Illinois, Raleigh, North Carolina (as Fayetteville Bureau Chief) and in New York City. Notable assignments include extensive coverage of Hurricane Matthew damage; Fort Bragg Military events; Harvey Weinstein's sexual abuse trial, also New York City hospitals and funeral homes overwhelmed by COVID-19 deaths.
 
A passionate journalist, anxious to listen, learn and share all sides, Nate's also a motivational speaker and youth mentor. His motto, "ask, seek… and it's yours!"
When he's not covering news, you'll probably catch Nate at the gym, enjoying Mexican food, thrifting, listening to gospel music or caring for his mother, Kathy.
Nate graduated from Columbia College Chicago with a Bachelor of Arts in Journalism. He was also president of the Columbia College Association of Black Journalists and is a current member of the National Association of Black Journalists, NABJ.
Email Nate your story ideas at Nate.Rodgers@fox.com or connect with him on social media.
The latest from Nate Rodgers