Arlington Heights gets first look at proposed Bears stadium
ARLINGTON HEIGHTS, Ill. - Arlington Heights got its first up close and personal look at the future home of the Chicago Bears – if, that is, the organization moves forward with purchasing and developing Arlington Park.
"I want to stress from the outset, we want to be good neighbors," said Chicago Bears Chairman George McCaskey.
McCaskey and other team leaders presented their plans Thursday night during an informational community meeting, which drew hundreds of attendees into John Hersey High School's gymnasium.
The Bears organization showcased preliminary plans to create a destination for fans – comprised of a world-class stadium and an adjacent mixed-use entertainment district that could be utilized year-round.  
It's a project that could take more than 10 years to complete.
SUBSCRIBE TO FOX 32 CHICAGO ON YOUTUBE
"If this project is completed, what do we get? A world-class home for the Chicago Bears after a more than 100 year search," said McCaskey. "What do you get? A world-class facility, parks, housing, restaurants, hotel, and other community improvements."
Less than half of the 326-acre property would make up the stadium and parking. While the Bears have yet to determine capacity, officials said the new facility would hold significantly more fans than Soldier Field.
The enclosed stadium was not discussed in detail, and team leaders said stadium renderings would come much later on.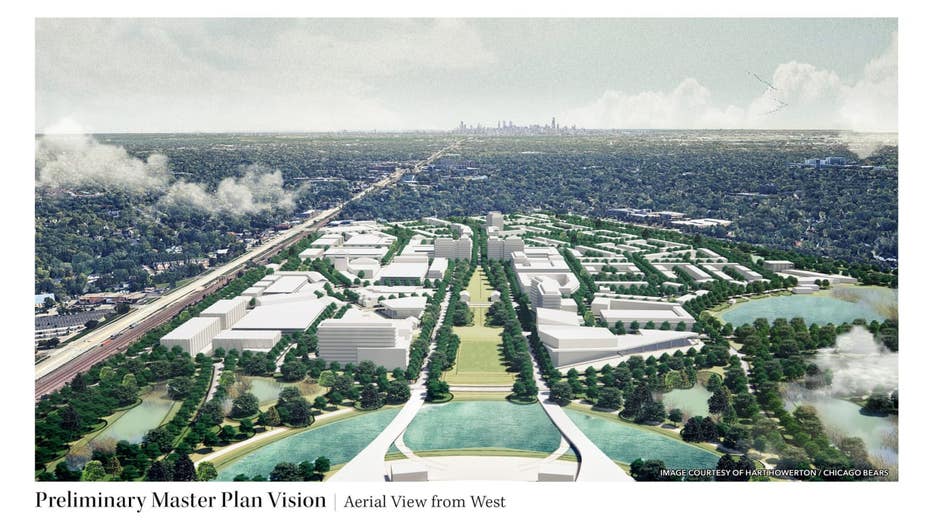 If the organization moves forward with purchasing Arlington Park, it would build its new stadium just east of Illinois Route 53 and south of Northwest Highway. The property, for decades, drew crowds to watch horse racing and partake in off-track betting.
Many residents are already sold.
"It would be a great opportunity to have a beautiful new stadium blocks from my house, we could actually walk there with my kids and grandkids," said Jeff Podlasek, who lives in Arlington Heights.
Others are intrigued by the idea, but say it will take a lot of work to make it happen.
"There's a lot that needs to be done, but the potential for what this can do for the region, I think this has the possibilities of being a real, real positive impact for the northwest suburbs, in terms of an economic engine," said Elliott Hartstein, former Mayor of Buffalo Grove.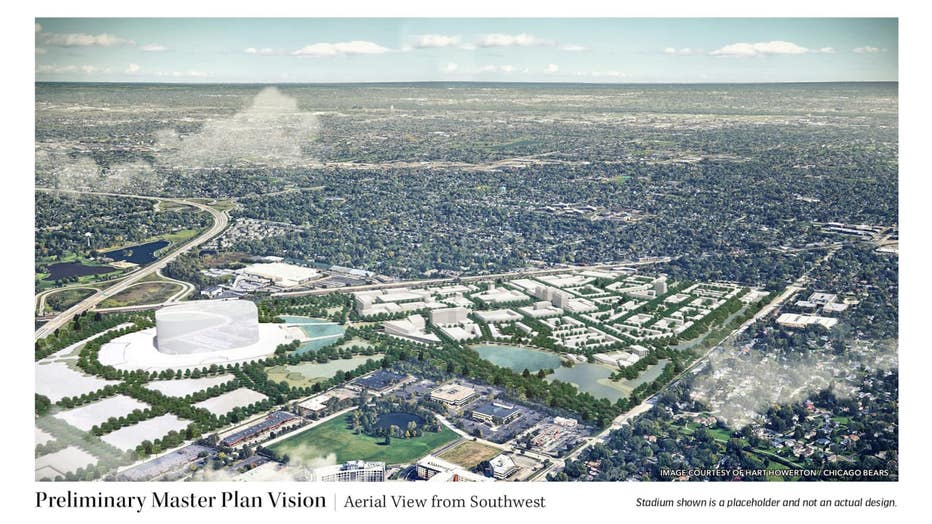 Some residents are opposed to taxpayer dollars being used on the project.
While the Bears do not plan to seek public funding for the stadium itself, they do for other parts of the development.
McCaskey said Thursday, that if they do not receive infrastructure support and property tax certainty, this project will not be able to move forward.
In an apparent attempt to justify public help for the broader development amid local resistance, the Bears rolled out a series of tantalizing numbers to describe the potential economic impact of the project.
The numbers include: a $9.4 billion impact for "Chicagoland"; $3.9 billion in overall "labor income" at $601 million a year; 48,000 jobs, 9,750 of them "long-term" positions; $16 million in annual tax revenue, in addition to property taxes for Arlington Heights.
The project would also generate $51.3 million in tax revenue for the state of Illinois and $9.8 million for Cook County, according to the economic impact study done for the Bears.
Americans for Prosperity Illinois, a social welfare organization, does not want to see taxpayers foot the bill for any of it.
"They have to play by the same rules as everyone else," said Brian Costin, deputy state director, Americans for Prosperity Illinois (AFP-IL).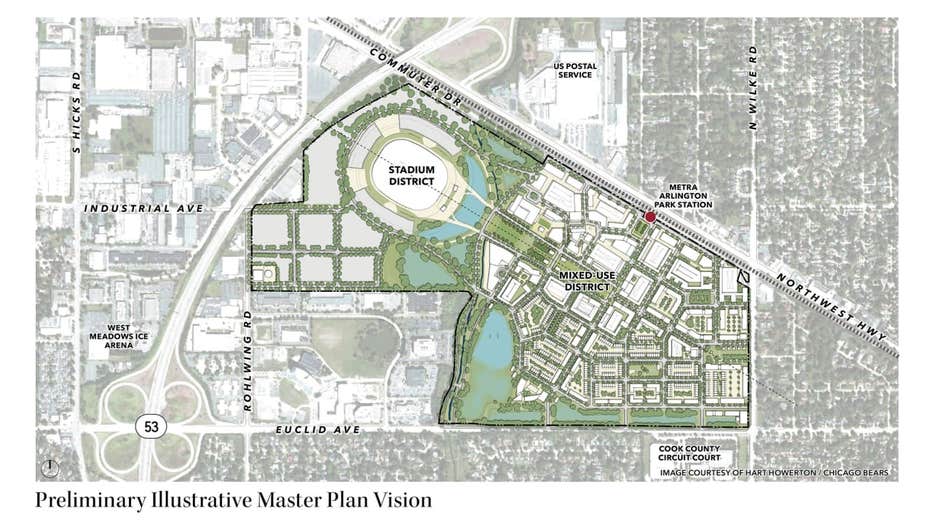 Costin dropped off 650 resident signatures at Tuesday's village meeting, calling on the board to pass an ordinance that would restrict Arlington Heights from using taxpayer-funded subsidies to entice the bears into making the move.
"They are almost a $6 billion corporation, they have a huge media deal, they don't need the taxpayer's money," said Costin.
The village board is expected to vote on that ordinance at its next meeting on Monday, Sept. 19.
A letter released by the Bears Tuesday states that the Bears "remain committed to Soldier Field and will honor the terms of its lease" even if a departure earlier than the 2033 expiration date of the lease requires a cash buyout.
"While the prospect of a transit-oriented, mixed-use and entertainment district anchored by a new enclosed stadium is exciting for the Bears and the entire state, there is much more to be done before we can close on the property," the letter states.
"We remain under contract to purchase the property, but there are conditions that must be met in order to be in a position to close. If we do close on the property, it does not guarantee we will develop it. While under contract with the seller of Arlington Park, we will not be discussing or exploring any other alternative stadium sites or opportunities, including renovations of Soldier Field."
Mayor Lori Lightfoot has offered a Hail Mary $2.2 billion plan to put a dome on Soldier Field in a desperate attempt to keep the Bears in Chicago or at least look like she tried her best to keep them if they leave.
Lightfoot said Thursday's community meeting does nothing to change the dynamic of her efforts to keep the Bears at Soldier Field.
"As I said months ago, we were gonna make a very compelling case for them to stay in the city of Chicago, and I think that we've done that," she said at a Tuesday morning news conference.
"We're gonna continue our discussions [with the Bears]. We're gonna continue our discussions with the league. As you know, I'm somebody who likes to plan. So, we've got Plan B, Plan C and others in the works as well, if the Bears decide they're gonna abandon the city of Chicago. I hope they don't. We're gonna keep fighting that fight as long as we possibly can."