Bears beat Vikings 25-20, tighten grip on NFC North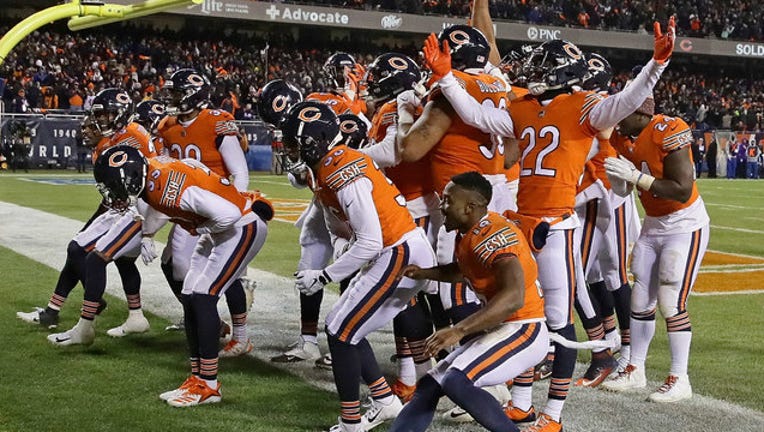 article
CHICAGO (AP) -- No doubt about it now, the Bears really are serious about winning the NFC North.
Khalil Mack had a sack and fumble recovery, Eddie Jackson returned an interception for a touchdown and Chicago tightened its grip on the division with a 25-20 victory over the second-place Minnesota Vikings on Sunday night.
Mack and Jackson led a dominant effort by the defense. And Chicago (7-3) took a big step toward its first division championship since 2010.
The Bears won their fourth in a row, their longest streak since a six-game run in 2012. Chicago finished 10-6 that year, missed the playoffs and fired coach Lovie Smith after that season.
"You've got to understand the situation, facing a division opponent, knowing we're going to face them twice a year," Mack said. "We've got to make that jump and you (saw) it today. It's knowing what's at stake. Everybody showed up ready to play."
The Monsters of the Midway simply dominated Minnesota on Sunday, taking out the defending division champions after beating three struggling teams -- the New York Jets, Buffalo Bills and Detroit Lions. 
The Bears also have victories the past two weeks over NFC North opponents after dropping 10 in a row against division foes.
"This isn't about proving, I don't think for us, as much as it is about our guys just learning that they can trust one-another," coach Matt Nagy said. "When you stick together through the highs and the lows and you work as hard as our guys do together and you listen to the coaches and the coaches listen to the players -- there's a collaboration -- you then get a chance to be in a situation like this tonight, to play in front of the whole world."
Chicago suffocated the Vikings (5-4-1), with big advantages in total yards (308-268) and time of possession (34:29-25:31) even though quarterback Mitchell Trubisky had his difficulties.
"They're a good defense, but a lot of times we hurt ourselves," Vikings receiver Adam Thielen said.
The Bears were leading by eight midway through the fourth quarter when Jackson picked off a pass from Kirk Cousins that was intended for Laquon Treadwell. His 27-yard TD return and a 2-point conversion pass from Trubisky to Adam Shaheen made it 22-6.
Cousins then threw a 13-yard TD to Aldrick Robsinon and a 2-point conversion to Adam Thielen, making it 22-14. But Cody Parkey kicked to 48-yard field goal with 2:48 left. And the Bears hung on from there.
Trubisky was 20 of 31 for 165 yards and a touchdown. But he was intercepted two times by Anthony Harris.
Parkey shook off a performance unlike any other by making all three of his field goal attempts. It was a big improvement over the previous week, when he hit uprights four times while missing two field goals and two extra points against Detroit.
"We all believed in him in the locker room," Trubisky said. "There was never a doubt. ... I'm happy for Cody. He was big-time tonight. He delivered for his team and put some points on the board when we needed them. They were crucial and he did a heck of a job."
Cousins was consistently under pressure and finished 30 of 46 for 262 yards. He threw two touchdowns in the final 4:51 and got intercepted two times.
"It was a balance at times," Cousins said. "They weren't necessarily getting a sack, but they were affecting my arm. And at other times the protection was holding up fine and (we) were getting the ball out. I think it was kind of everything across the board. Sometimes, it was a rusher on the edge, sometimes it was a rush inside, it was a game, a stunt, different things.
Stefon Diggs had 13 catches for 126 yards and a TD. But the Vikings came up short after winning four of five.
EARLY LEAD
Parkey nailed a 33-yard field goal down the middle on Chicago's first possession, drawing a loud and maybe sarcastic roar from the crowd. It was a promising start for a kicker lampooned by Jimmy Fallon on "The Tonight Show." Chicago TV stations even sent helicopters to shoot footage when he practiced at Soldier Field on Wednesday night.
Mack gave the crowd more to cheer near the end of the first quarter when he jarred the ball from Dalvin Cook and recovered at the Chicago 15, stopping a scoring threat.
The Bears added to their lead midway through the second when a sliding Anthony Miller hauled in an 18-yard touchdown from Trubisky. That capped the league's longest touchdown drive this season in terms of plays (13) and time (7:13).Trubisky then hit Josh Bellamy in the end zone to make it 11-0, after Chicago opted to go for two rather than have Parky attempt an extra point.
Parkey nailed a 41-yarder with room to spare in the closing minute of the half to make it a 14-point game. The Vikings then drove to the Chicago 32. But with Leonard Floyd bearing down on him, Cousins unleashed a wobbly heave that Adrian Amos picked off with on one else near him.
REMATCH
The Bears and Vikings face off again on Dec. 30 at Minnesota.
INJURIES
Bears: LB Aaron Lynch and TE Adam Shaheen both left the game with concussions.
UP NEXT
Vikings: Host Green Bay on Nov. 25.
Bears: Visit Detroit on Thursday.