Bears dump Cutler in latest offseason overhaul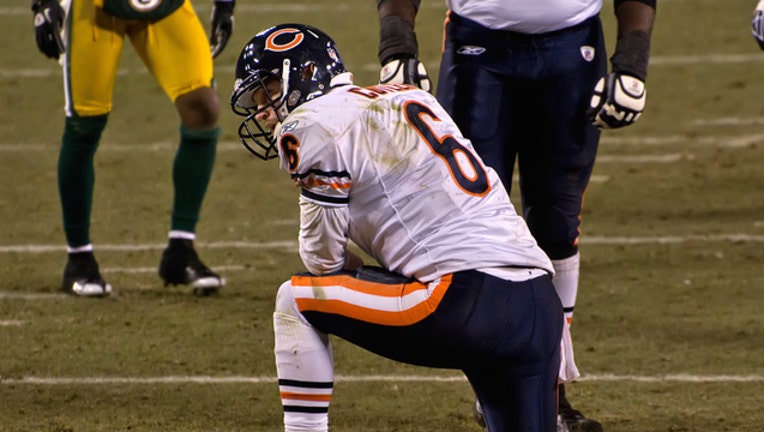 article
AP - The Chicago Bears have closed the book on Jay Cutler's era as their franchise quarterback, an unfulfilling eight-year story that featured only one postseason appearance.
The Bears made cutting Cutler their first official move on Thursday when the NFL free agent market opened, while they were reportedly working toward an agreement to replace him with former Tampa Bay quarterback Mike Glennon.
Cutler's final year with the Bears ended with a 3-13 record. Thumb and shoulder injuries limited him to five games. There was no guaranteed money left on the contract extension he signed a few days after the 2013 season, making the move to cut the 33-year-old widely expected.
"I appreciate Jay's professionalism throughout this process and throughout my two years with him here in Chicago," general manager Ryan Pace said. "I will always appreciate his toughness and respect his accomplishments on the field with the Bears."
Chairman George McCaskey said the organization was "grateful" for Cutler's contributions.
"His ability, toughness, and intelligence were on daily display at Halas Hall and Soldier Field. He had an extraordinary impact off the field, doing things for people, especially kids, without expecting or wanting any recognition," McCaskey said. "I was and am a big fan of his."
The Bears paid Cutler roughly $105 million since acquiring him in a trade with Denver before the 2009 season, when they sent the Broncos quarterback Kyle Orton, two first-round picks and a third-rounder for Cutler and a fifth-round selection. He accumulated more yards and touchdowns than any other Bears quarterback while picking up many other career club records, including passer rating and completion percentage. He also posted four of the top five single-season passing yardage totals in franchise history, behind record-holder Erik Kramer (1995).
Cutler took the Bears to the playoffs once, though, their only appearance of the last 10 years. They won the NFC North in 2010 and hosted the NFC championship game. But Cutler spent most of the second half on the sideline that afternoon with a knee injury that, fair or not, triggered a widespread spike in criticism about his demeanor and toughness.
The former first-round draft pick (11th overall) of the Broncos out of Vanderbilt had a rocket arm and nimble feet. His exceptional skills became more of a tease than fuel for the success envisioned by the Bears when they brought him in.
Cutler twice led the league in interceptions with the Bears and only once, his first season, played in all 16 games. He was battered some years behind leaky offensive lines, and at times lacked reliable wide receivers, though Alshon Jeffery and Brandon Marshall formed an exceptional duo from 2012-14. Cutler clashed at times with offensive coordinators, most notably caught once on camera shaking his head and cursing at Mike Martz after a play was called in.
With Brian Hoyer going to San Francisco and Matt Barkley also an unrestricted free agent, the Bears, who have not drafted a quarterback since Pace was hired after the 2014 season, could now turn to Glennon for their next audition.
Drafted in the third round out of North Carolina State in 2013 by the Buccaneers, Glennon had a decent rookie year with 19 touchdown passes and only nine interceptions over 13 starts. He was benched in favor of veteran Josh McCown in 2014 and ultimately usurped by No. 1 overall pick Jameis Winston the following season.
The Bears also let Jeffery leave for Philadelphia at the start of yet another offseason overhaul at Halas Hall.
___
For more NFL coverage: http://www.pro32.ap.org and http://www.twitter.com/AP_NFL