Bears QB Mitchell Trubisky day to day with shoulder injury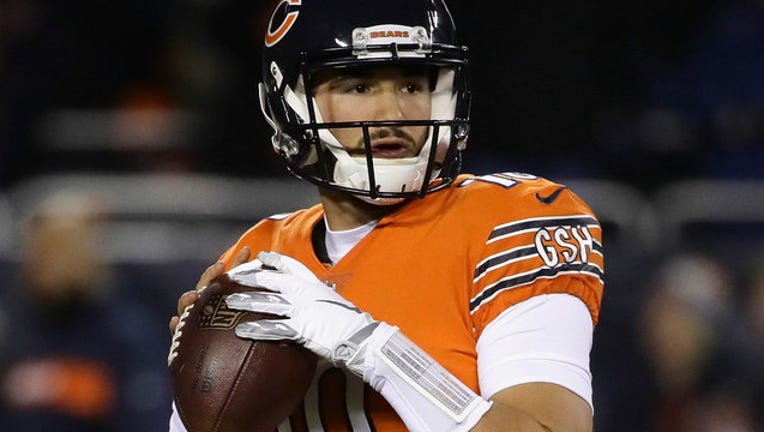 article
LAKE FOREST, Ill. (AP) - Chase Daniel promises to be ready to step in at quarterback for Mitchell Trubisky on Thursday when the Chicago Bears play the Detroit Lions.
The Bears' backup might need to clear away some rust.
Daniel hasn't started or played extensively in an NFL game since 2014, and might start for Trubisky because of a right shoulder injury sustained in the fourth quarter of Sunday night's 25-20 Bears victory over the Minnesota Vikings.
"This week is a little bit different just because it's a short week, but I really haven't changed the way I prepare," Daniel said. "I prepare like a starter every week, so for me it's just another game."
Coach Matt Nagy is holding out hope Trubisky can play even without practice.
"I'm saying cautiously optimistic, but I can't make any promises," Nagy said. "I hope he does. But it's a day-to-day thing for us."
The Bears had walkthrough type practices Monday and Tuesday, and on Wednesday have meetings before leaving for Detroit.
Nagy wouldn't describe the injury beyond saying Trubisky is " ... in pain, which is normal."
Nagy stressed it isn't a long-term injury, or one requiring surgery, but the Bears will be prepared if Daniel plays.
"I know that Chase, this is one of the reasons why he's here, if we get in a situation like this where we have to make a decision one way or the other," Nagy said. "This is why you have a guy like Chase.
"You feel very comfortable with him. Chase understands; he's the oldest guy on our team (32), so he's got experience."
Daniel hasn't thrown a regular-season pass since 2016. He hasn't thrown more than two passes in a season since 2014 in Kansas City. However, he has extensive knowledge of the offensive system after being in it from 2013-15 with the Chiefs.
"Nags and I go way back, he was my position coach for three years in Kansas City, obviously, and we stayed close for my time away," Daniel said. "Yeah, we have a great relationship, so when it comes to that we trust each other pretty well. So we know what each other likes, and I think we can just roll."
Daniel has a 1-1 record as an NFL starter and has completed 51 of 78 for 480 yards with a touchdown pass and an interception. He also played for the Saints, Chiefs and Eagles.
"The No. 1 thing that you learn about Chase when you're around him is that in a really good way, he's extremely confident in how he plays because he's so smart," Nagy said. "The game is not fast to him when he plays."
Daniel started at the end of the 2013 season on short notice when Chiefs quarterback Alex Smith suffered a lacerated spleen. Daniel completed 21 of 30 for 200 yards and a touchdown in a 27-24 loss to San Diego.
"I got called by Andy Reid on Thursday night late, so really that week I only got a red-zone practice on Friday and a walk-through on Saturday," Daniel said. "So similar timeline (to this week), yeah."
One of Trubisky's strengths has been his mobility, even if it did land him on the injury report. He leads all NFL quarterbacks in rushing with 363 yards.
Offensive coordinator Mark Helfrich sees no reason for play calling to be altered even if Daniel isn't a scrambler.
"They're not that significantly different," Helfrich said. "Certainly, you're going to tailor things to one person or another absolutely, but within the same structure.
"We're not going to change the offense if something happens. You can't do that."
Trubisky's best game yardage-wise came against the Lions on Nov. 11; he threw for 355 yards on 23 for 30 with three touchdown passes.
Nagy avoided calling the penalized hit by Minnesota's Harrison Smith on Trubisky a dirty play. Trubisky was struck on the left shoulder but landed on his right shoulder while sliding.
"It wasn't intentional," Nagy said. "Again, it is football. It is an illegal hit. You always want to look at things from both sides and you hope it's not malicious."
Trubisky's slide left something to be desired. He seemed to want to lunge more than slide.
"He's good at it," Nagy said. "Because he's running more often than others, there's different times that he slides and different ways that he slides.
"I've been around some bad sliders, including Michael Vick, and he'd laugh at it. He couldn't slide to save his life. We used to go out and put the slip and slide out after practice and try to teach him, and he couldn't do it."