Bears rookie Mitchell Trubisky ready to take starting role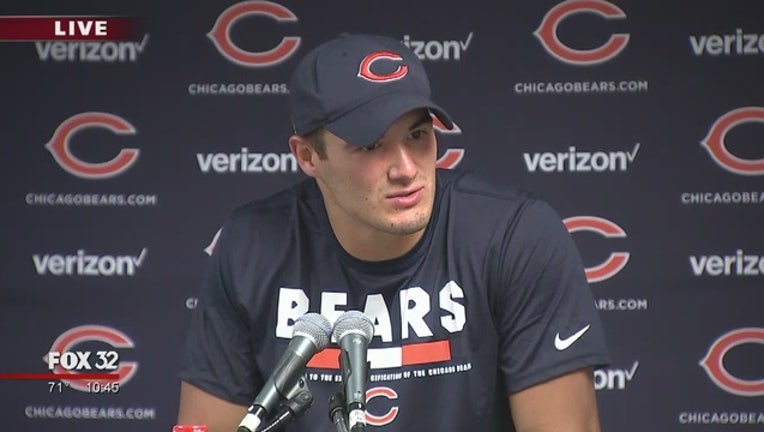 article
LAKE FOREST, Ill. (AP) - Chicago Bears quarterback Mitchell Trubisky thinks he can handle the pressure of his first NFL start Monday night against the Minnesota Vikings.
"You only get nervous or feel pressure when you're not prepared for the situation or where you don't know what you're doing," Trubisky said.
The Bears went into training camp insisting Mike Glennon was their starting quarterback, but a 1-3 record and eight turnovers led to a reversal.
And it's Trubisky Time in Chicago, as the Bears become the latest NFL team to throw a young quarterback into the mix.
"I think he's got a good mindset, I think he's got a good, natural feel," Bears coach John Fox said of Trubisky. "I think he's done a good job up to this point. I think he'll continue to do well moving forward."
At the beginning of training camp, Fox and general manager Ryan Pace were saying something entirely different about Trubisky's readiness. They insisted the starter was Glennon, who signed a three-year free agent contract with $18 million guaranteed.
But Glennon played himself out of the lineup and now it's Trubisky's turn to show what the second pick in this year's draft can do.
"Mike gave us everything he had," Fox said. "He prepared hard. It wasn't lack of preparation. He worked very hard at it.
"Just after four games it didn't go quite as well as eveyrbody wanted and now we're taking a look at Mitch."
Glennon was 93 for 140 with four TDs and five interceptions. He had a passer rating of 76.9. He threw a key interception to give Pittsburgh a chance to tie it in the fourth quarter before the Bears won in overtime 23-17. In his two losses, Glennon committed seven turnovers.
During the preseason, Trubisky went 36 of 53 for 364 yards with three touchdowns and no interceptions, and became the backup ahead of third-stringer Mark Sanchez.
"I can't say enough good things about Mike throughout this whole process," Trubisky said. "Really, from Day 1, he's taken me in, accepted me and made me a part of the quarterback room. I've learned so much from him in just continually how well he carries himself even througout this situation as a professional and as a person."
Trubisky's mobility had a lot to do with the change. He showed a knack in preseason for moving in the pocket and also outside of it before throwing. His style is in contrast to Glennon's.
"It's kind of a gunslinger's mentality," Trubisky said. "It's being methodical, staying within the offense, being consistent and doing my job.
"And then when things break down, I'm able to make plays and again get the ball to my playmakers. Because I'm not the best athlete on the field. There are other guys who do that. But when things can break down I can maybe make something happen."
Trubisky found out about the change Sunday night from Fox, and the announcement was made by the Bears on Monday.
Trubisky has already seen what some of the young quarterbacks selected this year are capable of, including Houston's Deshaun Watson, who led a 57-14 victory Sunday over Tennessee.
"We're in an era where young quarterbacks are epected to come in and produce right away like veterans have, so it's a little bit different," Trubisky said.
"But I just think the types of people and players there are coming out (in the draft), they're able to handle it."
Glennon took the high road and promised continued support.
"Obviously, not what I wanted," Glennon said. "Not what I hoped for. But I still have a big role on this team. I'm still a captain of this football team. I'm going to handle it like a pro."
The Bears lost their opener at home to Atlanta 23-17 when they failed to get into the end zone on four plays from the 5-yard line. Besides beating Pittsburgh, they were blown out by Green Bay and Tampa Bay in road games.
"I think I played well enough to win two; didn't play well enough to win in the other two," Glennon said. "Obviously, turnovers were very critical.
"But I'm going to stay ready, be ready to go because (I'm) only one play away. I'll continue to help Mitch in any way I can."
___
For more NFL coverage: www.pro32.ap.org and www.twitter.com/AP_NFL