Blackhawks rally from 3 down in 3rd, beat Canucks in OT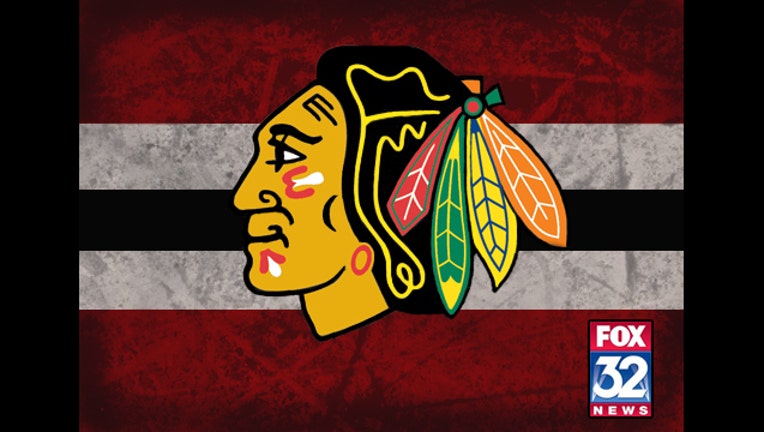 article
VANCOUVER, British Columbia (AP) — The Chicago Blackhawks got to celebrate twice Saturday night.
Not bad for a team down three goals after 40 minutes.
Marian Hossa scored late in overtime, capping a rally to overcome a three-goal deficit that gave the Blackhawks a 4-3 victory over the Vancouver Canucks.
Hossa scored after Jonathan Toews' apparent winner 31 seconds into OT was overturned on a video review that showed Chicago to be offside.
"It's tough," Chicago goalie Scott Darling said. "You get that sigh of relief and all of a sudden it's taken back from you."
Hossa then beat Jacob Markstrom low blocker side 4:04 into OT for his 11th goal of the season.
That came after Ryan Hartman tied it with 4:14 left in regulation following goals from Artemi Panarin and Vinnie Hinostroza earlier in the third. The 22-year-old Hinostroza got his first NHL points with a goal and two assists.
"We didn't panic," Hossa said. "We knew there was still 20 minutes left and this team is able to score three goals in a period."
Loui Eriksson, Bo Horvat and Brandon Sutter scored for Vancouver, which got 28 stops from Markstrom.
"Tough one," Canucks captain Henrik Sedin said. "Getting a point against the Blackhawks should be a good thing for us, but tonight we should have had two."
After Toews' score was overruled, an end-to-end extra period continued. Darling stopped one chance by Vancouver's Markus Granlund, and then Sedin sent a shot off the post. The Blackhawks' Patrick Kane was stopped on a breakaway before Darling came up with huge stops on Eriksson and Sutter, and then Horvat ripped another chance just wide.
"That's probably the most exciting overtime I've been a part of," Horvat said.
Vancouver led 3-0 after two periods behind strong defensive play, but the Blackhawks got on the board 2:53 into the third when Panarin one-timed a cross-ice pass from Kane for his seventh of the season a few seconds after a Vancouver penalty expired. Hossa also came close to scoring on the power play on a shot that hit the post.
Chicago cut the deficit 1:13 later when Hinostroza, playing the 17th game of his career, stepped around defenseman Alexander Edler before scoring on his own rebound.
Bryan Campbell also hit the post while the Blackhawks outshot the Canucks 17-3 in the third period, but Chicago didn't tie it until Hinostroza set up Hartman for his fourth of the season.
"It's a tremendous comeback," Blackhawks coach Joel Quenneville said. "We didn't have anything going for two periods, we didn't generate much, didn't have any traffic.
"We got one and got a little excited."
Eriksson scored on a power play in the first period, and Horvat made it 2-0 with 2:57 left in the second while killing a penalty. Alexandre Burrows stripped Toews at the Canucks' blue line and chipped the puck ahead to Horvat, who beat Darling on a breakaway for his sixth goal.
Sutter made it 3-0 later in the second off a feed from Sedin following a dump that eluded Chicago defenseman Michal Kempny. It was Sutter's fifth goal and fourth in four games.
NOTES: Darling stopped 24 shots. ... Canucks G Ryan Miller, who sat Thursday against the Coyotes with the flu, was well enough to dress as the backup. ... Vancouver's Derek Dorsett sat out after injuring his shoulder in the first period Thursday. He joined fellow F Jannik Hansen (fractured rib) and S Christopher Tanev (lower body) on the shelf.
UP NEXT
Blackhawks: Continue their season-high seven-game road trip Monday night against Edmonton.
Canucks: Open a three-game trip Wednesday night at Arizona.