Bryant, Rizzo, Contreras no-shows at plate for Cubs in NLCS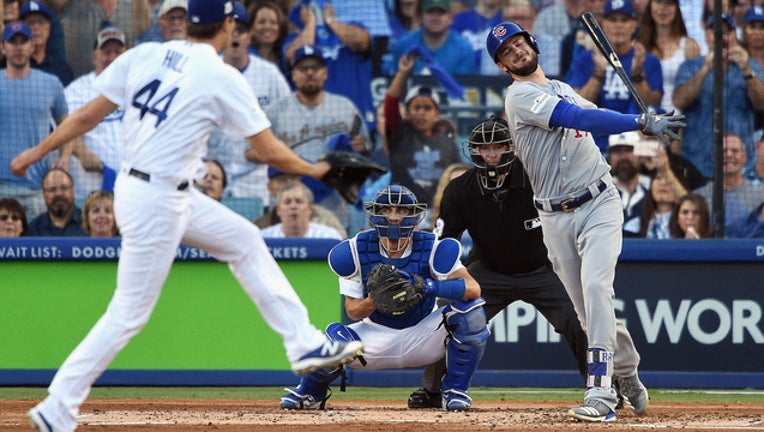 article
LOS ANGELES (AP) - Kris Bryant wore a crimson T-shirt that said "Better Days" in the Chicago Cubs' hushed clubhouse Sunday night.
Those better days better come real soon because Bryant, Anthony Rizzo and the rest of the defending World Series champions are heading home in a 2-0 hole against the Los Angeles Dodgers in the NL Championship Series.
"Sure do hope so," Bryant said.
The heart of the Cubs' order simply hasn't shown up, particularly against LA's lights-out bullpen.
Bryant, Rizzo and Willson Contreras combined to go 0 for 11 in Sunday night's 4-1 loss. It was 1-all when Rizzo reached with one out in the ninth when he was hit on the hand by a pitch from Kenley Jansen, but was stranded after Contreras struck out and Albert Almora Jr. grounded out.
Justin Turner hit a three-run homer with two outs in the bottom of the ninth to win it. Turner drove in all four of the Dodgers' runs.
Bryant, the 2016 NL MVP, and Rizzo said they have to keep from pressing and trying to carry the team. Bryant and Rizzo are a combined 3 for 38 in their last five postseason games.
"Obviously I think everybody in the lineup, they feel the same way we do. When you don't produce, it's like you let the team down. That's not the right way to feel because not one person makes or breaks the team," said Bryant, whose best at-bat Sunday was a first-inning drive to right that Yasiel Puig caught against the fence while fighting off the late-afternoon sun.
"For me, I put that in perspective all the time and realize it's not what you do in the playoffs, it's what the team does and obviously we haven't been getting it done so far in this series," Bryant said. "But this is a totally unselfish team and I don't think anybody here is pouting or down on themselves. It's just a matter of, we've got to go out there and come together as a team and don't put too much worry in yourself."
Said Rizzo: "We've got good hitters. They're just getting us out."
Asked if he and Bryant feel responsible, Rizzo said: "I think that would be selfish if we did. One through nine, all 25 guys, we've got to get it going. Our pitching's doing a heck of a job, you need help from everyone in the lineup, not just one or two guys."
Bryant and Rizzo haven't contributed since the first inning of the opener on Saturday night, a 5-2 Dodgers victory. Bryant singled and Rizzo walked against Clayton Kershaw, and were left on base. Neither got on base the rest of that game, and both struck out against Jansen in his four-out, four-strikeout save.
The futility continued Sunday night against Rich Hill and a bullpen that was perfect other than Jansen plunking Rizzo.
After a travel day, the rematch of the 2016 NLCS resumes Tuesday night at Wrigley Field with Yu Darvish pitching for the Dodgers and Kyle Hendricks for the Cubs.
Chicago's only run Sunday came on Addison Russell's leadoff homer in the fifth off Hill.
Their only runs Saturday night came on Almora's two-run homer off Kershaw in the fourth. After that, the Cubs made 18 straight outs against Kershaw and five relievers.
The Cubs have been down before, most notably when they trailed the Cleveland Indians 3-1 in last year's World Series before taking the final three games to win their first title since 1908.
The Cubs say this is a different Dodgers team than they dispatched in six games in last year's NLCS.
"Their bullpen is a lot stronger than it was last year," said Bryant, adding that the Dodgers do a good job of throwing high fastballs.
"They're really good at throwing high fastballs in the zone," he said. "Other teams try to and they might hit it one out of every four, but this team seems like they really can hammer the top of the zone, and they have guys who can throw in the upper 90s. So when you mix those two it's tough to catch up to."