Chicago Bears defense looking for a way to close out games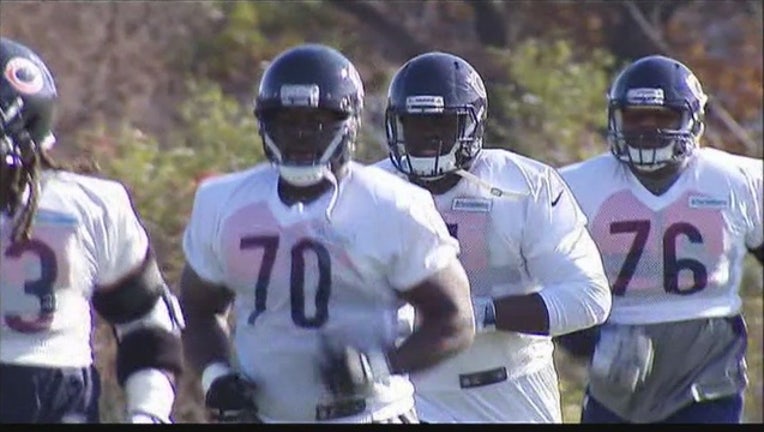 LAKE FOREST, Ill. (AP) — After losing two straight games in the fourth quarter, the Chicago Bears defense is searching for a way to close out games.
The Bears held the Minnesota Vikings passing game in check until late in the fourth quarter and lost 23-20.
The Bears also lost in overtime to the Detroit Lions after allowing a late touchdown in regulation.
"We have to find a better way to close out games and finish games with an attitude," safety Antrel Rolle said Wednesday. "I think that's where we're losing our edge."
The Bears rank fourth in passing yardage allowed, but when it has mattered most, their abilities to cover passes and rush the passer has been lacking.
Facing a San Diego Chargers team ranked first in the league in passing on Monday night affords Chicago an opportunity to atone for two straight losses and a 2-5 record.
"In the last two games, there's been one play or two plays, maybe even three plays that changed the game," linebacker Sam Acho said. "We could be sitting here at 4-3, minus those two plays, each one in each individual game.
"And the key is turning it up a little bit more, I would say, in practice."
Rolle gave up a big catch for 27 yards to Charles Johnson and set up Minnesota's winning field goal last week, but the veteran safety wasn't alone in failing to produce at the biggest moment.
Safety Adrian Amos failed to wrap up Vikings quarterback Teddy Bridgewater on a blitz on a play that extended a drive, and defensive back Sherrick McManis allowed a 40-yard, game-tying touchdown pass in the fourth quarter.
Defensive coorindator Vic Fangio pointed to the pass rush as one way the Bears can prevent their secondary from being exploited late in games.
"At times we've shown some improvement, and at times we haven't," he said. "It's been inconsistent."
Pernell McPhee has been a steady pass rusher off the edge with five sacks, but the Bears see a better pass rush inside as critical to beating San Diego and quarterback Philip Rivers.
Defensive end Jarvis Jenkins had three sacks in the first four games, but only half a sack the next three. Rookie Eddie Goldman has 1 1½ sacks, but none of the other interior linemen have a sack.
"We started hot, getting those couple sacks, with me," Jenkins said. "I had those first couple sacks the first half of the season. I've got to bring more. They need more inside pressure."
Jenkins said he's seen a few more double teams in pass rush since he started out hot, but doesn't want to use it as an excuse.
"That's the thing about playing football," he said. "You know you're going to get doubled, but when you have those single blocks you've got to win."
One way the Bears hope to get better late in games is simply by being closer to full strength. Rolle was playing his first game back from an ankle injury last week.
On Wednesday, inside linebacker Shea McClellin practiced on a limited basis, his first participation in practice since suffering a knee sprain against Kansas City on Oct. 11.
McClellin had been responsible for calling defenses on the field.
"We moved him to inside linebacker (from outside), but he was really coming along," coach John Fox said. "From a communication standpoint, a lot of things they communicate both verbally and visually, he was in charge of.
"You always miss that a little bit, kind of like when we had Antrel Rolle out."
Fox suggested coverage problems — if not others — could clear up once the defense has been together longer.
"I've always had the philosophy when you stop learning you stop living," Fox said. "So I don't think you ever know it all, I don't care how long you've done it.
"I think it's even more so with young players every time they're out there the learn something different."
NOTES: Running back Matt Forte and wide receiver Eddie Royal, who left the Vikings game with knee injuries, did not practice Wednesday. ... Starting center Hroniss Grasu, who missed the Minnesota game with a neck injury, remained sidelined.
___
Online:
AP NFL website: www.pro32.ap.org and http://twitter.com/AP_NFL