Cubs avoid sweep, top Dodgers 3-2 to cut NLCS deficit to 3-1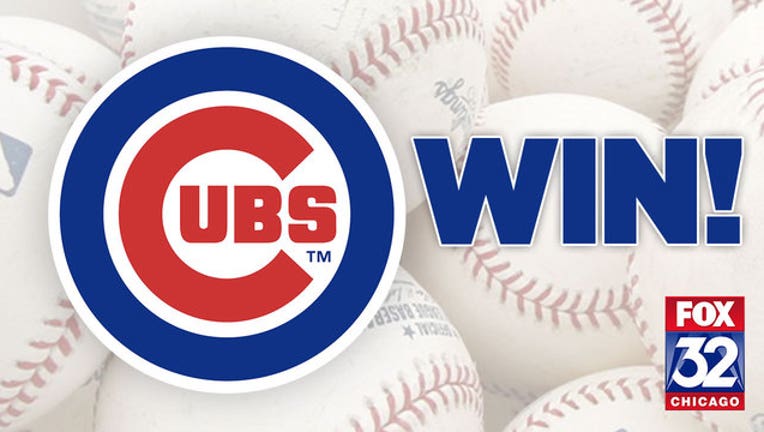 article
CHICAGO (AP) - Javier Baez snapped an 0-for-20 skid with two home runs, Wade Davis hung on for a six-out save and the Chicago Cubs avoided a sweep, holding off the Los Angeles Dodgers 3-2 Wednesday night in Game 4 of the NL Championship Series.
Jake Arrieta pitched three-hit ball into the seventh inning to held the defending World Series champion Cubs close their deficit to 3-1. Manager Joe Maddon got ejected for the second time in this series in the eighth, and a packed Wrigley Field crowd watched Davis get Cody Bellinger to ground into a game-ending double play.
Maddon was heavily criticized for not using Davis during a 4-1 loss in Game 2. This time, the Cubs closer threw 48 pitches to finish the job.
Willson Contreras also homered for the Cubs. Bellinger and Justin Turner connected for the Dodgers, who had won a team-record six straight playoff games.
Game 5 is Thursday, with Jose Quintana pitching for Chicago against Dodgers ace Clayton Kershaw.
Baez hit solo drives in the second and fifth after going hitless in his first 20 playoff at-bats. Contreras added a long homer against Alex Wood.
Davis entered with a 3-1 lead in the eighth. He gave up a leadoff homer to Turner, who went 2 for 2 and drew two walks.
Maddon became incensed that a swinging strike three against Curtis Granderson was ruled a foul after the umpires discussed the play. Maddon got tossed, and Granderson struck out swinging at the next pitch.
And after walking Yasmani Grandal to put runners on first and second, Davis struck out Chase Utley, who is hitless in his last 24 postseason at-bats.
All seven of Chicago's runs in this series have come on homers. And long drives in the second by Contreras and Baez made it 2-0.
Contreras' homer banged off the left-field videoboard and Baez's landed beyond the left-field bleachers on Waveland Avenue.
Bellinger cut it to 2-1 with his drive to right in the third. But Baez got the lead back up to two with a shot to the left-field bleachers in the fifth, the raucous crowd chanting "Javy! Javy!" for the flashy young star who was co-MVP of the NLCS last year.
No Cubs player had hit two in a playoff game since Alex Gonzalez went deep twice in Game 2 of the 2003 NLCS against Miami.
Arrieta exited with runners on first and second in the seventh after walking Chris Taylor on a 3-2 pitch. He tipped his hat as fans gave him a standing ovation, a fitting show of appreciation for a pitcher with an expiring contract.
Arrieta turns 32 in March and figures to land a huge deal in free agency. The trade that brought him from Baltimore helped fuel Chicago's rise, with the right-hander capturing the 2015 NL Cy Young Award and contributing to last year's drought-busting championship run.
Limited by a right hamstring injury in the final month of the season, he threw 111 pitches. Brian Duensing retired Bellinger on a fly to end the seventh.
Turner made it a one-run game with his homer off the left-field videoboard against Davis in the eighth.
A career-high 16-game winner, Wood gave up three runs and four hits in 42/3 innings.
UP NEXT
Dodgers: The Dodgers turn to Kershaw to try to wrap up the series. The three-time NL Cy Young winner went five innings in Game 1, allowing two runs, and has a 4.76 ERA in two postseason starts this year.
Cubs: Quintana pitched five innings of two-hit ball in Game 1, one day after his wife, Michel, was taken off the team plane in Albuquerque with a medical ailment.