Cubs hammer A's bullpen in 12-2 win for 3-game sweep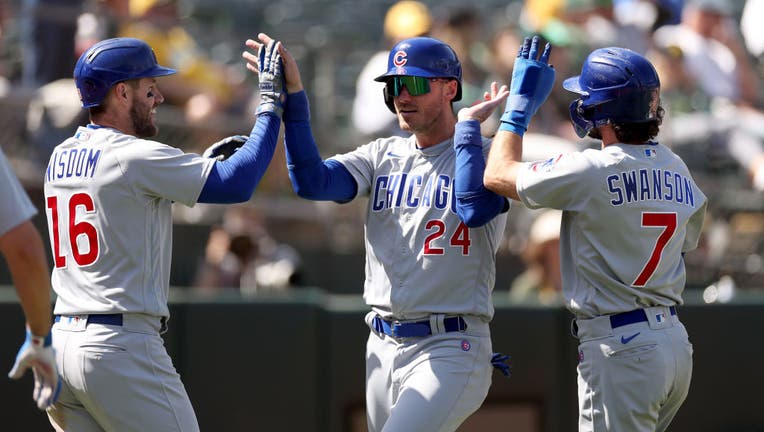 article
OAKLAND, Cailif. - Dansby Swanson scored the tiebreaking run standing up on an infield grounder to spark a four-run sixth inning, and the Chicago Cubs reached Oakland's bullpen for 10 runs in a 12-2 victory over the Athletics on Wednesday that completed a three-game sweep.
"We're just playing good team baseball up and down the lineup with different guys getting hits," Cubs manager David Ross said. "A really nice road trip. Guys took care of business here. Up and down the lineup, guys are locked in."
The A's have lost seven straight and at 3-16 are mired in their poorest 19-game start since the 1951 Philadelphia A's.
Eric Hosmer hit his first home run since last July 29 for San Diego, Patrick Wisdom had a two-run triple and Nico Hoerner added three hits for the Cubs. Luis Torrens drove in two runs with a bases-loaded double in the ninth.
Justin Steele (3-0) struck out five in six innings, allowing two runs — one earned — and four hits. The left-hander, who won four games in 24 starts last season, has given up two earned runs or fewer in 11 consecutive starts dating to last year.
"I've had better starts, but it's always good to go out there and put the guys in a good position to win a ballgame," Steele said. "It's always fun to watch us score runs. I like guys going up there and just swinging it. That's what we've been doing lately, finding a lot of barrels."
Mason Miller, a 24-year-old right-hander who is Oakland's top pitching prospect, made his major league debut and allowed two runs, four hits and one walk with five strikeouts in 4 1/3 innings. The 6-foot-5 right-hander, a third-round pick in the 2021 draft, reached 100 mph with 15 of 81 pitches and averaged 99.3 mph with 53 fastballs.
He retired nine of his first 10 Chicago hitters before the Cubs scored single runs in the fourth and fifth.
"I think he's got a really good chance to be pretty dang good," Chicago catcher Tucker Barnhart said. "I'm anxious to watch him grow as a player. As a player, you want guys in the league like that."
Miller, who had friends and family in the stands, admitted to some early jitters.
"All morning, I couldn't wait for it to get started," Miller said. "My control was a little sporadic, but I chalk that up to nerves and I think I settled in as the game went on. I'm happy with how my outing went today. There's some things I'd like to change, but I try not to be super critical of it today and just enjoy the moment."
A's manager Mark Kotsay was ejected for arguing in the fourth inning by plate umpire Adam Hamari after Aledmys Díaz struck out looking on a pitch clock violation.
With the score 2-2, Swanson and Ian Happ drew back-to-back walks off Chad Smith (1-1) to begin the sixth. After both runners moved up on a wild pitch, Cody Bellinger hit a sharp grounder to first baseman Jesús Aguilar off Sam Moll. Aguilar attempted to get the out at home, but Swanson beat the throw standing up.
After Torrens struck out swinging, Wisdom tripled for a 6-2 lead.
Hosmer homered off Adam Oller in the eighth.
Keegan Thompson and Julian Mayweather combined to get the final nine outs for the Cubs.
Carlos Pérez and Jordan Diaz had RBI doubles for Oakland.
TRADE
The A's sent minor league OF Cal Stevenson to the San Francisco Giants for cash.
TRAINER'S ROOM
Cubs: RHP Kyle Hendricks emerged from a two-inning simulated game in Arizona on Monday feeling good, although he isn't yet ready to begin a rehab assignment, Ross said.
Athletics: OF OF Ramón Laureano (strained left groin) was placed on the 10-day IL retroactive to Monday and RHP Trevor May (anxiety) was put on the 15-day IL. ... Closer Dany Jiménez, who was placed on the IL on Tuesday with a right shoulder strain, was transferred to the 60-day IL and won't throw for at least a month.
UP NEXT
Cubs: RHP Jameson Taillon (0-2, 7.00 ERA) starts Friday in Los Angeles seeking his first career win in five outings against the Dodgers.
Athletics: Kotsay has not named a starter for Friday's series opener in Texas.