Dalton sharp in new offense, Bengals beat Bears 30-27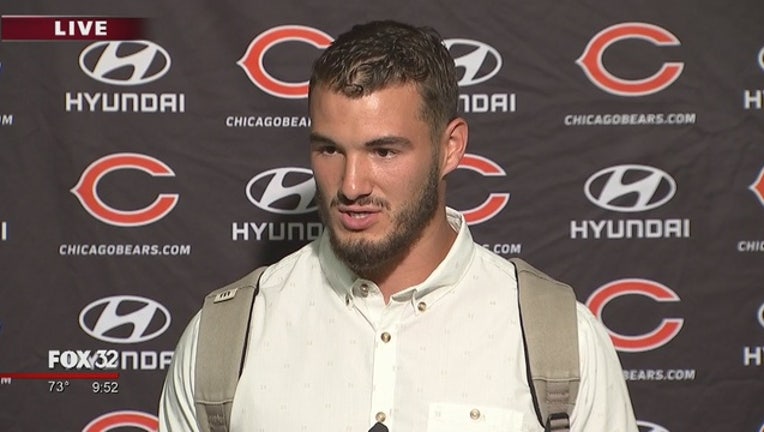 article
CINCINNATI (AP) - Andy Dalton made the Bengals' new offense look like a comfortable fit.
Working out of Cincinnati's reconfigured playbook, Dalton threw a pair of touchdown passes during a 30-27 victory over the Chicago Bears on Thursday night at half-empty Paul Brown Stadium.
The Bengals (1-0) were last in the league on offense last season, the worst finish in franchise history. They overhauled their leaky offensive line, and coordinator Bill Lazor injected more diversity into the playbook. It showed the first time out.
"That's what we wanted to do," Dalton said. "If we go out and play like we're supposed to play, it can look like that."
Dalton went 6 of 8 for 103 yards, completing four passes of at least 20 yards. He also had an interception that wasn't his fault - John Ross fell on his route and Kyle Fuller returned the pickoff 47 yards to the end zone.
The Bengals are hoping that Ross and running back Joe Mixon - their top two picks last season - emerge in the redesigned offense during their second seasons.
Ross had a 20-yard catch. Mixon - moved into the starring role with Jeremy Hill gone - made the game's most impressive play. He caught a short pass, stiff-armed one defender and spun away from another for a 24-yard touchdown .
The Bears (0-2) rested most of their starters during a 17-16 loss to the Ravens in the Hall of Fame Game, including quarterback Mitchell Trubisky . His preseason debut Thursday didn't go very well.
"We expect to be better," Trubisky said. "We were sloppy and that's not how we want to play."
Trubisky was in for two series that netted minus-1 yard on eight plays. The Bears' only first down on those series came on Carlos Dunlap's penalty for roughing the quarterback, a late hit on Trubisky. He missed on a deep sideline pass to Kevin White on his opening throw and finished 2 of 4 for 4 yards.
"There was nothing extraordinary, but nothing bad," first-year coach Matt Nagy said. "This is so early for him right now. It'll be fun to get him more snaps and get him into a rhythm."
EMPTY SEATS
Attendance was 35,633, slightly more than half-capacity at the 65,535-seat stadium. Last year, the Bengals drew 44,495 for their first home preseason game. They're coming off two straight losing seasons.
LOOKING GOOD
Tyler Bray had a 56-yard completion to Daniel Brown during a 92-yard touchdown drive that put the Bears ahead in the fourth quarter. Bray finished 18 of 27 for 219 yards. The Bears signed him from Kansas City, where he was familiar with Nagy's offense.
INTERESTING CHOICE
Nagy decided to try for a tying field goal with 45 seconds left. Cody Parkey missed a 52-yard try.
NATIONAL ANTHEM
There were no protests. Bears players, coaches and staff stood with arms linked for the anthem. Bengals players stood by themselves on the sideline.
PRESEASON TRICKERY
The Bengals pulled off a fake punt in the second quarter, with safety Clayton Fejedelem going 49 yards after a direct snap. He finished as Cincinnati's leading rusher with the one run.
HEADS UP
Chicago's Demarcus Ayers and Fejedelem drew personal fouls for lowering their heads during tackles.
INJURIES
Bears: LB Josh Woods suffered a hand injury in the first half and didn't return.
Bengals: LB Vincent Rey hurt his right ankle while blocking on a punt return and was helped off the field in the first quarter. He didn't return.
NEXT UP
Bears: Play at Denver on Saturday, Aug. 18.
Bengals: Play at Dallas on Saturday, Aug. 18.
___
More AP NFL: https://apnews.com/tag/NFLfootball and https://twitter.com/AP_NFL