Hendricks, Baez lead Cubs past Phillies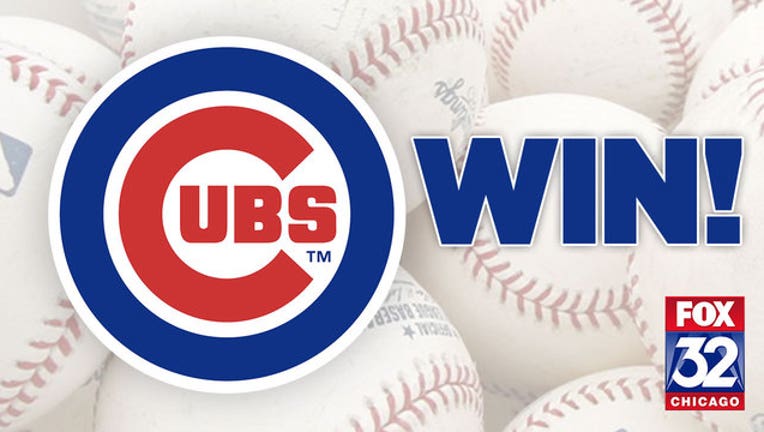 PHILADELPHIA (AP) - Kyle Hendricks pitched six strong innings, Javier Baez notched his NL-leading 99th RBI and star third baseman Kris Bryant doubled and had two hits in his return from the disabled list to lead the Chicago Cubs past the Philadelphia Phillies 7-1 on Saturday night.
Ian Happ homered and Baez had three hits for the NL Central-leading Cubs, who have won nine of 11. Chicago began play 3 1/2 games in front of St. Louis.
Bryant had been sidelined since July 23 with left shoulder inflammation. The 2016 NL MVP doubled and scored in the third and singled in the eighth.
Hendricks (11-10) allowed one run on six hits with four strikeouts and two walks.
Nick Williams had two hits and an RBI for the Phillies, who entered two games back of Atlanta in the NL East.
The Cubs, helped by another Phillies error, scored a pair of runs in the first off Zach Eflin (9-6). Daniel Murphy led off with a double and reached on shortstop Asdrubal Cabrera's throwing error on Baez's infield single. Baez scored on Ben Zobrist's opposite-field double. It was the 104th error by Philadelphia, which entered second in the majors to St. Louis (105).
Chicago tacked on two more runs in the third to go up 4-0 on Kyle Swarber's two-out triple off the wall in left-center.
The Phillies got a run back in the fourth on Williams' RBI single before Happ's one-out solo shot to right made it a four-run game again.
Eflin gave up four runs - three earned - on seven hits with four strikeouts and one walk in five innings. The right-hander continued to struggle since being demoted to Triple-A following his Aug. 10 start at San Diego, dropping to 1-2 with a 6.20 ERA while allowing 32 hits in 20 1/3 innings. The move was made not due to performance, but to allow the Phillies to add a bat.
Left-hander Austin Davis committed the Phillies' 105th error, a throwing miscue that led to two unearned runs in the ninth.
NO CARD ALLOWED
In a strange incident, third-base umpire Joe West confiscated a card from Davis in the eighth inning. The card appeared similar to ones used by Phillies fielders to position themselves for batters. Davis pulled the card out of his back pocket and consulted it prior to Bryant's single and then again before facing pinch-hitter Addison Russell. West then came to the mound and took the card from Davis. Phillies manager Gabe Kapler, a huge proponent of analytics who introduced the cards to the Phillies players this season, came out to argue with West for several minutes. But West kept the card.
TRAINER'S ROOM
Cubs: Russell, out since Aug. 20 with a left middle finger sprain, was activated from the DL. He struck out in the eighth.
Phillies: RHP Edubray Ramos, Davis and INF/OF Pedro Florimon all were activated from the DL.
UP NEXT
Phillies RHP Aaron Nola (15-3, 2.10) was bumped up from his scheduled start on Monday to face Cubs LHP Jon Lester (14-5, 3.67) in a marquee pitching matchup to wrap up the three-game series on Sunday.