Hendricks sharp, Cubs break loose with 4 HRs, beat Dodgers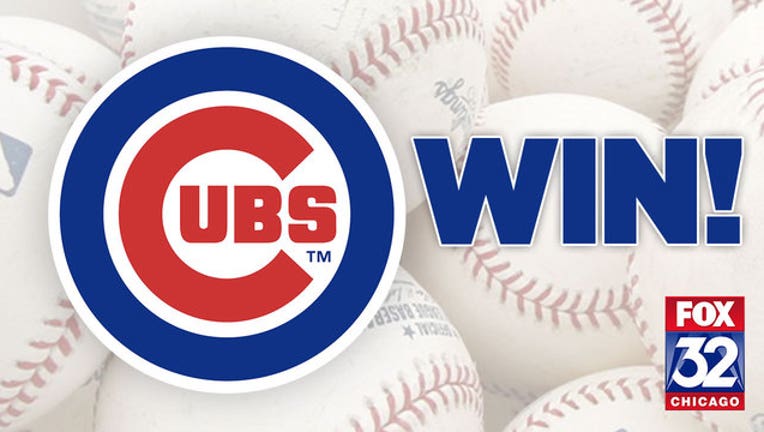 article
CHICAGO (AP) - Kyle Hendricks is suddenly pitching deep into games and dominating while he's doing it. His latest outing was about as impressive as the complete game he threw in his previous start.
Hendricks was in control for eight innings and the Cubs backed him with four home runs, beating the Los Angeles Dodgers 7-2 Thursday for their eighth win in nine games.
Javier Baez, Jason Heyward and Kris Bryant connected against 19-year-old Julio Urias (0-1). Anthony Rizzo hit a leadoff homer against J.P. Howell in the eighth as the major league-leading Cubs took three of four from the Dodgers.
Hendricks (4-4) allowed two runs and three hits, struck out six and walked one after going the distance in his previous outing to beat Philadelphia.
"He knows he can do it now and that really matters," manager Joe Maddon said. "For the most part this year we've gone five, six-plus with him, maybe a seven. But the other day was the perfect opportunity to let him go deep into the game because we had to, he was pitching that well. He comes out today knowing he can do that."
Hendricks felt he could have pitched the ninth in this one. Instead, he was lifted for a pinch hitter.
Before this stretch, his longest outing this season was 6 2/3 innings. But he and the other starters behind Jake Arrieta and Jon Lester feel a responsibility to do their part in a dominant rotation.
"We take pride in going out there every fifth day and doing what we can to help the team win," Hendricks said.
Los Angeles' Trayce Thompson was impressed.
"He's not Jake Arrieta per se, but he does an amazing job with what he has and I have the utmost respect for Kyle and how he competes," he said.
The Cubs gave Hendricks all the support he needed after managing just four hits over the previous two games.
Urias was simply overpowered in his second career start. The top prospect gave up six runs and eight hits in five innings after lasting only 2 2/3 innings in his big league debut against the New York Mets last week. And manager Dave Roberts would not commit to keeping him in the rotation.
"We're going to talk about that," he said.
Baez broke out of a 6-for-42 slide with two hits and three RBIs, including a long two-run homer in the fourth. He also made a neat catch at second base in the fifth inning, when he raced to his right and lunged to snag Carl Crawford's soft liner up the middle.
Heyward and Bryant made it 6-1 with homers on consecutive pitches in the bottom half. Bryant's drive hit halfway up the video board in left.
Jorge Soler got two hits and scored twice as the Cubs improved to 6-1 on their 10-game homestand.
Thompson homered as Los Angeles finished 3-4 on its seven-game trip.
GOING DEEP
Bryant's home run was his 13th and he connected in consecutive games for the fourth time this season.
TRAINER'S ROOM
Dodgers: OF Yasiel Puig (left hamstring) didn't start for the third straight day. He struck out as a pinch hitter. Roberts said the team was not considering putting him on the DL. ... INF/OF Scott Van Slyke (lower back tightness), sidelined since April 9, is progressing in his rehab assignment at Triple-A Oklahoma City and could rejoin the Dodgers as early as Friday when they host Atlanta.
Cubs: Closer Hector Rondon could have pitched if needed, though Maddon said he would have tried to stay away from him had this been a close game. Rondon's back tightened before Wednesday's game and he was not available for that one.
UP NEXT
Dodgers: With an extra day of rest after getting hit by a line drive in his pitching hand, RHP Kenta Maeda (4-3, 3.00 ERA) starts as the Dodgers open a three-game series at home against RHP Julio Teheran (1-5, 2.77) and the struggling Braves.
Cubs: RHP John Lackey (5-2, 3.16) looks to continue his run of strong starts as the Cubs open a three-game series against RHP Archie Bradley (2-0, 6.11) and the Arizona Diamondbacks. Lackey was 2-1 with a 2.09 ERA in six outings in May.