Hendricks shuts down reeling Pirates as Cubs complete 3-game sweep with 8-3 victory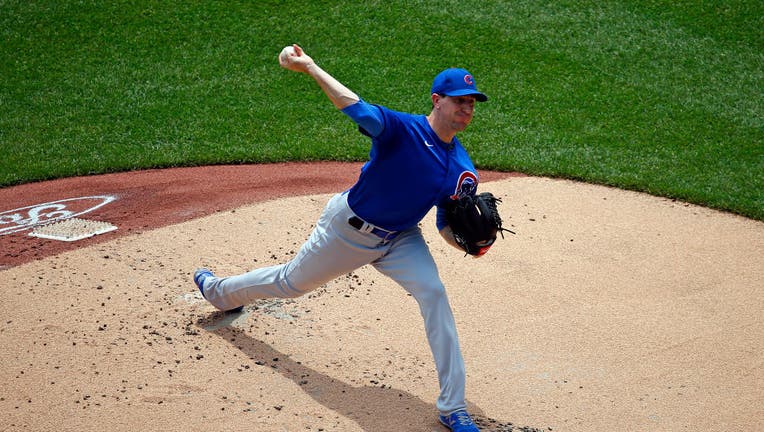 article
PITTSBURGH - The Chicago Cubs are flying to England in more ways than one.
Kyle Hendricks pitched effectively into the seventh inning, Nico Hoerner homered, tripled and drove in three runs and the surging Cubs beat the Pittsburgh Pirates 8-3 on Wednesday to complete a three-game sweep.
Chicago has won eight of nine overall, giving the Cubs some serious momentum heading into a weekend series against rival St. Louis in London, England, starting on Saturday.
"We're trying to ... play our best brand of baseball and we're doing a little bit of that right now," Cubs manager David Ross said.
It helps to have a starting rotation that is hitting its stride. The Cubs opened the series at PNC Park with consecutive shutouts — including a five-hitter on Tuesday anchored by NL ERA leader Marcus Stroman — and Hendricks and three relievers followed by limiting the reeling Pirates to just two hits.
"We really feel like a cohesive unit together, (we've) really got each other's backs, watching ballgames, watching each other warm up before starts," Hendricks said. "So it's been every single guy and just trying to roll off the next guy, you know, kind of like friendly competition in a way (to) do better than the guy before."
Hendricks allowed three runs — one earned — and two hits in 6 1/3 innings with three walks and two strikeouts. His only real hiccup came in the seventh when a single, a hit batter and a walk loaded the bases with one out. The Pirates scored two runs on an error by first baseman Trey Mancini but otherwise did nothing.
"Overall, I've got to take the positives," Hendricks said. "Just got to finish better."
Hoerner hit a two-run triple off Rich Hill (6-7) in the third and added a solo home run in the seventh. Ian Happ doubled twice and drove in two runs to continue his master of his hometown team.
Happ, a Pittsburgh native, has reached base safely in each of his past 37 games against the Pirates, a stretch in which he is hitting .352 (49 of 139) with 15 doubles and 28 RBIs.
"I've always been comfortable here," Happ said. "I think when you grow up 15 minutes from the ballpark it helps."
Happ broke the game open when he laced a double to left field with two outs in the sixth, a rally that started with a rare error by Pittsburgh third baseman Ke'Bryan Hayes. Hill hit Mancini with an 0-2 curveball and Happ followed with a shot to the corner that made it 5-1.
Josh Palacios had an RBI double in the second to end a 25-inning scoreless drought for the Pirates, but Pittsburgh couldn't answer when Hoerner's two-run triple to the wall in right sparked a three-run rally in the third.
The Pirates have dropped nine straight, their longest losing streak since a nine-game slide from June 6-16, 2021.
The franchise was in full-on rebuilding mode then. Pittsburgh believes it is drawing closer to becoming a contender but the good vibes that came with a promising 19-9 start have faded over the past two weeks. The Pirates are 15-30 over their past 45 games.
While Hill wasn't particularly sharp — giving up four runs, three earned with two walks and four strikeouts in 5 2/3 innings — Pittsburgh's most pressing issue is an offense that has essentially vanished.
The Pirates were shut out on Monday and Tuesday and have scored just 20 runs since the skid started with a loss to the Cubs at Wrigley Field on June 13.
"Again, we created opportunities but they're through walks," Pittsburgh manager Derek Shelton said. "We've got to figure this out. We have some young kids that are struggling to keep their head above water and we've got to stay with them."
Chicago, by contrast, scored 20 runs in less than 48 hours at PNC Park and is hoping that production can survive a trans-Atlantic flight.
"It's nice to be playing good baseball for a couple of weeks and be, you know, on a little bit of a high stretch going into (the trip)," Happ said.
TRAINER'S ROOM
Cubs: Held SS Dansby Swanson (wrist) out of the lineup as a precaution, though Swanson is expected to be available in London. Swanson was hit by a pitch in Tuesday night's win but remained in the game.
Pirates: DH Andrew McCutchen (elbow inflammation) and OF Bryan Reynolds (lower back soreness) were held out of the lineup for a second straight day. ... 1B/DH Ji-Man Choi (strained Achilles) will head out for a minor-league rehab assignment as early as Friday.
UP NEXT
Cubs: Will play a regular-season game in England for the first time in franchise history when they face off against the Cardinals at London Stadium on Saturday and Sunday.
Pirates: Being a four-game set against the Marlins in Miami on Thursday. Mitch Keller (8-3, 3.60 ERA) gets the start in the opener against Braxton Garrett (3-2, 3.88).