Hornets rout Bulls 135-106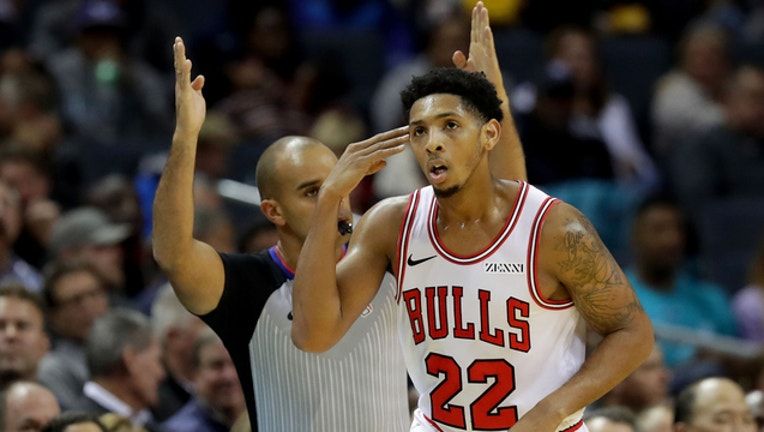 article
CHARLOTTE, N.C. (AP) - Kemba Walker had 30 points on five more 3-pointers, and the Charlotte Hornets beat the Chicago Bulls 135-106 on Friday night for their first home victory of the season.
Walker, who came in averaging 31 points, bounced back from a season-low 23-point outing against the Bulls, shooting 11 of 18 from the field. He also had seven assists and six rebounds. The two-time All-Star has four games with at least five 3-pointers and his 29 3s are second only to Golden State's Stephen Curry.
Tony Parker added 18 points and eight assists, and Michael Kidd-Gilchrist and high-flying rookie Miles Bridges each had 15 points as the Hornets avenged a two-point loss in Chicago on Wednesday night.
Zach LaVine had 20 points on 6-of-16 shooting for the Bulls.
After missing their first 11 3-pointers of the game, the Hornets went on a tear, making the final 14 of 22 shots from beyond the arc. 
The Hornets outscored the Bulls 45-29 in the second quarter to build a 68-54 halftime lead. They stretched the lead to 28 in the third quarter, and Walker spent the fourth quarter cheering on his teammates from the bench. He only played 26 minutes.
TIP INS
Bulls: Kris Dunn (knee), Lauri Markkanen (elbow), Denzel Valentine (ankle) and Bobby Portis missed the game with injuries. ... Were outrebounded 50-34. 
Hornets: Walker was honored with a game ball before tipoff after becoming the first Hornets player to score 10,000 points. He accomplished the feat Saturday night at Miami during a four-game trip. ... Shot 57 percent from the field. ... Four of next five games are at home.
UP NEXT
Bulls: At Atlanta on Saturday night.
Hornets: At Philadelphia on Saturday night.