In Rolling Meadows, fans who watched 49ers QB Garoppolo in high school disappointed after Super Bowl
ROLLING MEADOWS, Ill. - "It's tough," said Rolling Meadows High School coach Tony Wolasnki. Garoppolo is his only athlete to make it this far. "They had a great season."
"To do this is just phenonmenal," said Carla Montgomery, mother of a former Rolling Meadows High School student. Garoppolo played there before going on to his professional career.
At one point, the 49ers were up 20-10, and fans were hopeful.  But then the Chiefs roared back.
"It was pretty devastating," said Matt Larson.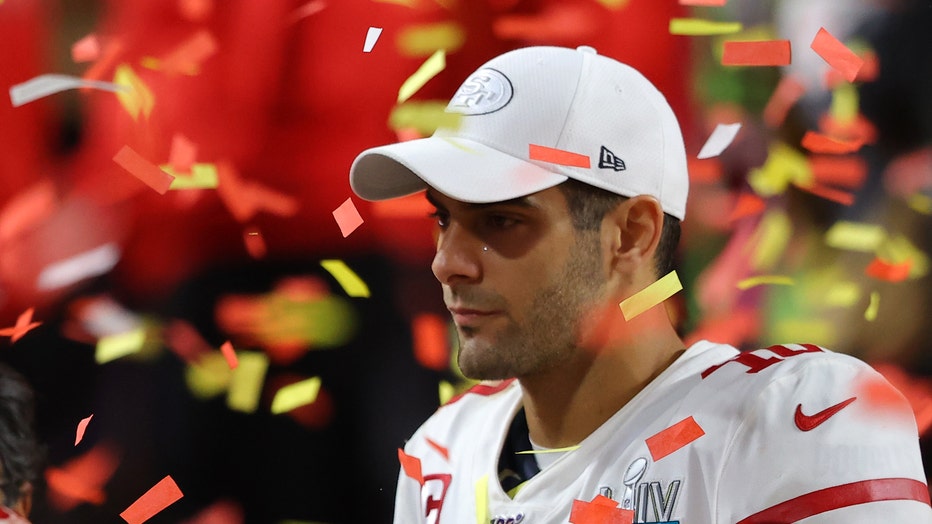 MIAMI, FLORIDA - FEBRUARY 02: Jimmy Garoppolo #10 of the San Francisco 49ers reacts after losing to the Kansas City Chiefs 31-20 in Super Bowl LIV at Hard Rock Stadium on February 02, 2020 in Miami, Florida. (Photo by Ronald Martinez/Getty Images)
But win or lose, they're walking away with hometown pride here in Rolling Meadows. Fans cheered, "Jimmy!"
Thinking of Jimmy in times like these – taking his talent on the field as a young man in the northwest suburbs all the way to Miami.
"We couldn't pull through, but it was a good game," said Rick Tadelman, 49ers fan.
"He didn't play his best game, I can say that. This game meant a lot to you!  Yea, I'm over it," said Mike Madio as he left the bar.
Right after the game, Rep's raffled off a Jimmy Garoppolo jersey, as the announcer said, "Jimmy will be back in the Super Bowl next year and win it!"