Lester pitches Cubs over Reds 1-0, Chicago maintains lead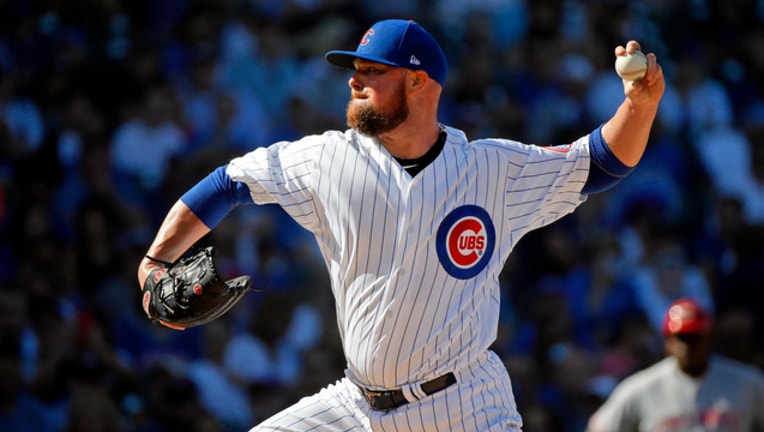 article
CHICAGO (AP) - Jon Lester allowed two hits over seven innings with a season-high nine strikeouts, Willson Contreras hit a run-scoring single in the sixth inning and the Chicago Cubs beat the Cincinnati Reds 1-0 on Saturday to maintain their NL Central lead.
Seeking their third straight division title, the Cubs entered 1½ games ahead of second-place Milwaukee. Chicago has won three straight and four of five.
Lester (16-6) is 4-1 with a 1.73 ERA in his last six starts, following a mid-season slump. The 34-left-hander came out after three runs and 5 2/3 innings against the Brewers on Monday because of back tightness.
A day after saying closer Pedro Strop has a hamstring strain that will cause him to miss the rest of the regular season, four pitchers combined for two-hit relief.
Justin Wilson pitched the eighth. Jesse Chavez got the first out in the ninth and Randy Rosario retired Joey Votto on a fly to warning track in left-center. Steve Cishek retired Eugenio Suarez on a broken-bat grounder to third for his fourth save.
Cody Reed allowed two hits and struck out a career-high 10 in five innings, matching his longest outing this season.
Javier Baez led off the sixth with an infield single against Sal Romano (7-11), advanced on David Bote's groundout and scored on Contreras opposite-field single to right with two outs.
.Each team had just two soft singles through five innings on an afternoon of bright sunlight and shadows that covered home plate. The lights in the 104-year-old ballpark were on when the game started shortly after 3 p.m. CDT.
Cubs slugger Kris Bryant struck out swinging four times.
MORROW CLOSE
Cubs RHP Brandon Morrow, who had 22 saves in 24 chances before going on the disabled list on July 18, hopes to be reactivated in the next few days after throwing a 19-pitch simulated game on Saturday.
"It all depends on how I come in tomorrow," Morrow said. "I expect to feel good enough. It was a successful day."
Morrow revealed his injury was a bone bruise in his right forearm, caused by muscle overuse and a stress reaction from pitching. "Throwing too hard," he quipped.
Morrow's return figures to be a big boost for the Cubs' bullpen after Strop strained his left hamstring on Thursday in Washington running to first base.
Manager Joe Maddon said he doesn't think he'll initially use the right-hander in a save situation. Maddon will monitor Morrow's pitch counts and doubts the reliever will be able to throw in consecutive games unless the Cubs advance deep into the postseason.
TRAINER'S ROOM
Reds: RHP Michael Lorenzen will start in place of RHP Tyler Mahle (right shoulder fatigue) on Tuesday. Mahle's status for the remainder of the season is uncertain, manager Jim Riggleman said. The 26-year old Lorenzen hasn't make a start since September 2015, at the close of his first season with the Reds and in the majors.
Cubs: Maddon said OF/IF Kyle Schwarber (back) could be cleared for pinch hitting this weekend and return to the lineup when the Cubs travel to Arizona for a three-game series starting Monday. ... Maddon also expects OF Jason Heyward (right hamstring tightness) to return during the series against the Diamondbacks.
UP NEXT
Reds RHP Luis Castillo (9-12, 4.66) is to take the mound against Cubs LHP Jose Quintana (13-9, 3.97) in the series finale on Sunday. Quintana will try for a career-high 14th win.