Mistakes cost Cubs in 7-5 loss to Phillies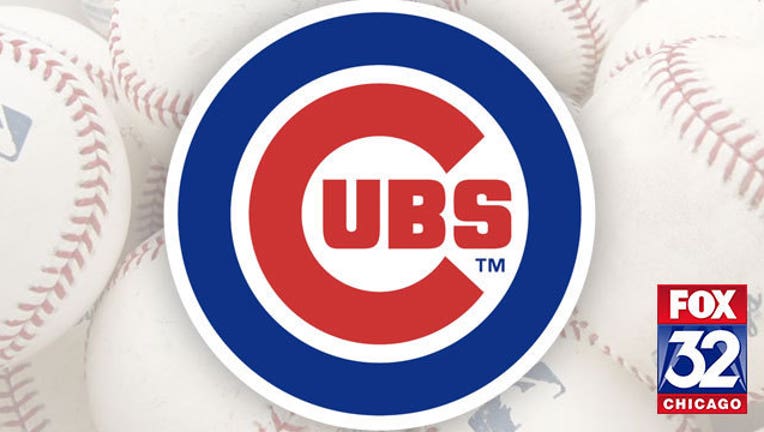 PHILADELPHIA (AP) — Two rare mistakes cost the Cubs.
Anthony Rizzo made a fielding error with two outs in the seventh and Hector Rondon gave up the game-winning home run to pinch-hitter Cody Asche with two outs in the ninth as Chicago lost 7-5 to the Philadelphia Phillies on Saturday night.
Rondon (5-4) got the first two outs of the ninth before walking Erik Kratz. Asche followed in the pitcher's spot and drove the first pitch into the foul pole in right field to help Philadelphia win for just the fifth time in the last 19 games.
Rondon entered having allowed just two earned runs in his last 44 innings dating to May 25.
Philadelphia took a 5-1 lead with five unearned runs with two outs in the seventh.
The trouble started for the Cubs when Andres Blanco hit a routine grounder to first. Rizzo fielded the ball cleanly, but lost control of it when he attempted to throw to first.
"I might have rushed it a little," Rizzo said. "I didn't do a very good job there."
Ryan Howard, mired in a 1-for-36 slump entering play, tied the game with a pinch-hit RBI double to right. The Phillies took the lead when Justin Grimm walked pinch-hitter Darnell Sweeney with the bases loaded, and Cesar Hernandez cleared the bases with a double to left to put Philadelphia up four.
"The guys that have been reliable all year just didn't do it tonight," Cubs manager Joe Maddon said.
But Chicago tied it with four runs in the eighth off struggling relievers Luis Garcia and Jeanmar Gomez.
"No surprise there; we've been doing it all year," Rizzo said.
Garcia started the inning and faced three batters without recording an out and left after Chris Coghlan's two-run double pulled the Cubs to 5-3. Gomez surrendered an RBI double to Kris Bryant and Miguel Montero's sacrifice fly to center that tied the game.
Giles came on and struck out Addison Russell for the final out of the frame.
Ken Giles (6-2) pitched 1 1/3 scoreless innings, striking out three, to earn the win.
Kyle Schwarber hit his third homer in two games, a solo shot in the third for Chicago. The Cubs dropped to three games back of Pittsburgh for the top NL wild-card spot with their second loss in their last nine.
The game was delayed 50 minutes at the start due to rain.
BULLPEN BALL
Dan Haren was scheduled to make the start for the Cubs, but manager Joe Maddon pushed Haren back to Sunday due to the rainy forecast in order to keep him in a normal routine.
Travis Wood started the game and gave up three hits with five strikeouts and no walks. It was the eighth start in 46 appearances this season for Wood, who faced one batter in the fourth. Trevor Cahill followed with three scoreless innings without allowing a hit.
"Wood and Cahill were wonderful," Maddon said. "We got the start we were looking for."
EICKHOFF EXCELS
Jerad Eickhoff was solid in his fourth start with the Phillies since being acquired from Texas in the July 30 trade that sent ace Cole Hamels to the Rangers. He allowed one run on three hits in seven innings with eight strikeouts and three walks. He walked the leadoff hitter and looked out of sorts until an early mound visit by catcher Cameron Rupp helped settle him down.
"I might've been nibbling early on," Eickhoff said. "Rupp said to attack the zone and I was able to do that."
MORE ENERGY
Asche said the Phillies displayed more energy throughout the game following interim manager Pete Mackanin's pregame meeting the players, who he encouraged to focus to the finish of the season and not just play out the string.
"In the dugout, I felt a lot more energy about us tonight," Asche said. "Never really had those lull innings. I felt like we had good at-bats, good swings. I think we played with energy."
TRAINER'S ROOM
Phillies: 3B Maikel Franco continues to make progress in his attempt to return from a fractured left wrist before the season ends. Franco is hitting off a tee and soft toss. The Phillies are targeting Sept. 22 at Miami for his return.
UP NEXT
Haren (9-9, 3.73) takes the mound in the series finale on Sunday afternoon. The right-hander leads the majors in homers allowed with 30, but didn't allow one in a 9-0 win at St. Louis on Monday. RHP Aaron Harang (5-15, 5.02) goes for Philadelphia.