Murphy, Schwarber, Baez power Cubs over Reds 10-6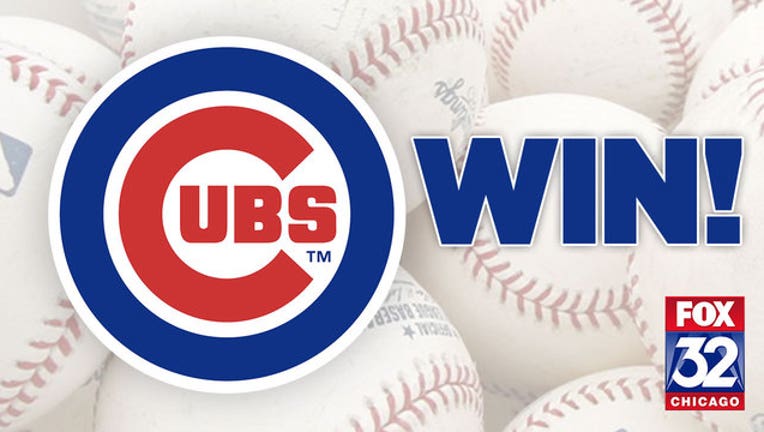 CHICAGO (AP) - Daniel Murphy can't fully explain his success at Wrigley Field. He's just happy he now calls the storied old ballpark home.
Murphy and Kyle Schwarber each hit a two-run homer, Javier Baez added a solo shot and the Chicago Cubs beat the Cincinnati Reds 10-6 on Saturday for their fourth straight win.
Murphy homered for a second straight day and is batting .407 (48 for 118) with nine homers in 31 career regular-season games at Wrigley - all but three of them before he joined the Cubs in a trade this week.
His batting average is the highest among active players with a minimum of 100 at-bats at the ballpark.
"I don't know," Murphy said when asked to explain his success. "I just know, day games, if I'm able to get this old body going, I feel like I see the ball better during the day."
Baez was 2 for 4 with a walk and three RBIs. The homer was his 28th and he leads the NL with 97 RBIs.
NL-Central leading Chicago has gone deep in 10 consecutive games, amassing a total of 17 homers during that stretch.
Curt Casali homered and had four RBIs, and Preston Tucker added a pinch-hit homer for Cincinnati, which has dropped four straight.
Jose Quintana (11-9) allowed two runs on six hits in five-plus innings - walking three and striking out two - to get his first win since Aug. 3.
Reds starter Luis Castillo (7-11) allowed five runs on five hits in 3 1/3 innings.
"Sometimes the hitters will let you know if you're missing with your spots and they take advantage of it," Reds manager Jim Riggleman said of Castillo. "They were on him pretty good."
Ian Happ drove in the Cubs' first run with a two-out single in the second, and Murphy followed with a two-run shot for a 3-0 lead.
After Cincinnati got a pair of runs in the top of the fourth, Schwarber's two-run shot in the bottom of the fourth restored the three-run advantage and chased Castillo. Baez hit a solo blast in the fifth, and Anthony Rizzo's run-scoring single in the sixth made it 7-2.
Chicago added three unearned runs in the seventh. The Reds scored four runs in the eighth against reliever Brandon Kintzler, who like Murphy was acquired in a midseason trade with the Washington Nationals. Casali hit a three-run homer and Tucker followed with a solo blast.
COMFORT ZONE
Before being dealt to the Cubs, the 33-year-old Murphy had never been traded. He said he's felt at home - and not just because of the on-field success.
"I feel like I've been really comfortable, and that's a testament to the front office, the ownership and to the guys in this clubhouse and the coaching staff," he said.
USING BOTH HANDS
Kris Bryant normally releases his top hand on his swing, but trainer PJ Mainville suggested the slugger keep both hands on the bat to reduce stress as he rehabbed from left shoulder inflammation. Bryant likes the two-handed approach so much he said he plans to use it when he returns to the lineup.
"It feels good to me," he said. "I feel a lot more powerful. I'm hitting the ball farther."
ROSTER MOVES
The Reds activated RF Scott Schebler (sprained right shoulder) before the game and optioned OF Aristides Aquino to Triple-A Pensacola. Schebler batted leadoff and went 1 for 5.
TRAINER'S ROOM
Reds: 1B Joey Votto (lower right leg) ran sprints on the field before the game. Riggleman said a decision on whether Votto will be activated for the finale of the series won't be made until Sunday morning.
Cubs: 3B Bryant took batting practice on the field. He said he didn't experience any pain and is "ready to go." Bryant will face rehabbing LHP Drew Smyly in a live BP session on Sunday and then begin a minor league rehab assignment on Monday.
UP NEXT
Reds RHP Homer Bailey (1-11, 6.21 ERA) faces RHP Kyle Hendricks (9-10, 4.04) in the finale of the four-game series on Sunday. Bailey is 0-4 with a 5.22 ERA in five starts since coming off the DL in late July, and Cincinnati is 1-16 in his 17 starts this season. Hendricks is 3-0 with a 1.83 ERA in six career starts against the Reds at Wrigley.
___
More AP MLB: https://apnews.com/tag/MLB and https://twitter.com/AP_Sports