Northwestern AD 'extremely disappointed' by coaches who wore shirts supporting Pat Fitzgerald
EVANSTON, Ill. - We're hearing for the first time from Northwestern University football players, as they prepare for the season even as hazing allegations continue to swirl around the program.
But Wednesday's practice on the Northwestern campus prompted a new scandal, as some coaches wore T-shirts seemingly supporting former head coach Pat Fitzgerald.
It was the sixth pre-season practice for Northwestern, but the first where media was allowed to watch and later ask about the hazing scandal that has shaken the football program to its core.
"It's been a difficult time," said Rod Heard II, a Northwestern defensive back. "But we've been able to refocus and look at what's really important and that's to get back to winning games."
But when asked about the allegations or whether they were aware of hazing problems, the players echoed linebacker Bryce Gallagher.
"We're not here today to talk about any hazing allegations," said Gallagher. "We're here to talk about the upcoming season."
That won't be easy, after more than a dozen former players filed lawsuits alleging sexual and racial hazing incidents under the stewardship of former head coach Pat Fitzgerald, who was fired last month.
SUBSCRIBE TO FOX 32 ON YOUTUBE
Northwestern's interim head coach David Braun said he has talked to the team about new anti-hazing protocols and dealing with the added pressure brought by the scandal.
"A lot of people have been affected in all this," Braun said. "There's a lot of emotional energy and a lot of emotions going on. At the end of the day, I'm responsible for the 103 young men in that locker room and making sure their well-being is at the forefront of my mind."
But even as the team tries to repair its image, a new scandal erupted. A handful of coaches wore T-shirts reading "Cats Against the World" with the number 51. That's the number worn by former coach Fitzgerald when he was a player.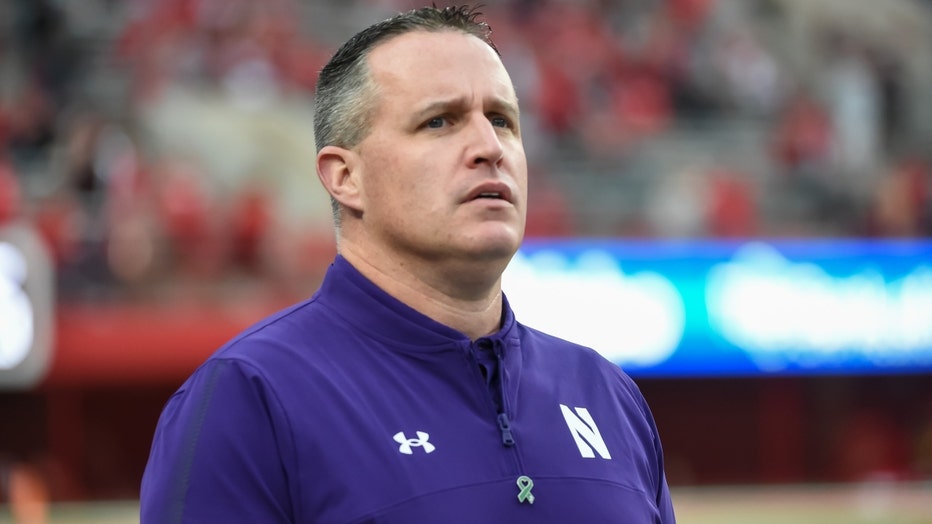 Head coach Pat Fitzgerald of the Northwestern Wildcats watches the team warm up before the game against the Nebraska Cornhuskers at Memorial Stadium on October 2, 2021 in Lincoln, Nebraska.
Interim Coach Braun ducked the issue.
"Certainly isn't my business to censor someone's free speech."
But Northwestern Athletic Director Derrick Gragg released a statement.
"Neither I nor the university was aware that they owned or would wear these shirts today. The shirts are inappropriate, offensive, and tone-deaf… hazing has no place at Northwestern."
"We loved Coach Fitz and are devastated he's not here," Gallagher said. "But we have full belief in Coach Braun and he's done a great job leading us and has shown how much he cares about us in obviously difficult times."
Northwestern will play its first game this season on the road at Rutgers on Sept. 3.