Saad, Sharp hoping for successful return to Blackhawks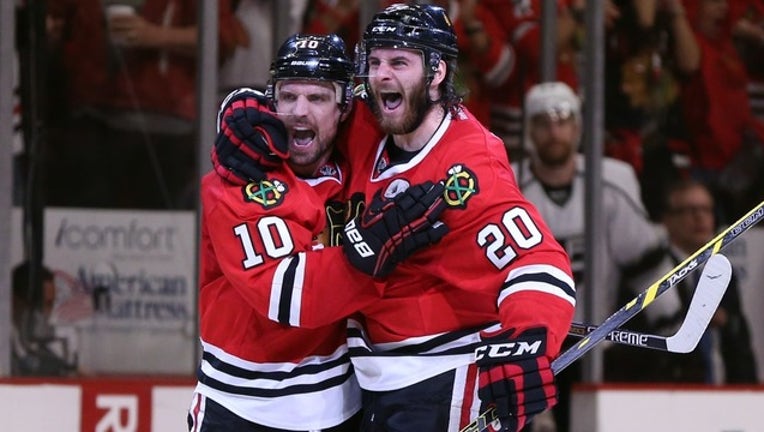 article
CHICAGO (AP) -- The last time the Chicago Blackhawks won a playoff series, Brandon Saad and Patrick Sharp hoisted the Stanley Cup at the United Center more than two years ago.
After two consecutive first-round exits, the Blackhawks are hoping the return of two central figures from their run of three championships in six seasons is a ticket back to their playoff performances of summers past.
"It's kind of like I never left," Saad said. "It's a different locker room now, but it's good to be back."
Saad was selected by Chicago in the second round of the 2011 draft and helped the Blackhawks win two titles. General manager Stan Bowman was doing his usual dance with the salary cap and Saad was traded to Columbus after the 2015 season.
Saad, who turns 25 on Oct. 27, then signed a $36 million, six-year contract with Columbus, and it looked as if he would be making only periodic visits to Chicago for at least the short term. But Bowman and Blue Jackets general manager Jarmo Kekalainen hooked up for another blockbuster trade in June, with Saad heading west in a multiplayer deal that cost the Blackhawks dynamic winger Artemi Panarin.
The trade fills the void at left wing on Chicago's top line that the Blackhawks never quite solved after they moved Saad two years ago.
"Same type of player," star forward Patrick Kane said early in training camp. "Has that powerful stride. He'll create a lot of chances."
Saad had 55 goals and 51 assists over his two seasons in Columbus. Back in Chicago, he said it feels a lot like it did during his first stint with the team.
"I think the message is pretty much the same," he said. "With the years they've had, with the success they've had in the regular season and losing, early exits, I think maybe the motivation grows a little bit more and the hunger ramps up a little bit, but these guys are competitors. They always want to win."
Sharp has even deeper roots in Chicago, coming over in a trade with Philadelphia in 2005 and helping the Blackhawks win three Stanley Cups before he was dealt to Dallas in the same salary-cap purge in 2015 that included Saad's departure.
The 35-year-old Sharp turned down more lucrative options in free agency in favor of an $800,000, one-year deal with the Blackhawks. He could earn an additional $200,000 in incentives.
Sharp had season-ending hip surgery in March, but showed up to training camp in great shape and could give Chicago a boost on its second or third line.
"He looks quick. He looks sharp. He looks ready," coach Joel Quenneville said, "and he looks like he's hungry and happy to be here. Looking for a great contribution from him."
Here are a few more things to watch with the Blackhawks this season:
NO HOSSA
Dependable forward Marian Hossa has been ruled out for the season due to a progressive skin disorder, and it's unclear if he will be able to play again. He is expected to go on long-term injured reserve after the season starts, likely creating some valuable cap space. But the Blackhawks will miss his steady play on the ice and his presence in their locker room.
IN GOAL
Anton Forsberg was acquired in the Saad deal, and he is expected to back up Corey Crawford at goaltender after the Blackhawks traded Scott Darling to Carolina in April. The 24-year-old Forsberg is just 1-8 with a 4.02 goals-against average in 10 career NHL games.
ON DEFENSE
Niklas Hjalmarsson was traded to Arizona in June, creating a giant hole on the blue line. Connor Murphy, a big, physical presence at 6-foot-4 and 212 pounds, will get a chance at a prominent role after coming over from the Coyotes in the deal. Michal Kempny also could see increased minutes after the Blackhawks lost a couple of defensemen during the offseason.
WORTH WATCHING
Nick Schmaltz, a first-round pick in the 2014 draft, looked great in the preseason and could break out in a big way. The 21-year-old forward made his NHL debut last October and finished with six goals and 22 assists in 61 games.
NEW COACHES
Former NHL defenseman Ulf Samuelsson and Don Granato begin their first season on Quenneville's staff in Chicago. Samuelsson played with Quenneville and returning Blackhawks assistant Kevin Dineen with the Hartford Whalers. Granato spent last season as an associate head coach for the University of Wisconsin men's team.