Warren ready to embrace new challenge as Bears president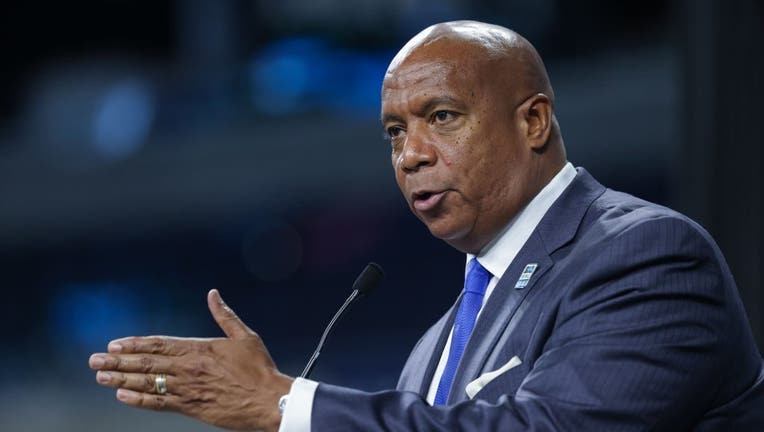 article
LAKE FOREST, Ill. - Kevin Warren is ready to tackle a new challenge as president and CEO of the Chicago Bears, and he has a big one on his hands leading the founding NFL franchise.
A new suburban stadium could be on the horizon. The team owns the No. 1 pick in the draft coming off one of the worst seasons in franchise history. And he's looking forward to working with general manager Ryan Poles and coach Matt Eberflus.
"It's because of the challenge, the opportunity," Warren said Tuesday at his introductory news conference. "I trust Ryan, I trust Coach Matt that we're going to do things the right way. We're not going to take shortcuts. We're going to build an incredible franchise. I came here to win championships."
He said he's a "big believer in challenges" and wouldn't have been as attracted to the job "if it were easy."
Warren, who replaces the retiring Ted Phillips, who is scheduled to start his new job in April, though he said he's already begun work.
"Greatness is ahead of us," he said. "All we need to do now is go and grasp it."
Warren, who is leaving as commissioner of the Big Ten conference to join the Bears, became Chicago's fifth team president and the first from outside the organization when he was hired last week.
He was the first Black commissioner of a Power Five conference and is now the team's second president that was not part of the Halas-McCaskey family tree, joining Phillips.
"Papa Bear is smiling today," chairman George McCaskey said, referring to his grandfather and team founder George Halas.
Warren's biggest task figures to be helping the Bears construct a new enclosed stadium, assuming they finalize the purchase of a 326-acre tract of land in suburban Arlington Heights and decide to move.
He also is joining an organization with the No. 1 pick in the draft following one of the worst seasons in franchise history. The Bears went 3-14 and set a franchise record for losses.
The Bears are going back to their former chain of command, with general manager Ryan Poles reporting to Warren. Poles, hired a year ago, had been reporting to McCaskey. But previous general managers were under Phillips.
Warren worked in the NFL for more than two decades, doing stints with the St. Louis Rams and Detroit Lions before settling in with Minnesota in 2005. He was the Vikings' chief operating officer from 2015 to 2019, before being hired to replace Jim Delany as Big Ten commissioner.
Warren played a big role in Minnesota's construction of U.S. Bank Stadium, which opened in 2016. With its translucent roof and massive glass panels letting in enough light and air to make fans feel as if they're outdoors, the Bears see it as a model for their potential new home. That hinges on their deal to purchase the site of the shuttered Arlington International Racecourse from Churchill Downs Inc. going through, and ownership deciding to leave the team's longtime lakefront home at Soldier Field.
The Bears want to turn the Arlington Heights site, once a jewel of thoroughbred racing, into a different kind of gem, bursting with year-round activity.
They envision restaurants, retail and more on the plot of land some 30 miles (48 kilometers) northwest of Soldier Field — all for about $5 billion, with some taxpayer help. The Bears plan to pay for their stadium but want taxpayer dollars to cover infrastructure costs such as roads and sewers to develop the site.
Soldier Field has been the Bears' home since 1971. The team played at Wrigley Field from 1921 to 1970, and if a new stadium is constructed, the franchise would have its name on the mortgage for the first time since arriving in Chicago.
Warren helped give the Big Ten a coast-to-coast footprint in the nation's largest markets with the announcement in July that Southern California and UCLA will join in 2024. The conference also landed about $7 billion in media rights deals a month later with FOX, CBS and NBC to share the rights to football and basketball games. The contracts go into effect in 2023 and expire in 2030.
Those wins came after a shaky start to his tenure as Big Ten commissioner.
Warren drew sharp criticism when the league called off the 2020 fall football season because of the COVID-19 pandemic. Ohio State star Justin Fields — now Chicago's quarterback — started a petition that got 280,000 signatures in three days.