Intense, widespread severe weather outbreak with strong tornadoes could impact 20 states in central US Friday
A widespread severe weather outbreak with strong tornadoes, destructive winds and large hail is expected Friday in the Midwest and South as March comes to a close, barely a week after a deadly tornado outbreak tore across Mississippi, Alabama and Georgia last Friday night and into the weekend.
The setup for severe weather can be traced back to a bomb cyclone that brought another round of rain, snow and wind to California earlier this week. The upper-level jet stream disturbance that spawned the West Coast storm is now sweeping into the central U.S.
As this jet stream disturbance moves into the Plains, it will cause low pressure at the surface to intensify, which will pull warm and humid air northward from the Gulf of Mexico.
SUBSCRIBE TO FOX 32 ON YOUTUBE
The combination of instability from that warm, humid air and plenty of wind shear – the change in wind speed and direction with height – will prime the atmosphere for another outbreak of severe weather.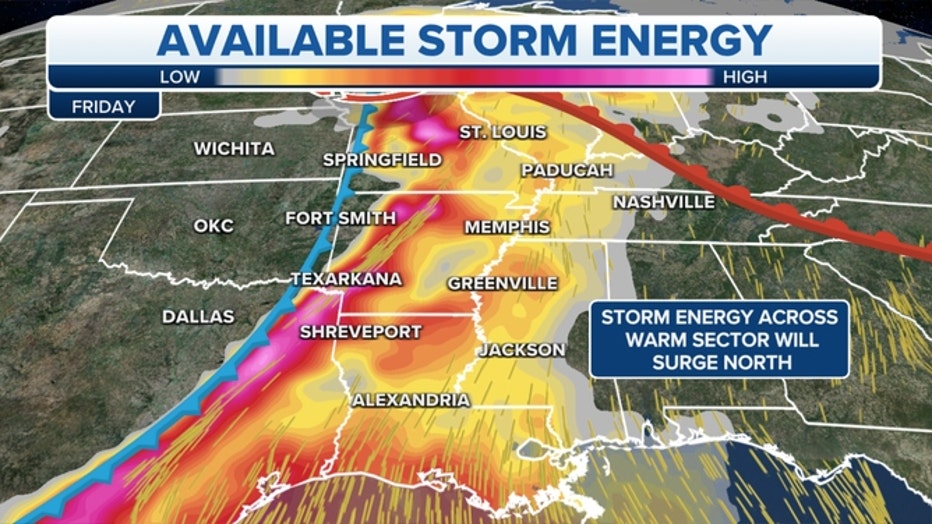 The setup for severe thunderstorms on Friday, March 31, 2023. (FOX Weather)
Isolated severe weather threat begins Thursday in Plains
Isolated strong to severe storms are possible Thursday afternoon and evening from extreme southeastern Kansas into Oklahoma, far northern Texas, western Arkansas and southwestern Missouri. Large hail and damaging wind gusts are the main threats, though an isolated tornado cannot be ruled out.
A few strong to severe storms are also possible farther north in central and northeastern Nebraska, northwestern Iowa, southwestern Minnesota and southeastern South Dakota, where hail will be the primary concern.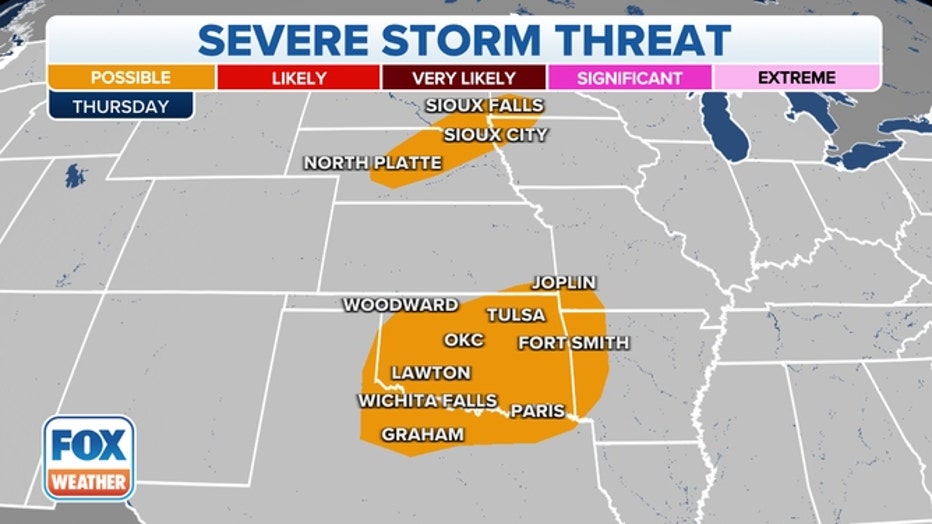 The severe storm threat on Thursday, March 30, 2023. (FOX Weather)
Widespread severe weather outbreak expected Friday across central US
Intense and widespread severe thunderstorms are expected from Friday afternoon into the overnight hours across portions of the mid-Mississippi Valley and mid-South and eastward into the lower Ohio and Tennessee valleys.
The highest severe weather threat is predicted in two separate areas, shaded in magenta on the map below: a northern area in eastern Iowa, northwestern Illinois and far northeastern Missouri and a southern area in northeastern Arkansas, the Missouri Bootheel, extreme western Kentucky, West Tennessee and far northwestern Mississippi.
Several tornadoes, destructive wind gusts and large hail are all significant threats, especially in the areas shaded in dark red and magenta on the map below. According to the FOX Forecast Center, some twisters could be long-track, EF-2 or stronger tornadoes.
"That wind threat, by the way, that's the major concern up north across the Midwest for places like Iowa and Illinois," FOX Weather meteorologist Britta Merwin said. "That's a spot that is known for strong straight-line wind damage as we head into spring."
Cities that face this dangerous severe weather threat on Friday include St. Louis, ​Memphis and Nashville in Tennessee, Little Rock in Arkansas, Cedar Rapids in Iowa and Paducah in Kentucky.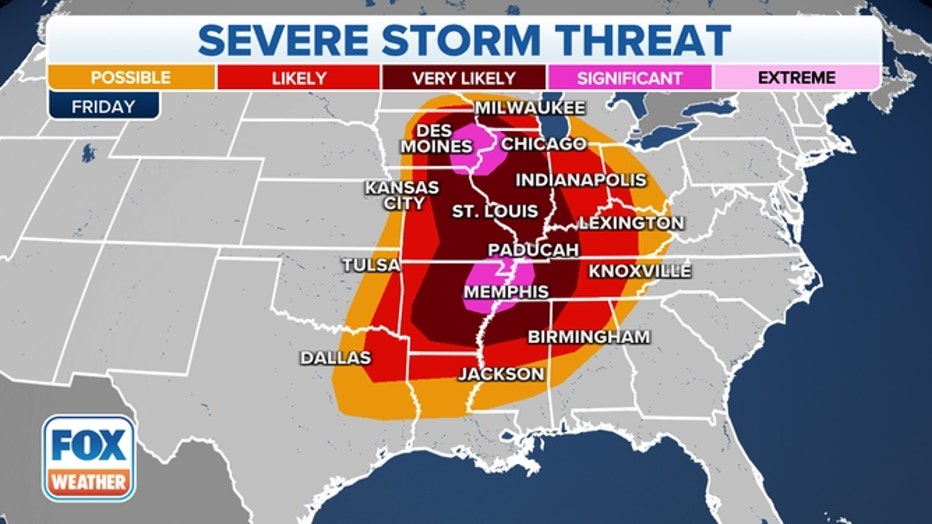 The severe storm threat on Friday, March 31, 2023. (FOX Weather)
Friday's severe weather threat includes areas recently devastated by tornadoes
Some of the same locations in the South that were impacted by the deadly tornado outbreak barely a week ago will, unfortunately, face the risk of severe weather once again on Friday.
"When you look close enough, I mean, you can basically see that it is going to be impacting, unfortunately, some of the same areas that we saw this time last week on Friday," FOX Weather meteorologist Jason Frazer said. "I mean, including those of you in Rolling Fork, Mississippi, as well as those of you in Winona."
Even if these areas were to avoid the worst of the severe weather, any thunderstorms would still get in the way of ongoing recovery efforts.
"(That's) a large concern here with areas that are very weary when it comes to storm preparation and really just getting through the worst of the worst," Merwin said.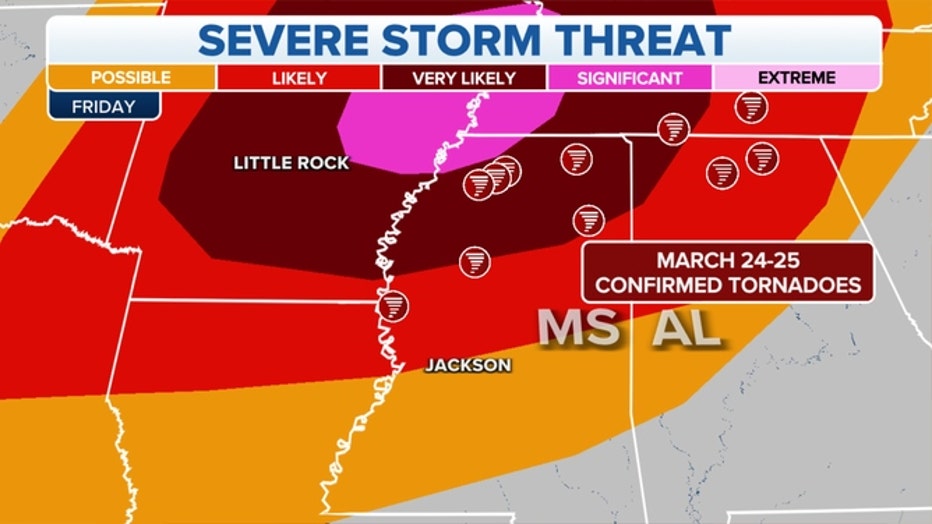 Confirmed tornadoes from March 24-25, 2023, overlaid on the severe weather outlook for Friday, March 31, 2023. (FOX Weather)
Lingering severe storms possible Saturday in East
Isolated strong to severe thunderstorms could produce damaging wind gusts from parts of eastern Ohio into western New York Saturday morning and early afternoon.
Additional strong to severe storms packing damaging wind gusts and a tornado or two are possible across portions of the Southeast and eastern Carolinas through Saturday afternoon.
High winds are also possible in places that don't see severe weather in the Midwest and East as a powerful low-pressure system charges across the eastern U.S.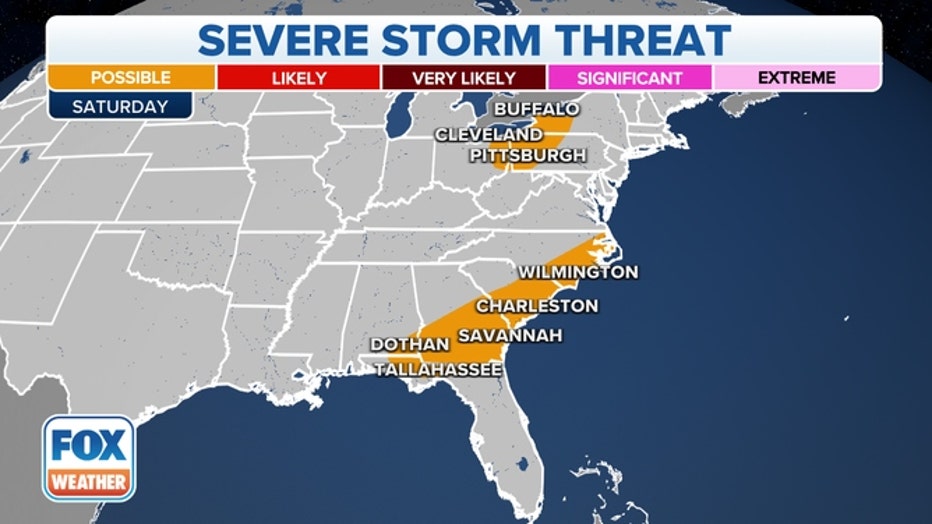 The severe storm threat on Saturday, April 1, 2023. (FOX Weather)
Now is the time to prepare for upcoming severe weather threat
Make sure that you have multiple ways to receive weather alerts reliably. The FOX 32 Weather app can send you alerts based on your location and also has great information about how to create a severe weather safety plan.