Chicago weather: Next week could be hottest of the year so far
Chicago - It might be an exaggeration to say this has been a year without summer, but it is accurate to say that this has been a summer without any extreme heat so far in Chicago. 
The hottest day we have seen in 2023 was back on June 24 when the high hit 93 degrees at O'Hare. We have seen nine days with highs of 90 degrees or more to this point. 
On average, we typically see eleven 90-degree days or hotter by the end of July. June came in just .2 degrees above average. July, the second month of meteorological summer, is running about a half degree below average as of Thursday. The National Weather Service has yet to even issue a heat advisory in northern Illinois.
So heat hasn't made too many headlines around here, but extreme heat is making history in other parts of the country (and the world) as records fall. Here are a few examples of headlines I stumbled on today alone:
Extreme heat: Why it's a global health issue and what we can do about it
Is it really hotter now than any time in 100,000 years?
The 15 hottest days, in the world's hottest month
NASA warns July 2023 likely to be warmest month on record
Overnight minimums skyrocket as WMO pleads for more early warnings
Can it be too hot for a plane to fly? How the Phoenix airport is handling record heat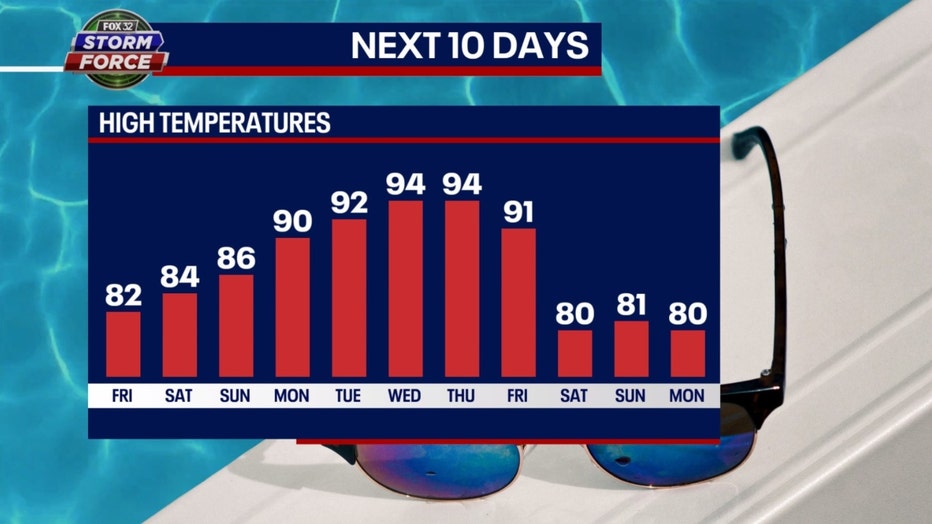 Our Fox Model is forecasting highs of 90 degrees or hotter for five straight days next week. That would be the longest such streak so far this year. We had a streak of four straight days with a high of 91 degrees that included the last two days of May and the first two days of June. The 94-degree high forecast for Thursday would mark the hottest day of the year so far.
The average high from June 6th through the 25th is 85 degrees for Chicago. This is historically the hottest stretch of weather we see during the year. If the summer were to end today, it would go down in the record books as a fraction of a degree below average.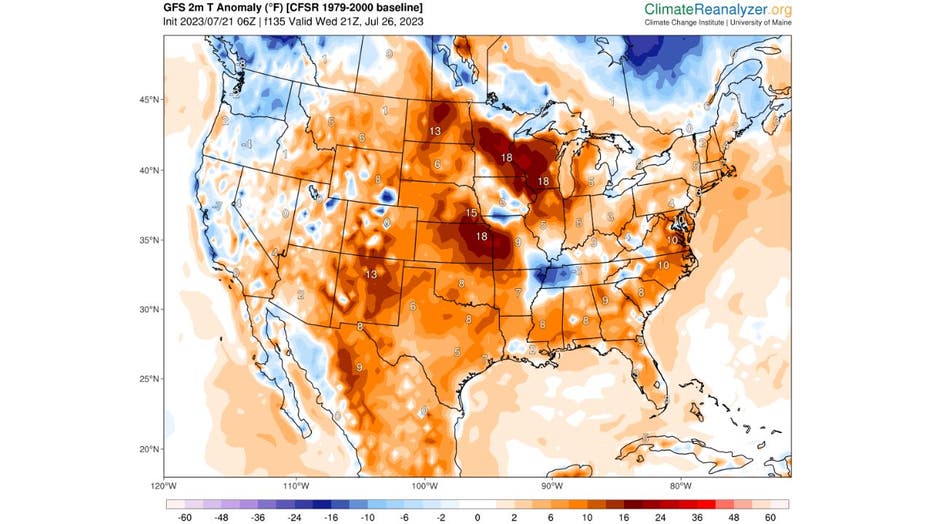 GFS forecast temperature anomalies for Thursday afternoon from ClimateReanalyzer.org
The forecast is to warm up through Thursday when we hit the peak of heat next week. The GFS model has our temperatures that afternoon between 5 and 18 degrees above average. Higher humidity will accompany the heat coming next week which means the heat index will approach and perhaps pass 100 degrees.
The longer-range temperature outlook from the Climate Prediction Center has heat spreading from the south further northward. The outlook maps are nearly covered in various shades of orange, red, and brown which indicates areas where temperatures are expected to be above average.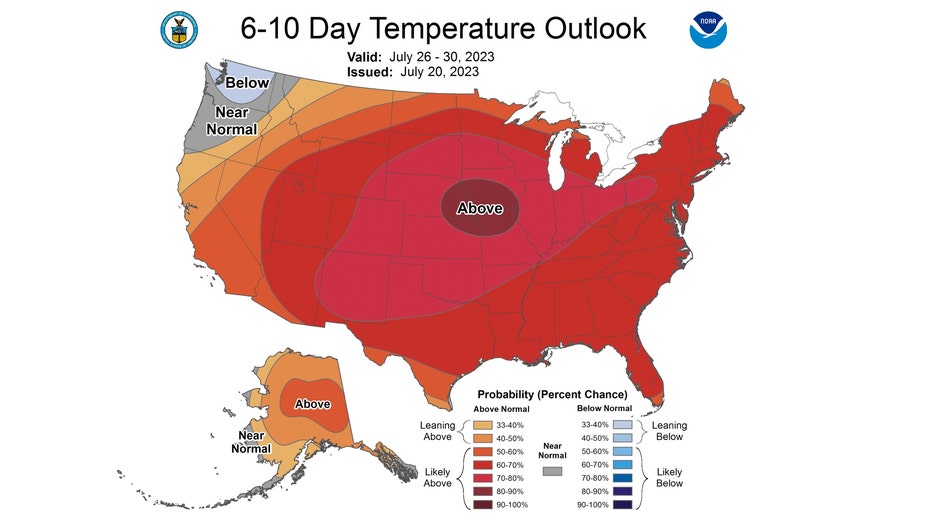 The 6-10 day temperature outlook has us "likely above" normal overall from next Wednesday through the following Sunday. We have a high probability of seeing temperatures soar past average during this period.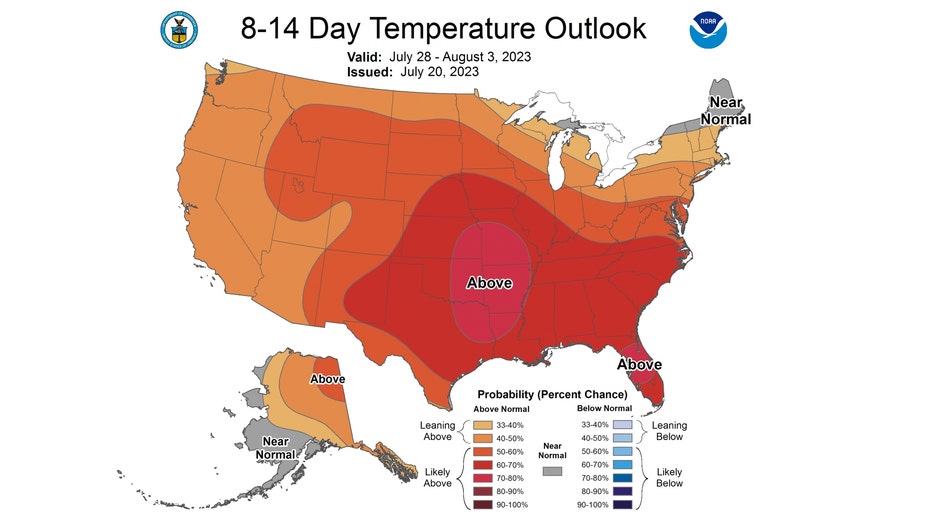 The signal is still strong for a hot pattern in the 8-14 day temperature outlook. It covers the period from the end of this month through the first three days of August. We are again looking to be "likely above average" overall. The forecast is for the period from next Friday through the following Thursday.