Another widespread severe weather threat with strong tornadoes to impact 48 million in central US
CHICAGO - For the second time in four days, a widespread severe weather threat with strong tornadoes is expected to impact some 48 million people across more than a dozen states from the Midwest to the South on Tuesday.
Some of the areas facing this next threat of severe storms and tornadoes include those that were just struck by a deadly multi-state tornado outbreak on Friday.
Tuesday's severe weather will be associated with the same storm system that will also spawn an early-April blizzard across parts of the northern Plains and Upper Midwest early this week.
SUBSCRIBE TO FOX 32 CHICAGO ON YOUTUBE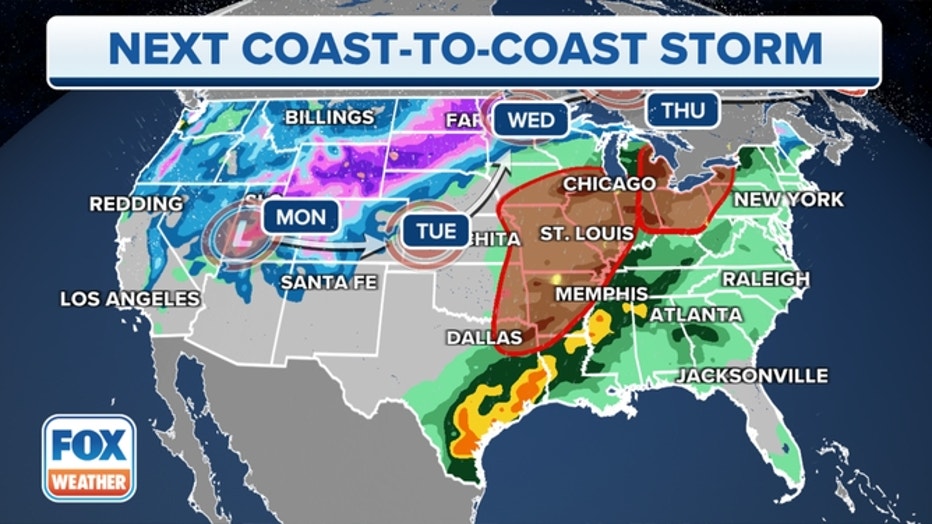 A storm system sweeping across the U.S. this week will produce severe weather on its southern side and an early-April blizzard on its northern side. (FOX Weather)
The weather pattern responsible for Tuesday's severe thunderstorms is nearly identical to the one that brought deadly tornadoes to the central U.S. on Friday. This includes a potent upper-level jet stream disturbance pivoting into the Plains and Mississippi Valley, providing wind shear – the change in wind speed and direction with height – that will overlap with moisture streaming north from the Gulf of Mexico into the Midwest and South.
Widespread severe weather expected in central US Tuesday
Severe thunderstorms are expected to develop from Tuesday afternoon through the overnight hours from eastern portions of the Plains into the mid- and upper Mississippi Valley.
The highest threat of severe weather will likely be focused over two areas: a northern area including parts of northeastern Missouri, eastern Iowa and northwestern and west-central Illinois, and a southern area including southeastern Oklahoma, western and northern Arkansas and southern Missouri – shaded in magenta on the map below.
TORNADOES HIT CHICAGO AREA FRIDAY NIGHT
These storms will pose a risk of tornadoes, large hail and damaging wind gusts. A few tornadoes could be EF-2 or stronger on the Enhanced Fujita Scale, especially in the magenta-shaded regions, and they could occur at night when many people will be asleep, only adding to the dangerous threat.
Tuesday's significant severe weather threat includes Des Moines and Cedar Rapids in Iowa, Little Rock in Arkansas and Rockford and Peoria in Illinois.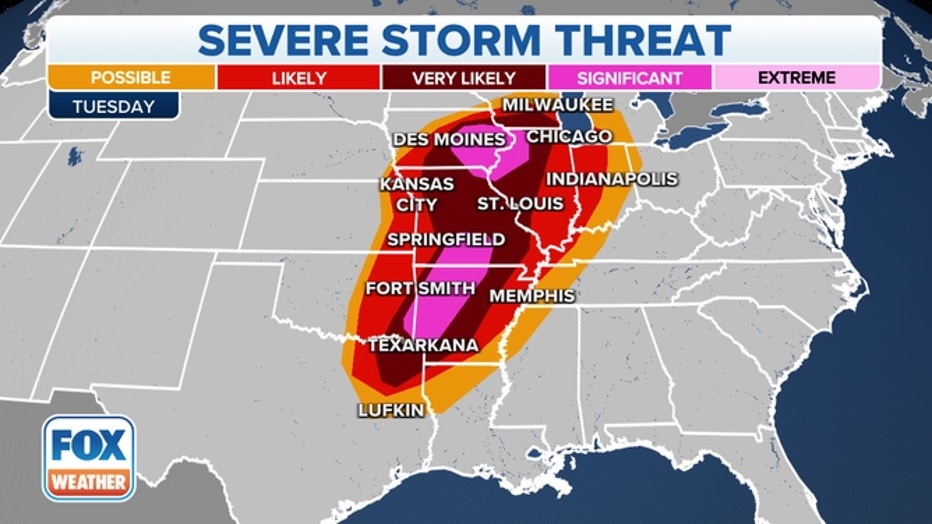 The severe storm threat on Tuesday, April 4, 2023. (FOX Weather)
Severe storms slide east into Ohio Valley, eastern Great Lakes Wednesday
Another round of severe weather is possible Wednesday as the storm system slides east into the eastern Great Lakes, Ohio Valley and western New York.
Damaging wind gusts and a few tornadoes are the main threats in those regions, with an EF-2 or stronger tornado not ruled out.
Detroit, Indianapolis, Pittsburgh, Cleveland and Columbus in Ohio and Buffalo in New York are among the cities in Wednesday's severe thunderstorm risk.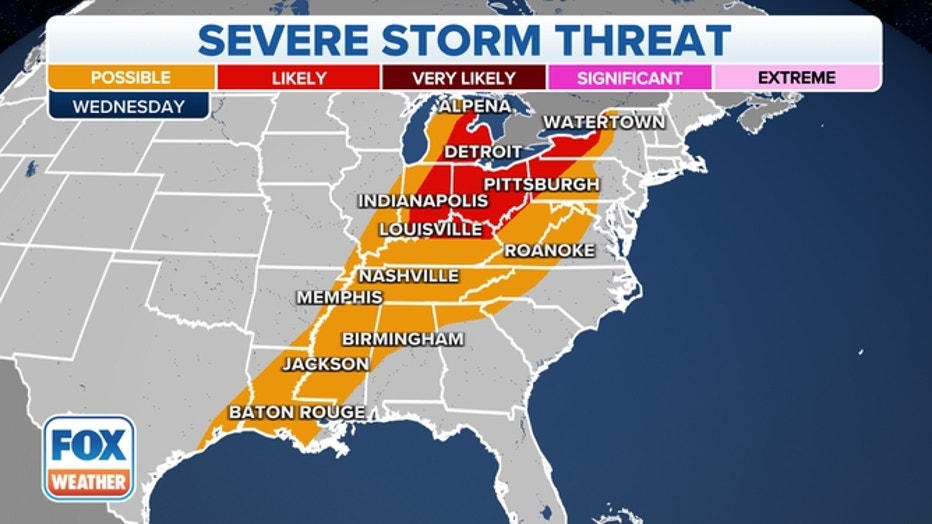 The severe storm threat on Wednesday, April 5, 2023.
Prepare now for upcoming severe weather threat
Make sure that you have multiple ways to receive weather alerts reliably. The FOX 32 Weather app can send you alerts based on your location and also has great information about how to create a severe weather safety plan.