10 tornadoes confirmed from Monday June 22nd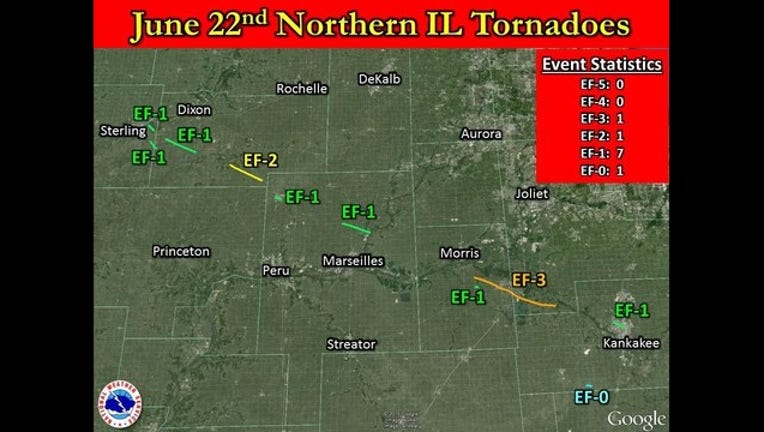 article
During the evening of June 22, tornadoes and heavy rain impacted several counties (Lee, LaSalle, Grundy, Will, Kankakee, and Iroquois) in Northern Illinois.

NWS surveys have now confirmed 10 tornadoes from the June 22nd event.
The heaviest damage was in Coal City (Grundy County) and Braidwood (Will County) which was caused by an EF-3 tornado, and the Woodhaven Campground in Sublette (Lee County) caused by an EF-2 tornado. The high end EF-3 damage with maximum estimated wind speeds up to 160 mph in Coal City made the Coal City-Braidwood tornado the strongest tornado in the Chicago metro area since the August 28, 1990 Plainfield F-5 tornado.
Tornadoes were spawned by a one long tracked, cyclic supercell thunderstorm (a supercell thunderstorm which produces a series of tornadoes over a period of time).
The atmosphere was primed for severe weather, with very warm, humid conditions, low pressure moving north of the region, and a strong jet stream aloft.
In addition to tornado and wind damage, slow moving storms brought torrential rainfall of locally up to 3 to 5 inches to portions of Lee, Grundy, Will, and Kankakee counties, resulting in widespread flash flooding. This rain fell on top of soil already saturated from repeated heavy rains over the past few weeks.
The severe thunderstorms which produced torrential rain, wind damage, and tornadoes Monday evening developed quickly following a line of intense thunderstorms that moved into northwest Illinois around 9 AM CDT Monday morning. This line initially produced wind gusts in excess of 70 mph across portions of eastern Iowa, but quickly weakened as it moved into northern Illinois.
Here is the damage path of the Woodland Lakes/Sublette tornado
Here is the damage path of the Coal City/Braidwood tornado
Here is a list of all severe weather reports from Monday June 22nd