2nd Illinois lawmaker files suit over stay-at-home order: Pritzker 'is an out-of-touch multibillionaire'
SPRINGFIELD, Ill. - An Illinois legislator on Wednesday filed a second legal challenge to Gov. J.B. Pritzker's efforts to discourage transmission of the coronavirus, saying he's seeking a compromise on the statewide stay-at-home order.
The lawsuit filed by Rep. John Cabello, a Republican from Machesney Park, claims the governor's emergency powers are limited to 30 days and that he therefore had no right to extend his March 21 order through the end of May.
The new challenge, filed on the day that COVID-19 cases in Illinois topped 50,000, follows a ruling Monday in Clay County in a lawsuit brought by Republican Rep. Darren Bailey of Xenia, that Pritzker's statewide restrictions amount to constitutional overreach.
Attorney General Kwame Raoul late Wednesday requested the Illinois Supreme Court accept a direct appeal of the Bailey case and summarily reject the temporary restraining order issued in the matter. If the high court declines, Raoul earlier filed an appeal with the 5th District Appellate Court.
"Because COVID-19 has killed over 2,000 Illinois residents and continues to infect more, and because the circuit court's ruling threatens the governor's authority to protect the public from the virus, the public interest requires an expeditious and definitive determination of this appeal by this court," Raoul's petition read.
The Democratic governor derided Bailey's lawsuit as a "political stunt" and called Cabello's action "another attempt at grandstanding."
"This isn't political. This isn't a stunt," said Cabello, a police detective. "This is talking about people's lives. There are many people staring bankruptcy in the face, many people facing how to put food on the table for their children. He is an out-of-touch multibillionaire. He doesn't understand what it's like."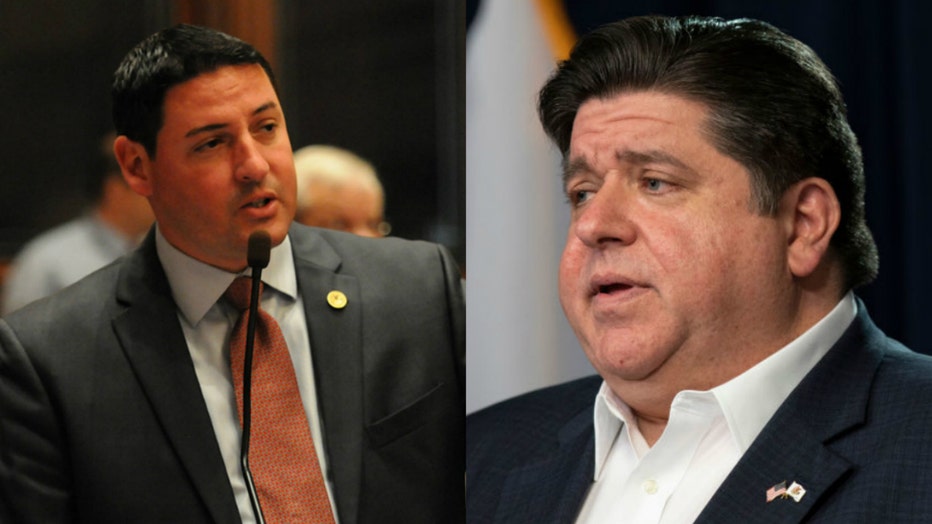 Pritzker said the extended order that takes effect Friday loosens restrictions, particularly in areas outside Chicago hit less hard by the pandemic. He noted that when he announced the revised rules, House Republicans took credit for suggesting many of them.
The pandemic has claimed at least 2,125 Illinois lives, with 92 new deaths reported Wednesday. Another 2,253 people tested positive, pushing the state's confirmed cases to 50,355. Many of those patients have recovered. But the actual number of infections is thought to be far higher because many people have not been tested and studies suggest that people can be infected without feeling sick.
Pritzker issued a statewide disaster declaration on March 9, then closed schools, shuttered businesses deemed non-essential and, starting March 21, imposed a statewide order to stay home unless absolutely necessary. The governor last week extended that order through May.
With many stores and offices closed, collateral damage includes more than 750,000 first-time unemployment claims since March 1.
Government lawyers argue that the state Constitution provides the executive with police powers to deal with crises such as pandemics and that the Illinois General Assembly, which hasn't met since early March because of social-distancing guidelines, hasn't objected.
While the order in Bailey's favor affected only him, victory for Cabello would exempt the entire state. But Cabello stressed he doesn't want a restraining order, which could speed up court action. He said he would prefer a delay to give him time to negotiate a compromise with Pritzker's office on freeing up commerce while keeping the virus at bay.
"I get it. I understand. But there are commonsense solutions that allow us to move forward together," Cabello said.
He said he contacted one of Pritzker's deputies about the lawsuit and a possible compromise. Cabello said he was greeted respectfully but told the pending litigation would likely preclude discussion.
At his daily COVID-19 briefing in Chicago, which has recorded 90% of Illinois' cases, Pritzker said restrictions will not remain the same statewide. The revamped order will allow state parks, located outside northeastern Illinois, to re-open for some activities. And elective surgeries, which the original order banned to keep beds open for COVID-19 cases, are allowed again. Those medical facilities that have the most available space will get a greater proportion of elective surgeries.
"Is there more to do? Of course. It's hard to look back and say that I did everything exactly right," Pritzker said. "But I will say that I have listened and I continue to listen to people on both sides of the aisle. I need best ideas."