3,000 youth singers to converge on Millennium Park for Paint the Town Red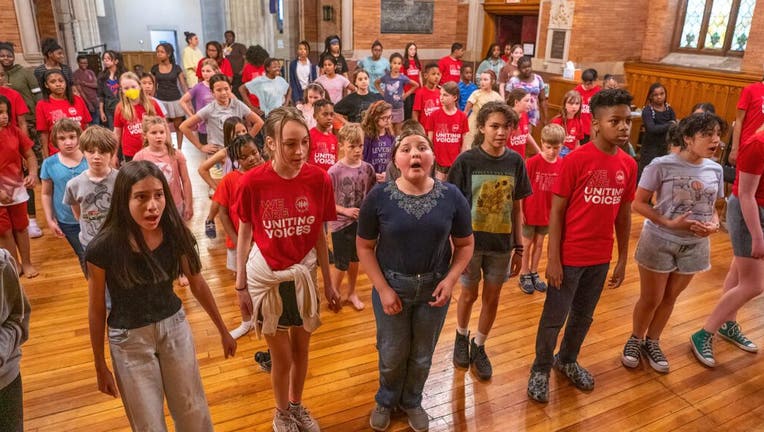 article
CHICAGO - Rehearsals are coming to a close. Time for the real thing.
More than 3,000 Chicago Public Schools kids are set to take the stage and sing Thursday at Millennium Park — not all of them at one time, of course. That would be madness.
It's all part of Paint the Town Red festivities hosted by Uniting Voices (formerly Chicago Children's Choir) that kick off at 11 a.m. and will include kids from 80 public schools and a number of after-school programs from all over the city.
And did we mention it's free?
Kids ages 6 to 18 will be singing everything from Curtis Mayfield's "People Get Ready" to a medley of South African protest songs anchored in the decades-long fight against apartheid. The Los Angeles-based Filipino-American a capella sensation The Filharmonic will also be on hand to sing the hit song "Kilometro" by Filipino singer-actress Sarah Geronimo.
Songs will be sung in seven languages. And sprinkled throughout the show will be highlights from artistic collaborations with Lyric Opera of Chicago, like "March of the Toreadors" from "Carmen," a reggaeton piece called "Mientras Me Curo la Cora" that a group of Uniting Voices singers performed last month on "Saturday Night Live" with songstress Karol G, and "Arirang" a centuries-old Korean folk piece that serves as a unifying rallying cry for the people of the Korean peninsula.
SUBSCRIBE TO FOX 32 ON YOUTUBE
"Paint the Town Red is a showcase of Chicago's youth and what they can achieve when they come together," said Josephine Lee, who heads up Uniting Voices and will be directing her troops on stage. "All year long we are raising global leaders through music, instilling in them a curiosity for the world and an appreciation for other cultures. Paint the Town Red is the culmination of that work with a celebration that shows the best side of our city's youth."
After the show, singers "will be spreading joy and hope" with pop-up performances all over Millennium Park, including sets at The Bean every half hour featuring the organizations 12 neighborhood choir ensembles, Lee said.
The day of song has been a tradition for more than 25 years, interrupted only once during the pandemic when the event was held virtually.
The history of Uniting Voices dates back to 1956, when it was founded as the Chicago Children's Choir.
"It continues to remain this beacon of light and hope for not only our city, but [as] a model for our nation and the world," said Lee.
Singers from the group have performed all over the country and internationally.
Lee was born and raised in Chicago. She is a conductor, pianist, singer and producer, and has been with the choral organization since taking over in 1999.
"Our core values are education, expression and excellence. Our mission is to inspire and change lives to ultimately create a more harmonious world," she said.