4 teens charged with 5 armed robberies in stolen vehicle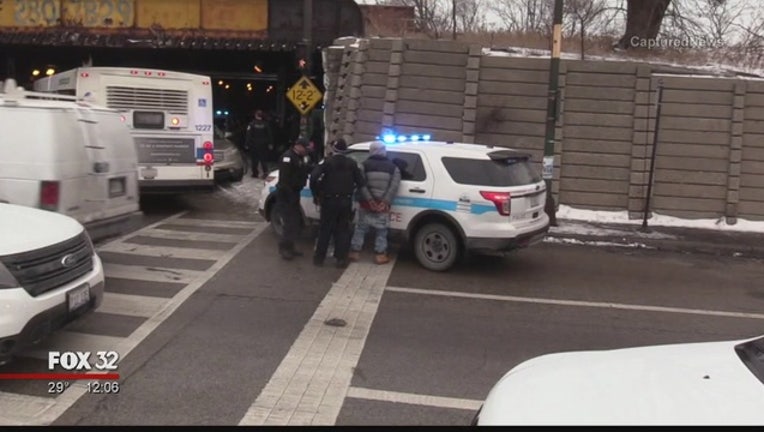 article
CHICAGO (SUN TIMES MEDIA WIRE) - Four teenagers have been arrested after a series of armed robberies ended with a crash between a stolen vehicle and a CTA bus Wednesday morning in the South Side Fuller Park neighborhood.
The teenagers, ages 15, 16, 16, and 17, each face five counts of robbery armed with a firearm, one count of unlawful use of a weapon and one count of attempted vehicular hijacking, all felonies, according to Chicago Police. They were also all charged with one misdemeanor count of criminal trespass to a vehicle, while the 17-year-old boy also faces one felony count of possession of a controlled substance.
About 8:30 a.m., the teenagers were driving a tan car when they pulled up next to a 20-year-old man walking in the 4000 block of South Langley, police said. Two boys exited the car, showed a revolver, stole the man's property, then got back into the vehicle, which sped away.
Officers spotted the car driving south on King and the car attempted to speed away again, eventually crashing into a CTA bus at 43rd and LaSalle, police said. The bus driver and three passengers suffered injuries that were not thought to be life-threatening. Two 58-year-old women were taken to Mercy Hospital, and a 59-year-old woman and a 62-year-old woman were taken to Saint Bernard Hospital.
The teenagers ran away after the crash, but were all apprehended when officers gave chase, police said.
The car was found to have been stolen from south suburban Matteson and a weapon was recovered inside, police said. While searching the 17-year-old boy, officers found he was in possession of prescription drugs.
Investigators later determined the teenagers were responsible for four additional armed robberies that same morning, police said.