'Fight, Rebuild, Live': Donor gives dad's World War II toolbox to soldiers fighting in Ukraine
CAROL STREAM, Ill. - Amid the ongoing war with Russia, a heartwarming donation for Ukrainian soldiers was delivered to a Carol Stream donation site, but volunteers only discovered its meaning after it was sent overseas.
Volunteers with Help Heroes of Ukraine have been flooded with generous donations since the start of the war.
When they received a toolbox, they packed it with other supplies and shipped it to Ukraine.
"It was a taped up red toolbox, and we really didn't think anything of it, it said 'for mechanics' on the top and that was it," said Rima Ziuraitis, spokeswoman for Help Heroes of Ukraine.
But when the donation made its way to a group of soldiers, volunteers here at home realized those weren't ordinary tools.
"I was so shocked, I texted my friend immediately and said, 'guess what was in that toolbox,' said Ziuraitis.
On the top, the tool box said "Tools for Mechanics."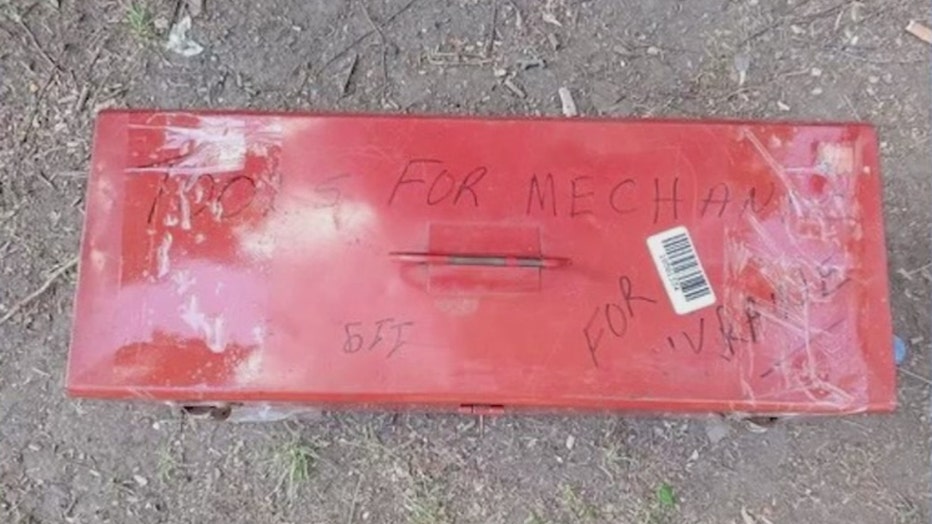 Inside was a heartfelt message from an anonymous donor.
The letter reads:
"My dad survived WWII. I hope that you will survive this war. These were my dad's tools – use them to Fight, Rebuild, Live. Glory to God. Glory to Ukraine."
It was signed only by "an American."
SUBSCRIBE TO FOX 32 CHICAGO ON YOUTUBE!
"It's a guaranteed morale booster. The Ukrainian military is so touched," said Ziuraitis. "Your precious gift means more to us and to the Ukrainian military than you will ever know."
The touching gift, which played an important role in one American soldier's fight more than 70 years ago is now doing the same for another generation of soldiers. This time, in Ukraine. 
"To receive such a precious gift, they're filled with so much gratitude, and they just want to be able to say 'thank you' from the bottom of their hearts. It was a real shining moment for them," said Ziuraitis.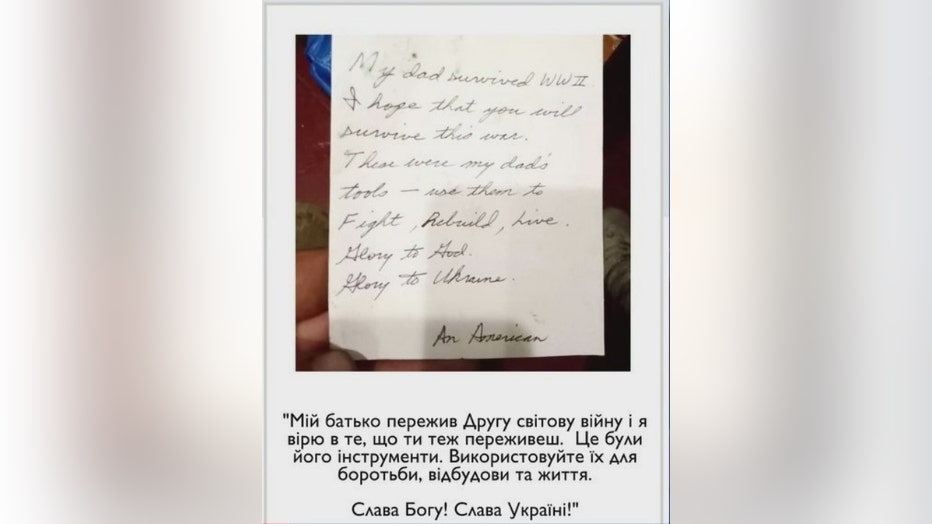 Ukrainian soldiers hope to pen a "Thank You" letter to the sender – if they're able to find the mystery donor. 
"Our goal is now to find that gentleman, say thank you to him and of course, the plan is after the Ukrainian victory, send back that toolbox and keep it in memory of his father," said Igor Terletsky, president of Help Heroes of Ukraine.
This weekend, the nonprofit is hosting a donation drive for humanitarian aid at its warehouse, located at 450 Kehoe Boulevard in Carol Stream. The collection drive will take place on Saturday, May 21 from 8 a.m. to 3 p.m. and on Sunday, May 22 from 8 a.m. to 12 p.m. 
The organization is accepting new summer clothing for children and adults, baby food, baby formula, non-perishable food, diapers, hygiene products, and essential medicine. 
Help Heroes of Ukraine can be reached at 773-839-1101 or via email at donations@helpheroesofukraine.com.