Boil-water advisory to go into effect Tuesday for Park Forest
PARK FOREST, Ill. - A boil-water advisory will go into effect Tuesday afternoon for the entire village of Park Forest.
Water customers in the south suburb were advised to bring drinking and cooking water up to a rolling boil for three minutes before using, though it is not mandatory, according to village officials. Tap water is fine to use for bathing and washing.
The boil-water advisory will remain in effect until Friday at the very earliest, the agency said.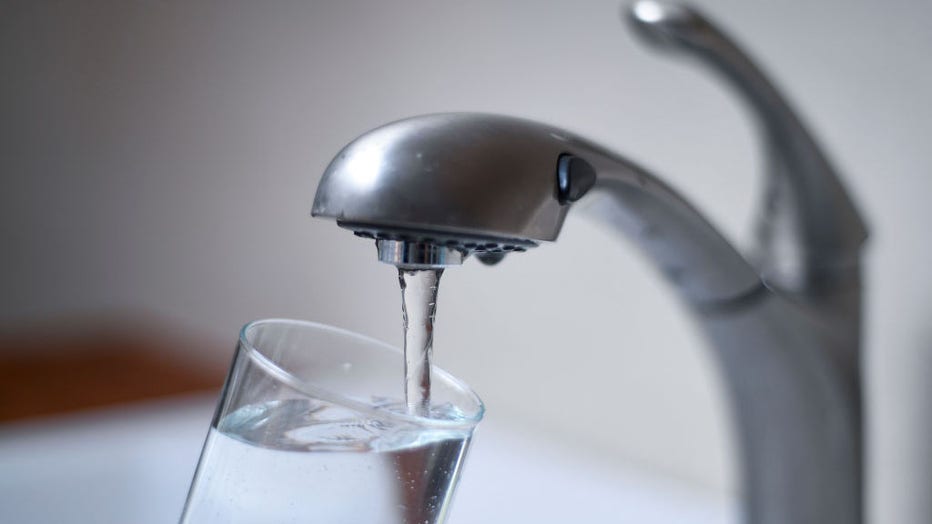 FILE - A photo illustration of tap water in a clear glass drinking glass in West Reading, PA, on June 15, 2021. (Photo by Ben Hasty/MediaNews Group/Reading Eagle via Getty Images) 
The village said water service may be interrupted as it begins the next phase of its water tower connection project, which will connect a new water tower to the water distribution system,.
Customers were asked to conserve water "for domestic and emergency use only" during the service interruption.
SUBSCRIBE TO FOX 32 ON YOUTUBE
What does this mean?
A Boil Order Advisory means residents are ADVISED to boil water for consumption, any usage outside of consumption can be completed normally. A Boil Order means residents are REQUIRED to boil water for consumption, any usage outside of consumption can be completed normally.
When will this happen?
The Department of Public Works will start Phase 2 of the water tower connection project at 2 p.m. Tue., April 11. Work will continue throughout the day and into the overnight hours into early Wednesday morning around 5 or 6 a.m.
Note: This work and schedule are subject to change depending on unforeseen and unexpected weather and construction issues that would extend this timeline. The Village will provide continuous updates via the Village's website, CodeRed Emergency Alert System, and social media.
What should residents expect during Phase 2?
During Phase 2, the water plant will be shut down, and the village water towers will provide water pressure and water supply for the entire town.
However, as time passes, water pressure and water service are expected to reduce until there isn't any water available.
The Village is notifying residents and customers now so that you can take any precautions necessary to be without water beginning TODAY, April 11, for a minimum of 16 hours. The Village anticipates that the Boil Order Advisory will be in effect until Friday, April 14, if no contaminants are found following testing. A Boil Order will go into effect if contaminants are found and will likely last until further testing comes back negative for any contaminants.
Per IEPA regulations, the Village issues a precautionary boil advisory due to water pressure loss. Also, it allows the Village to ensure that no contaminants have entered the system.
The Village of Park Forest is being proactive and issuing a precautionary Boil Order Advisory, which goes into effect at 2 p.m. Tue. April 11. The Village anticipates this advisory will remain in effect until Friday, April 14, when testing is expected to return negative for contaminants.
How can I stay informed about what's happening with the water in Park Forest?
To stay informed and receive notice that boil advisories/orders have been lifted, please visit the Village website at www.vopf.com and sign up to receive CodeRed Alerts. Be sure to sign up for phone, email, and text notifications. CodeRed is the primary resource used to give residents minor to emergency notifications. You can also receive information and notifications through the Village website and Facebook page.