As Chicago gears up for Memorial Day weekend, Johnson unveils strategy to prevent violence
CHICAGO - Ahead of Memorial Day, Mayor Brandon Johnson and other city leaders, on Thursday, unveiled their public safety plan. This, as officials look to avoid a repeat of last year's dangerous holiday weekend.
In 2022, Chicago experienced its most violent Memorial Day weekend in five years, with nine people killed, and 42 others wounded in shootings across the city.
"My administration's top priority is making sure there is a comprehensive whole-of-government strategy across our city that is keeping everyone safe," said Mayor Brandon Johnson.
SUBSCRIBE TO FOX 32 ON YOUTUBE
All eyes will be on Johnson during his first holiday weekend in office, and announced Thursday, Johnson's public safety plan isn't just focused on policing, but on community engagement, too.
"This weekend, the soul of Chicago will be on display for residents, families and visitors," said Johnson.
On the calendar is a jam-packed weekend, including several music festivals:
Mole de Mayo Festival (18th Street, Blue Island to Ashland) from Friday, May 26 to Sunday, May 28
Belmont/Sheffield Music Festival on Saturday, May 27 and Sunday, May 28
Sueños Fest (Grant Park) on Saturday, May 27 and Sunday, May 28
The city's 22 beaches officially open Friday at 11 a.m., where bag checks will be underway.
On Saturday, a wreath-laying ceremony will take place at 11 a.m. at Daley Plaza, followed by the city's annual Memorial Day Parade at noon, which will be held on State Street between Lake Street and Van Buren Street.
On Saturday at 10 p.m., the day will be capped off with a fireworks display at Navy Pier.
Throughout the weekend, crowds are also expected at Millennium Park and in retail corridors, including the Magnificent Mile.
"We want everyone to be safe and enjoy the city, but we will not tolerate any engaging of criminal activity," said Interim Chicago Police Superintendent Fred Waller.
Waller said patrols will be stepped up and all full-time officers will have one of their regular days off cancelled this weekend to accommodate.
"This weekend, the Bureau of Patrol will lead citywide warrant missions to making sure that offenders are held accountable," said Waller.
Plus, police will be keeping an eye out for disruptive trends.
"Caravans, street takeovers, drag racing or drifting incidents," said Waller.
Additionally, 30 peacekeepers working through the Illinois Department of Human Services (IDHS) will be on the ground in various neighborhoods to deter violence.
Chicago's Office of Emergency Management & Communications will have a pulse on this weekend's happenings, and has launched a cellphone app that offers emergency alerts and other safety information. It is available in the App Store or on Google Play.
OEMC also issues alerts and notifications needed to keep residents and attendees up-to-date on weather conditions and emergencies via text or email. Sign up for NotifyChicago alerts at NotifyChicago.org.
"It's going to take all of us, not just the police, not just city government to ensure that our communities can live and thrive in peace and safety," said Johnson.
Johnson says policing is just one part of his weekend safety plan. He is also focusing on free youth activities, particularly on the South and West sides – something that he centered much of his campaign around – and is encouraging families to attend.
Johnson's administration is teaming up with Chicago Public Schools to open several schools where games, sports tournaments and other free events will be held. For a list of those youth activities, CLICK HERE.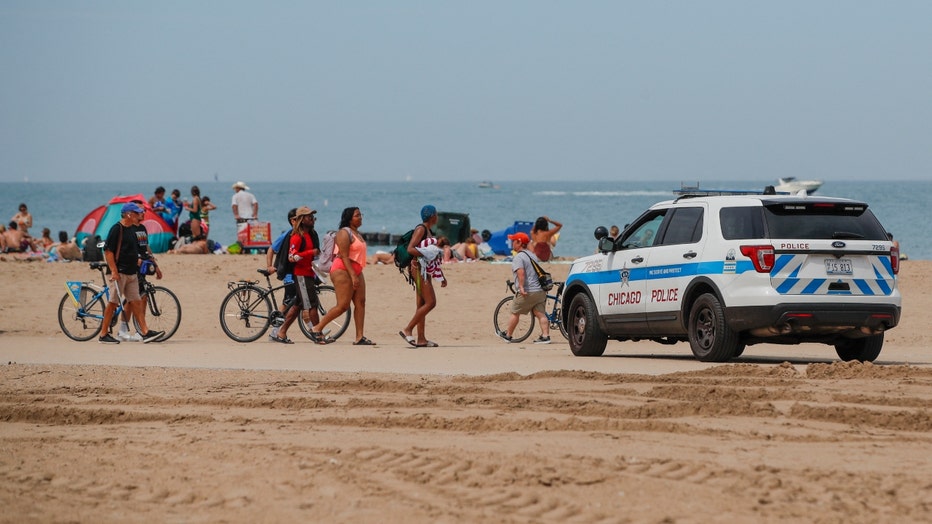 Beachgoers walk by a Chicago Police officer monitoring the beach from his car in the North Avenue Beach area in Chicago, Illinois, on June 18, 2021. (KAMIL KRZACZYNSKI/AFP via Getty Images / Getty Images)
"And I want to thank those staff as well as the administrations for dedicating themselves to opening up neighborhood schools designed to promote peace, and of course to support our young people," Johnson said.
The city's new mayor also announced on Thursday that over the last several weeks, various businesses and philanthropies have increased funding for the Partnership for Safe and Peaceful Communities (PSPC).
"I'm talking about $3.5 million in grants to more than 250 community organizations to fund safe programming and activities for young people in the summer months, beginning Memorial Day," Johnson said.
OEMC and the city's Summer Operations Center will be fully staffed this weekend.
Additionally, officials with the Chicago Fire Department are reminding individuals and families to use caution in and near the water, including Lake Michigan.
Tips include swimming with a partner, keeping children in sight, and making sure that all boat passengers have life jackets.