Cops: Woman convicted in fatal crash caught driving on revoked license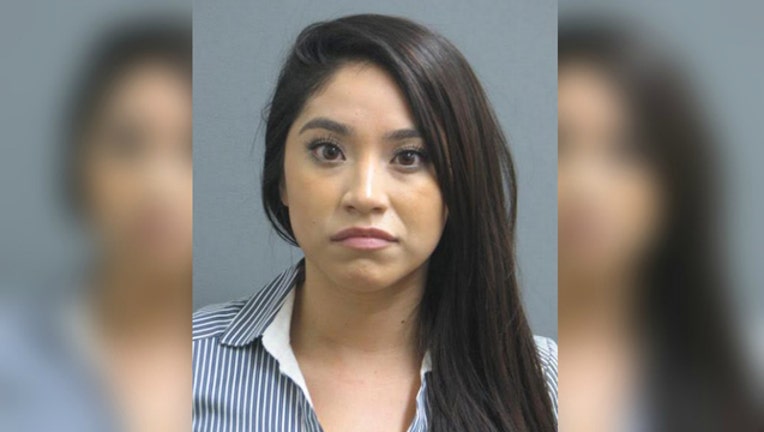 article
CHICAGO (SUN TIMES MEDIA WIRE) - A 27-year-old woman who was charged in a 2007 crash that killed two teenagers was charged again last week in Riverside with driving while her license was revoked.
At 7:22 p.m. on March 30, police responded to a two-vehicle crash at 26th Street and Harlem Avenue, according to Riverside police. No one was injured in the crash and both drivers said they didn't want to file a report because there was only minor damage.
An officer then recognized Michelle Anguiano, of Lyons, who was the driver in a fatal 2007 crash in the 200 block of East Burlington Street in Riverside that left two people dead, police said.
In the 2007 crash, Anguiano lost control of her Dodge Neon SRT while going 40 miles over the posted speed limit and struck a tree at 65 mph, splitting the car in half, police said. The crash killed Stanley Joray, an 18-year-old from Berwyn, as well as 16-year-old Adam TeBockhorst, from Lyons, and injured Anguiano and another passenger. All four were wearing seat belts at the time.
Anguiano was charged with aggravated reckless driving and sentenced to 60 days in jail, three years of probation and 1,280 hours of community service for the 2007 crash, police said.
Following last week's crash, officers discovered that Anguiano's license was still revoked and took her into custody, police said. She was charged with driving while license revoked and driving too fast for conditions and her 2015 Jeep was impounded.
Once in custody, police checked with the Cook County state's attorney's office for a possible felony upgrade on driving while her license was revoked. Because the 2007 crash did not involve drugs or alcohol but excessive speed and reckless driving, there was no enhancement available and the request was denied, police said.
Investigators also discovered that Anguiano had been charged with driving while her license was revoked in September of 2016 in Riverside, police said. She received a fine for that incident.