CPS employee fatally shot outside Austin elementary school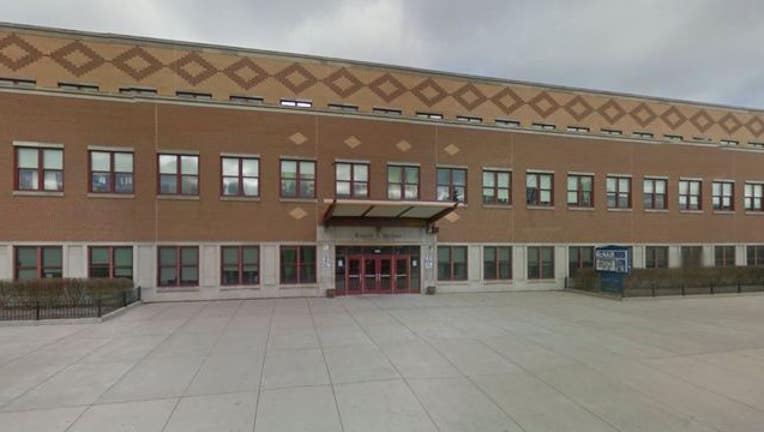 CHICAGO (Sun-Times Media Wire) - A Chicago Public Schools employee was shot to death Thursday afternoon outside an elementary school in the West Side Austin neighborhood.
Denzel D. Thornton, 25, was getting into a parked vehicle about 12:30 p.m. in the 4800 block of West Walton when someone walked up and shot him in the head, according to Chicago Police and the Cook County medical examiner's office. The shooter then ran to a black car nearby and drove away.
The shooting occurred in front of Ronald McNair Elementary School, located at 4820 W. Walton St. Thornton worked as a compliance specialist for CPS Nutrition Services for the past 10 months, and was making his regular rounds at the time, according to a statement from CPS.
Thornton, of the 800 block of West Buena, was pronounced dead at the scene at 12:38 p.m., the medical examiner's office said.
McNair's families received an automated call shortly after the shooting, saying, "Attention McNair Families. This is an important message from Chicago Public Schools. The Chicago Police Department is currently investigating an incident that took place outside our school today. No McNair students were injured as a result of this incident, however students may have questions or be upset by what happened. The CPS Crisis Support Team will be at school tomorrow to provide assistance to any students needing support, as well as an increased presence from CPS Safety and Security. We will continue to update you as we learn more, and thank you."
The school's 8th grade student graduation was scheduled for later Thursday afternoon and took place as planned.
"On behalf of all of Chicago Public Schools, we were devastated to learn today about the tragic death of one of our employees," CPS CEO Forrest Claypool said in the statement. "Denzel Thornton was a member of our Nutrition Services team, and like many CPS employees, he worked hard every day to serve our children. Even in challenging circumstances, CPS employees are extraordinarily dedicated to the students we serve, and I have the deepest respect for their commitment and hard work. I extend my heartfelt condolences to the friends and family of Denzel Thornton, and we will all keep them in our thoughts and prayers."