Ex-Marine admits killing 2 suburban Chicago girls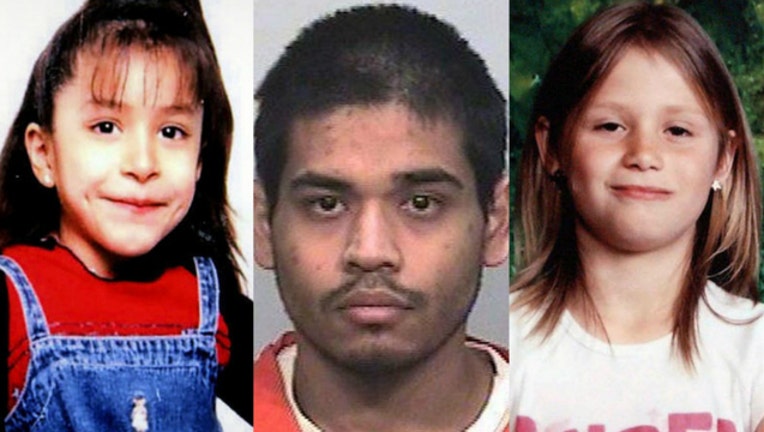 article
WAUKEGAN, Ill. (AP) - A former Marine already sentenced to death for killing a sailor in Virginia pleaded guilty Tuesday to fatally attacking two young girls in a suburban Chicago park 13 years ago.
A judge sentenced Jorge Torrez, 30, to 100 years in prison under a plea deal with prosecutors for the fatal stabbings of 8-year-old Laura Hobbs and 9-year-old Krystal Tobias on Mother's Day 2005 at the Beulah Park Forest Preserve in Zion, near the Illinois-Wisconsin state line.
"You are a serial killer," Lake County Judge Daniel Shanes told Torrez, saying that he "earned every day" of his prison sentence.
Illinois prosecutors filed murder charges in 2012 against Torrez after they said DNA evidence linked him to the attack. Torrez, then 16, lived in Zion and was a friend of Tobias' older brother when the killings happened.
That DNA evidence exonerated Laura Hobbs' father, Jerry Hobbs, who spent five years in jail after giving what he said was a false confession for the killings during nearly 24 hours of police interrogation.
Shanes last year rejected a bid by Torrez's attorney to block prosecutors from using the DNA test results against him. Defense attorney Jed Stone argued that the DNA sample wasn't complete enough to be used as trial evidence and called it "compromised."
In exchange for pleading guilty, Torrez is expected to be transferred to a federal penitentiary, Stone said. Torrez wanted a transfer from Red Onion State Prison in Virginia.
"We're glad it's over with," Krystal's mother, Marina Tobias, said outside the courtroom Tuesday. "This way, we're sure he will never do anything again."
A federal judge in 2014 sentenced Torrez to death for killing 20-year-old Navy Petty Officer Amanda Snell of Las Vegas at Joint Base Myer-Henderson Hall in Arlington, Virginia. Authorities said Snell's body was found in 2009 in a wall locker in her room. Torrez lived in the same barracks, a few doors away.
Snell's murder also went unsolved until police in Arlington arrested Torrez in 2010 for a series of violent, stalking attacks on women - including one in which a woman was abducted, repeatedly raped, choked and left for dead - that DNA evidence led authorities to Torrez in the deaths of Snell and the two girls. He was given a sentence of life in prison for the other attacks in Arlington.