Expressway closures start Friday night near Byrne Interchange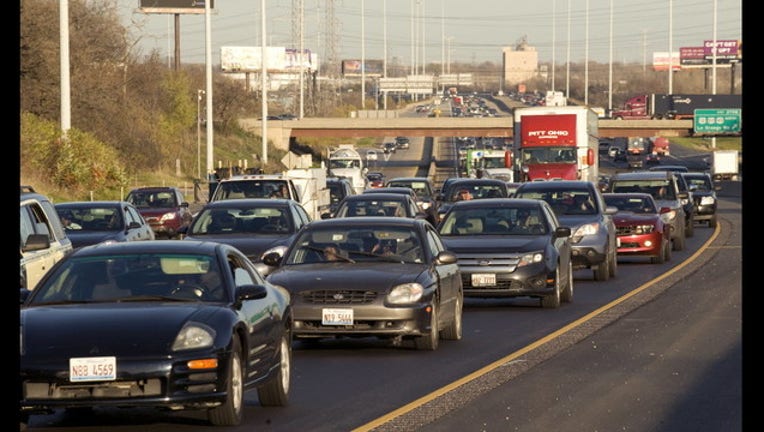 article
CHICAGO (STMW) - The second of four planned weekends of lane closures surrounding the Jane Byrne Interchange will start Friday evening as crews continue work on a flyover bridge connecting the inbound Dan Ryan and outbound Eisenhower expressways.
Inbound Congress Parkway (I-290) will close at the Byrne Interchange at 10 p.m., according to the Illinois Department of Transportation. Traffic will still be able to access the I-90/94 exit ramps.
A detour will reroute traffic to the outbound Dan Ryan's Roosevelt exit and along Jefferson, Harrison and Wells streets to connect with Congress.
All lanes on Congress are expected to reopen by 5 a.m. Monday, according to IDOT.
The outbound Eisenhower will also close at the Byrne Interchange at 10 p.m., IDOT said. The I-90/94 exit ramps will remain accessible.
A detour will reroute traffic along Wells, Harrison, Jefferson, Van Buren and Ashland to connect with the Eisenhower. Lower Wacker Drive will follow the same detour.
The Kennedy and Dan Ryan expressways (I-90/94) will be reduced to a single lane in both directions between Ohio and 18th Street at 8 p.m. Saturday, according to IDOT. All lanes will be closed in 15-minute intervals from 10 p.m. Saturday to 10 a.m. Sunday, at which point all lanes will be reopened.
The ramp from the inbound Kennedy to inbound Congress Parkway will remain closed until Aug. 31 to stage and store equipment and materials for the project, IDOT said.
Drivers can expect significant delays downtown during the closures.
"We continue to stress that Chicago remains open for business," Illinois Transportation Secretary Randy Blakenhorn said in the statement. "But if you are near the downtown area this weekend, you need to plan accordingly, follow the detours, expect delays and look for alternate routes. Public transportation is highly recommended."
The CTA will operate longer trains on the Red, Blue, Brown, Green and Pink lines over the weekend to accommodate increased ridership because of the closures, the transit agency said in a statement.
While the Brown Line will be operating with longer trains, service will be rerouted underground onto Red Line subway tracks through the Loop over the weekend as part of the CTA's ongoing Ravenswood Connector Rehabilitation Project.
The final two weekends of closures for the Byrne Interchange project are scheduled to take place from Sept. 25-27 and Oct. 16-18.