FBI: Indiana 18-year-old tried to join ISIS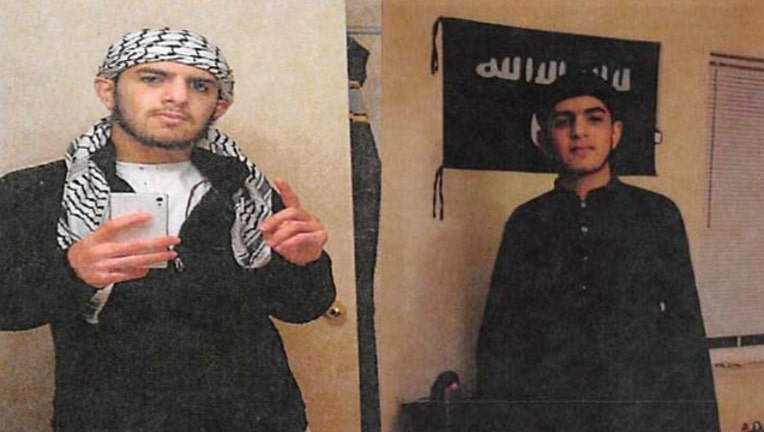 article
INDIANAPOLIS (AP) - FBI agents arrested an 18-year-old from suburban Indianapolis as he tried to board a bus to New York and join the Islamic State terror group overseas, federal authorities said Tuesday.
Akram Musleh of Brownsburg was arrested without incident, FBI spokeswoman Special Agent Wendy Osborne said.
Musleh was in the custody of federal marshals at an undisclosed location, spokesman Tim Horty of the U.S. Attorney's office said.
Musleh made an initial appearance Tuesday in U.S. District Court to hear a charge of providing material support to the Islamic State read to him, Horty said. He faces a maximum sentence of 20 years in prison, a lifetime of supervised release and a $250,000 fine if convicted, prosecutors said. Musleh has a detention hearing scheduled for Monday.
FBI agents apprehended Musleh at a Greyhound bus terminal in Indianapolis while he tried to board a bus to New York, where he was to fly to Morocco and on to territory controlled by the Islamic State, prosecutors said. A criminal complaint alleges Musleh intended to provide material support to the terror group also known as ISIL by joining it.
On May 2, Musleh read an article about more than 8,000 potential terrorist targets in Indiana and then days later searched online for information about pressure cookers, which the court documents said could possibly be used to make an explosive device, FBI Special Agent Michele Denise Holley said in a 30-page criminal complaint. He also searched for information on dynamite, flash powder and other explosive materials, it said.
Tuesday's bid was not Musleh's first attempt to travel to the Middle East. He made five different reservations last year to travel to Iraq or to Turkey, allegedly as an attempt to reach territory controlled by Islamic State fighters, the complaint said.
According to the complaint, Musleh's travel plans last year included trying to fly from Chicago's O'Hare International Airport to Iraq and booking three separate one-way tickets from Chicago to Turkey. Last June, customs officials stopped him in Chicago and said he could not take a flight to Turkey because his travel documents were not in order.
Law enforcement made contact with Musleh and Brownsburg High School officials in 2013. The FBI identified him as someone who posted several videos featuring an al-Qaeda leader online, the complaint noted. Federal agents and school officials "took steps to dissuade Musleh from engaging in radical extremism," it said.
But nine months later, Musleh bought an Islamic State flag online and later photographed himself with it, the complaint said.
"The radicalization of American citizens by terrorist organizations like ISIL is a threat to our safety here and abroad," said U.S. Attorney Josh Minkler said in a statement. "I am committed to using the full authority of the United States Attorney's Office to identify, investigate and prosecute those that materially support terrorism."
Musleh's attorney, federal community defender Michael Donahoe, said he had no comment on the case.
___
Associated Press writer Michael Tarm in Chicago contributed to this report.