Four charged after shots fired, home barricaded during Matteson party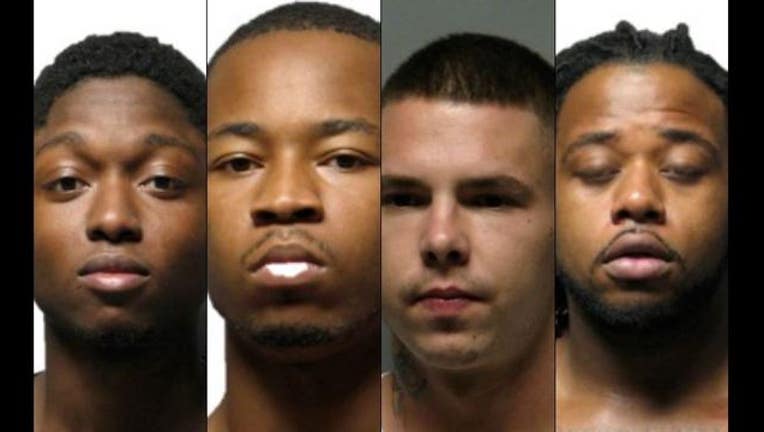 article
MATTESON, Ill. (Sun Times Media Wire) - Four men have been charged with firing shots as police tried to enter a house party early Sunday in south suburban Matteson.
Brandon D. Phillips, 22; Shawn Johnson, 24; Adam J. Miller, 25; and Adam A. Talley, 22, are each charged with one felony count of reckless discharge of a firearm, according to Matteson police. All may also face additional charges, police said.
Officers were called at 2:55 a.m. to complaints of shots fired in the 900 block of Princeton Avenue, according to a statement from police.
They found 30-40 spent shell casings on the street outside a rental home where a party was going on, police said. Initially, between 15 and 20 people at the party were taken into custody.
Witnesses said the gunmen took off in a black Dodge Charger, which was stopped by other officers about a mile away near the intersection of U.S. 30 and Willow Road. Two people were arrested and two handguns recovered near the traffic stop, police said.
Officers found two other guns outside the home on Princeton as "numerous individuals were still inside the the residence refusing to peacefully exit," police said.
Three hours of negotiations followed, during which a few more people surrendered to police, but most "adamantly refused" to give themselves up, police said.
Authorities eventually used a South Suburban Emergency Response Team armored vehicle to ram the front of the house and take the remaining barricaded people into custody, police said.
In all, 36 people were arrested Sunday night. Police issued more than 40 citations for obstructing justice, disorderly conduct, possession of cannabis and possession of drug paraphernalia. Additionally, three of the renters at the home were charged with misdemeanor social hosting.
Phillips, of Calumet City; and Talley, of Hazel Crest, were each ordered held on $100,000 bonds, according to the court records. Miller, of Matteson, was ordered held on $250,000; and Johnson, of Chicago, was ordered held without bond. All four are next scheduled to appear in court Sept. 14.