Illinois students fare poorly on new statewide tests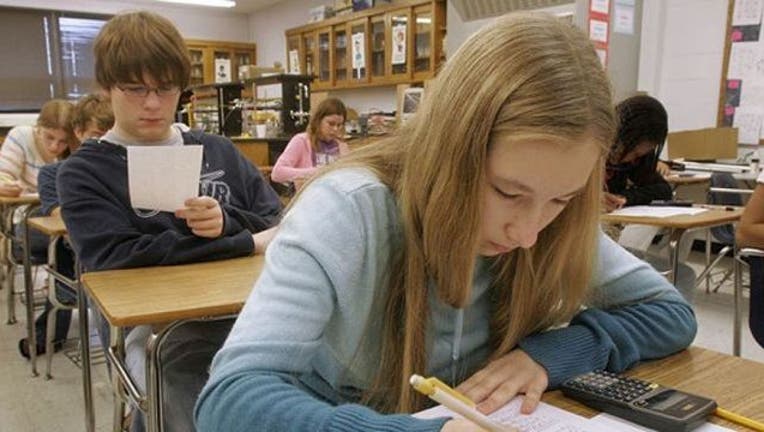 (AP) - Preliminary results from new statewide tests based on the Common Core learning standards show the vast majority of Illinois public school students flunked the exam.
The poor scores are not a surprise: Tony Smith, the Illinois schools superintendent, warned districts in advance to gird for lousy marks by their charges on the initial Partnership for Assessment of Readiness for College and Careers.
On Wednesday, the depth of those overall shortcomings became clear. Only three in 10 high schoolers who took the online PARCC exam in the spring met or exceeded expectations in English language arts and literacy. Fewer than one in five of those students met or exceeded expectations on the exam's math portion. The success rate for students in grades three through eight was only slightly higher.
Here are several things to know about the new standardized test system in Illinois:
STUDENTS ARE RANKED ON A FIVE-POINT SCALE
The lowest, ranked as Level 1, don't meet academic grade-level expectations. Level 2 students partially meet expectations, while those in Level 3 approach expectations. Level 4 students meet expectations, while those in top-ranked Level 5 exceed expectations.
The Illinois State Board of Education on Wednesday adopted the specific "cut scores" used to rank students in those five levels at its meeting in Springfield.
WHAT WERE THE RESULTS?
Among third- through eighth-graders, the failure rate on the language arts and literary ranged from 62 percent to 67 percent. The high-school failure rate on those subjects was 69 percent.
In math, they younger students' success rates peaked in third grade, with 36 percent scoring in the top two levels. By fifth grade, just 27 percent received passing scores. Come high school, just 17 percent of the students met or exceeded math expectations.
The preliminary results don't include students who took the assessment exams using paper forms or who tested in Spanish or Braille - about one-fourth of all test takers. Nor does the data provide scores for individual schools or districts. Those should be released later this fall.
SHOULD PARENTS BE WORRIED?
State officials and education activists say the low scores reflect increased rigor and higher standards compared with the previous standardizes tests used in Illinois. Smith cautioned local superintendents in his warning letter against using the results of a test that emphasizes critical thinking and problem solving with a greater nod to technology to "shame teachers or schools."
"Lower proficiency scores do not mean that our schools are performing worse or that students are learning less or are not as capable," he said Wednesday. "The change is simply a reflection of how statewide assessments have evolved to meet higher standards ... in the 21st century."
THEN VS. NOW
The PARCC exams replace the Illinois Standards Achievement Tests for grade-school students and the Prairie State Achievement Examination for 11th graders.
In 2013 and 2014, more than 40 percent of students in those grades failed the old exams statewide.
Illinois is one of 11 states to switch to the PARCC test, one of two Common Core-linked assessments available. The other is known as the Smarter Balanced exam.
FOR THE PARENTS
By spring 2016, parents can expect to receive individual report cards during the same school year that the tests are taken and that further break down the results into categories such as vocabulary usage, reading comprehension, mathematical reasoning and problem solving. More details on the PARCC tests in Illinois can be found online at www.isbe.net/parcc-place .
The PARCC consortium has created a user-friendly website for parents, www.understandthescore.org , once individual student scores are released.
"The state really needed to upgrade its standards," said Robin Steans, a former teacher who is executive director of the education reform group Advance Illinois. "It's a necessary and useful thing. It's not a simple thing. ... If the state is saying to me, 'Everything is fine,' they're not activating me as a parent."