Immigrant families struggling with trauma of separation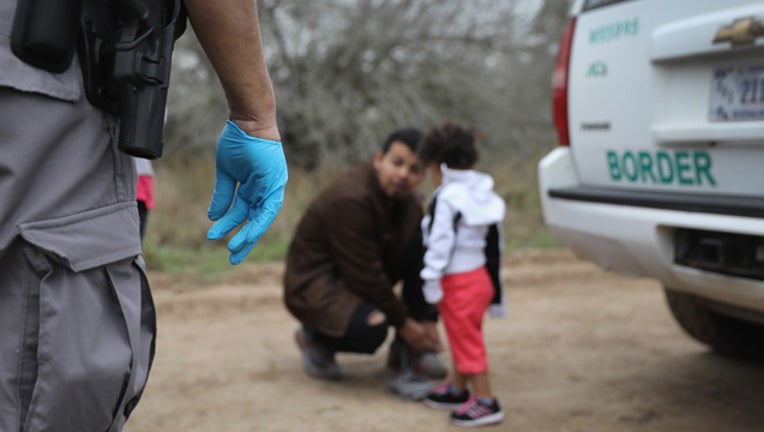 article
SAN DIEGO (AP) - A 6-year-old immigrant boy sobs at the school bus stop in suburban Maryland and begs his mother to promise she will not disappear again.
A toddler in Honduras wakes up screaming and searches for the government social worker who cared for him for several months. Other children duck or hide their faces when they see a uniformed officer.
Families who were separated at the U.S.-Mexico border by the Trump administration and then reunited with their children say they are suffering deep emotional wounds and want the U.S. government to pay for mental health treatment to remedy the situation.
Read Trump administration: 1,820 children reunited after border split
The families say the joyous reunions that occurred after the government reversed its policy have given way to agonizing daily routines as they've settled back into life in the U.S. and Central America. They say both the children and parents are traumatized by the ordeal.
Once easy-going children are now jumpy, disobedient, short-tempered and afraid of school, their parents say. They have nightmares on a regular basis. Little things trigger tears, even in older kids.
"I can't sleep away from my son, nor he from me," Iris Eufragio said in a phone interview with The Associated Press from Rosedale, Maryland, where she and her 6-year-old boy, Ederson, are living with family friends while they seek asylum after fleeing violence in Honduras.
The government separated them at the border in June and reunited them under court order after the boy spent a month at a Phoenix detention center.
The son is struggling to adjust. As a kindergartner in Honduras, he loved school. Now teachers have had to embrace him to stop him from running off campus to get back to his mother. He keeps asking whether he may have to return to a detention center.
"Just seeing a police car makes him scared," Eufragio said
A federal class-action lawsuit filed this week seeks unspecified financial compensation and the creation of a fund to pay for mental health treatment for more than 2,000 children who were taken from their parents after they crossed the U.S.-Mexico border this spring as part of the government's "zero tolerance" policy.
The Trump administration declined to comment.
Researchers and medical professionals have analyzed the effects of traumatizing events on children over the years, and studies have shown that persistent stress may alter brain structure in regions affecting emotions and regulating behavior. Imaging studies have found these regions are smaller than usual in severely traumatized children, and the damage may be worse the younger the child because the brain is still developing.
Jenifer Wolf Williams, who is among thousands of U.S. mental health professionals offering free services to help the families, said recovery takes longer than people think. If not treated properly, children may become teens who engage in self-destructive behavior and struggle to make the right choices.
The Texas therapist, who has counseled immigrants separated from their families for various reasons, said these kinds of separations can be even more traumatic for immigrants from Latin America where the culture is centered on large extended families.
Thousands of miles away in Honduras, Baby Johan almost nightly lets out piercing screams. He stops when his mother mentions Emily, the social worker who cared for him in U.S. government custody. To make him feel better, she sometimes plays Johan the old videos the social worker had sent to his parents.
Johan - who captured the world's attention by appearing before a judge in diapers - spent a third of his life at a U.S. government-contracted shelter in Arizona after being separated from his father at the border in May.
When he returned home in July he didn't seem to recognize his parents at first. Since then, he has refused to play with his toys, drink from his bottle or eat much, rejecting the food he once loved, like bananas.
He can't sleep without the lights on. He vacillates between holding onto his mother with an iron-clad embrace to hitting her to shutting down.
"I wonder if this is normal for a toddler, but he cries out like he's having nightmares, he yells loudly like he's traumatized," said his mother, Adalicia Montecinos, who is eight months pregnant with her second child. "We thought once we got him back, everything would go back to normal, but he acts so traumatized, we don't know what to do."
His father, Rolando Antonio Bueso Castillo, is consumed by guilt for ever taking him. He feels angry that his son, then 10-months-old, was separated from him. He said he agreed to be deported because he was told he would get his son back immediately.
But Johan spent five months at a shelter in Phoenix. He spoke his first words and took his first steps there.
Bueso Castillo wants to file a lawsuit against the U.S. as well. But the bus driver, who makes $10-a-day, doesn't have the means to pursue it.
"This is all their fault," he said.
Isai Valenzuela Segura, a 29-year-old Guatemalan, who was reunited with his 9-year-old son on July 26, wishes he could do more to help his boy, like a hire a counselor. The father has turned to his faith to guide him, reading the Bible to his son on a regular basis.
"I thought when I saw my son that he'd be happy, but he asked me why I left him. He said, 'You left me alone for 41 days. You don't know how much I suffered,'" said Valenzuela Segura, who is living with his son in Tennessee while they seek asylum after fleeing violence in Guatemala.
"With God's help, we'll heal," he said.
___
Lee reported from Santa Fe, New Mexico. Astrid Galvan in Phoenix contributed to this report.