4 dead after Amtrak train traveling to Chicago strikes truck, derails
MENDON, Mo. - Four people were killed when an Amtrak train traveling from Los Angeles to Chicago derailed in Missouri Monday afternoon. Several people were also injured.
At about 12:42 p.m., eight cars and two locomotives on the Southwest Chief Train 4, traveling eastbound on BNSF, derailed after striking a dump truck that was obstructing a public crossing in Mendon, Missouri, officials said.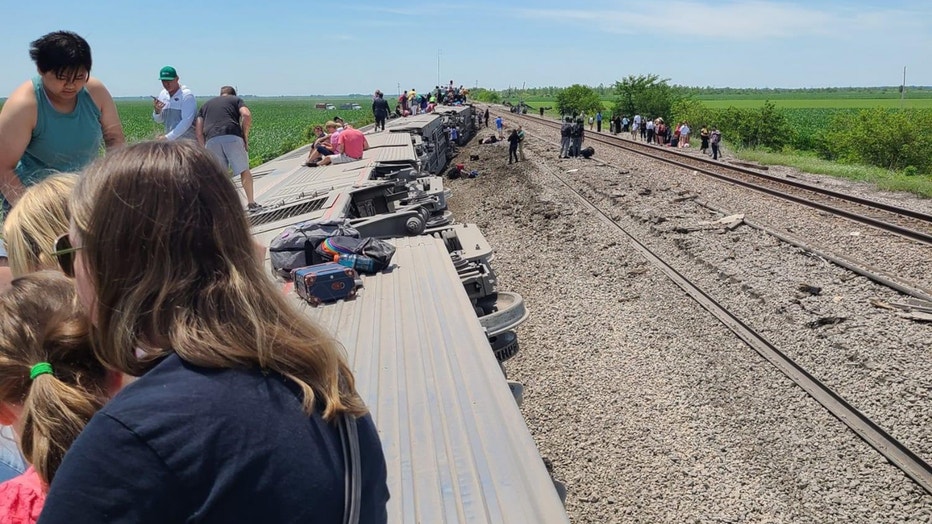 Credit: Rob Nightengale from Tao, NM
Authorities said three people were killed inside the train and one person was killed in the truck. They did not release their names.
"You could hear the metal screeching as people were being thrown over to the right-hand side. It was insane," said Dax McDonald.
SUBSCRIBE TO FOX 32 ON YOUTUBE FOR MORE CONTENT
McDonald boarded the train in Arizona with his mother and two sisters and was two stops away from his destination in Iowa. His youngest sister was hurt.
The family was traveling by train to meet up with other family members for a vacation.
"She hit her head pretty hard. She's getting a CT scan right now," said McDonald.
The train was carrying 275 passengers and 12 crew members.
Three passengers were taken to University Hospital in Columbia, hospital spokesman Eric Maze said. He did not have information on their conditions.
Lt. Eric Brown told reporters that officials do not yet know the number of people injured. All injured passengers have been transported from the scene, according to authorities.
Passengers on the train included high school students from Pleasant Ridge High School in Easton, Kansas, who were headed to a Future Business Leaders of America conference in Chicago, Superintendent Tim Beying told The Kansas City Star.
The Missouri State Highway Patrol and other local law enforcement units were at the scene to help, and Amtrak said it has deployed resources to the site.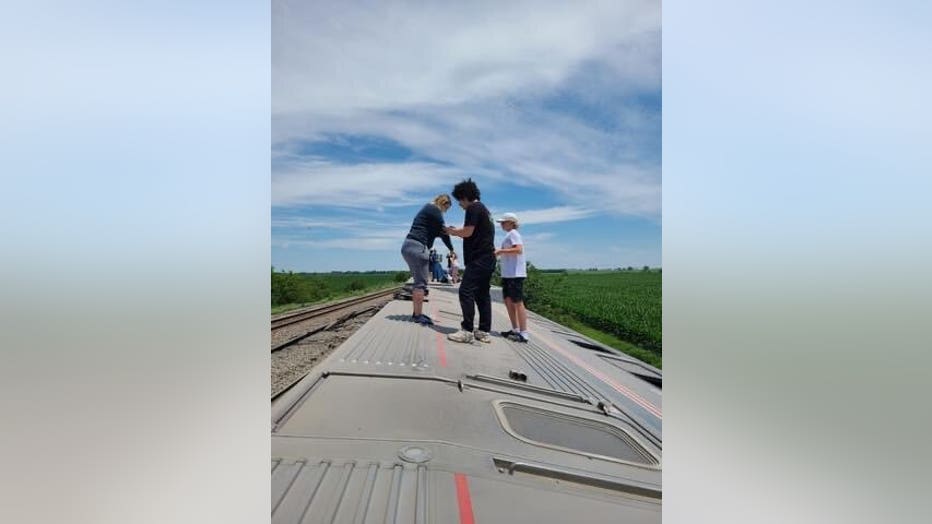 Credit: Rob Nightengale from Tao, NM
The crossing where the collision occurred didn't have an electrical or mechanical traffic control device, a crossing gate, or a flag person.
"It's an uncontrolled crossing," said Justin Dunn, Missouri State Highway Patrol corporal.
The NTSB will start their investigation on Tuesday at 8:30 a.m.
Individuals with questions about their friends and family who were traveling aboard the train can call 800-523-9101.
Mendon, with a population of about 160, is about 84 miles northeast of Kansas City.
FOX News, FOX TV Digital Team and the Sun-Times Media Wire contributed to this report.